The historic "al-Qaissarya" market welcomes you in Ahsa in the eastern part of Saudi arabia with a ravishing smell of Arab perfumes. While the incense welcomes you with dancing strings of smoke, filling the atmosphere with its good fragrance and the perfumed aroma that permeates the hallway and spreads throughout it, as a way of greeting the guests to the market.
This smell brings tranquility and relaxation, as the natural and manufactured incense is associated with spirituality, worship, and emotional characteristics, along with traditions inherited from cultures, which go deep into history and the Arab conscience.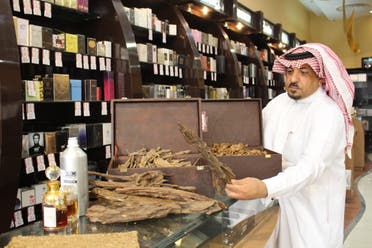 The traditional perfume and incense industry is one of the characteristics of Ahsa province and its cities since ancient times. It was a source of income for many families that worked to develop and upgrade it to suit the taste of many people and lovers of Arab perfume.
Majid al-Qattan, an expert on the incense and perfume industry, told Al Arabiya English: "The incense industry has long been inherited in Ahsa and is still cherished and practised by women. The incense is made from a mixture of various aromatic substances, such as oud, amber, sandalwood, musk and other perfumes, and is specially prepared by professional women who have experience in this specialty. They work to develop and create new types according to taste and choice."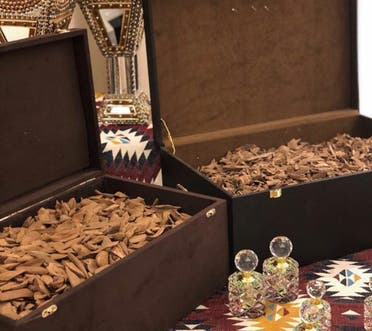 The women of Ahsa has a great expertise and specialization in the ancient aromatic industries of incense, especially those who have experience and age, through looking for a mixture of incense and fragrance that no one else can make.
In this context, Fatima al-Qattan said: "There are many women specialists in the manufacturing of incense, which vary according to the quantity and components and the quality of the aromatic materials used . Some recipes used in the manufacture of incense are considered secret that cannot be disclosed, where some women master the incense components, knowing the proportions and the components of each."
She added: "It is prepared from a paste made of wood of oud, musk and amber. The oud fat and several types of fragrances are added and mixed together with types that can be prepared in the form of round tablets used dry as well as in a liquid form, in addition to other types of incense which depend on the quality and the quantity of perfumes used."
A number of sellers at Arab perfume stores said that customers buy many fragrances during the Eid season, but women's preferences and taste are quite different from men's taste in perfume selection and choosing incense. Some chose oud wood incenses which are dipped in expensive perfumes for a certain period, according to the desire of the maker of incense, and it is considered the best types of incense since the most expensive and precious perfumes are used in its making.
The incense in Saudi Arabia is one of the most important necessities in weddings, Eid and other auspicious occasions. It is closely related to their daily lives, rites and customs. The Gulf societies and their traditions are closely connected to incense as it is a basic component that accompanies all religious and popular occasions.
The incense coming from every Gulf house remains a manifestation of cultural unity and a sign of belonging and identity.