Indian with biggest collection of stamps featuring mosques to break own record
Y. Abdul Rasul, an IT person from Indian city of Chennai, earned a place in the Guinness Book of Records for his collection of stamps on mosques.
Till the year 2016, when he won the recognition, Rasul had managed a collection of 5,915 stamps featuring mosques. Continuing his collection, Rasul's kitty is now nearing 8,000 such stamps and he is now setting his sights on breaking his own record.
Mosques across the world are depicted on postage stamps often to highlight historical value and also for their architectural and aesthetic elements.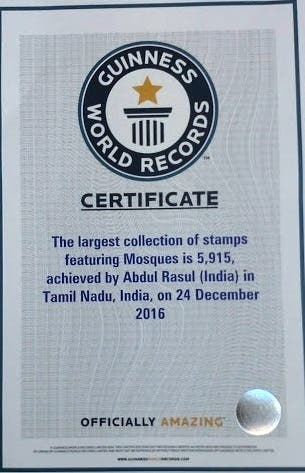 How it all began
Rasul started collecting stamps when he was in Grade V after he started receiving colorful and topically interesting UAE stamps from the letters received from his father who was working in Dubai.
"During my father's annual vacation to India, he used to gift me stamps collected from his friends hailing from Egypt, Sudan, Jordan, Sri Lanka and the Philippines," says Rasul.
Many of important treasures of the world are commemorated on stamps issued in the Middle East that are part of his collection.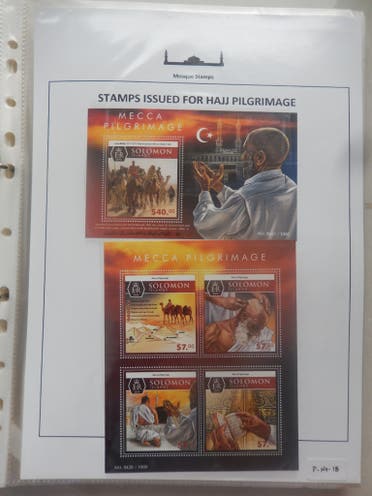 "I felt that each stamp tells a story. It's a piece of art, a part of culture and heritage, a slice of history, a medium of knowing different civilizations and traditions of the world," he says.
Recalling how he chose the topic of mosques for stamps Rasul says it was a chance encounter with senior philatelist Viswanathan Iyer. The late veteran suggested him to identify a specific topic in 2005.
"And from then onwards I have been passionate about collecting stamps featuring mosques and other related subjects," he said. Rasul says he loves visiting as many mosques in and around his place for daily prayers as possible.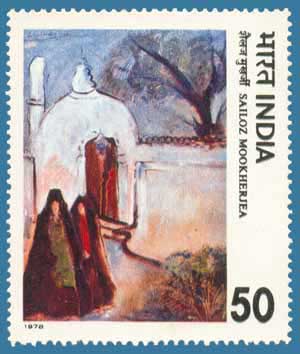 "I am interested in learning about the origin of the mosque, its heritage value and its architecture. This further triggered me toward collecting only those stamps featuring mosques."
Few of the oldest stamps that are part of his collection include two stamps of mosque issued by Afghanistan which are dated 1892 and 1898 and a very rare Somalia Coast stamp issued in 1902.
Rasul's stamp collection featuring mosques come from over 60 countries including Saudi Arabia, Turkey, Malaysia, Iran, Iraq, Jordan, Egypt and Palestine.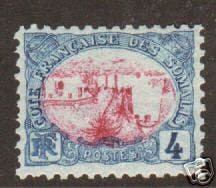 Several stamps from Saudi Arabia, home to Islam's holiest shrines, are part of his collection. This is besides stamps depicting the Dome of the Rock Mosque in Jerusalem.
Rasul has also collected stamps from a number of Middle Eastern countries that have produced an array of stamps illustrating the famous Dome of the Rock in Jerusalem.
In Turkey, mosques and minarets are frequent themes on stamps, particularly the Hagia Sophia and the Blue Mosque (the Mosque of Sultan Ahmet), two of the most iconic buildings.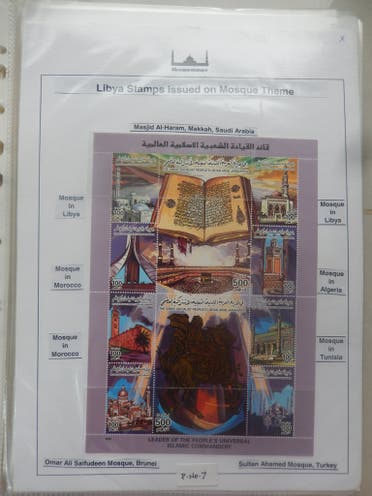 As one can find domes and minarets in Cairo, numerous Egyptian stamps with Cairo's mosques and their minarets are also part of his collection.
There are also some non-Muslim countries, which feature mosques on their country's stamps. Rasul says Brazil issued a stamp depicting Kaaba while Belgium and Panama issued stamps featuring the Dome of Rock.
"Sri Lanka also issued a stamp with a picture of Prophet's Mosque in Madinah", he says. Besides stamps, Abdul Rasul also collects first day covers, proof cards, deluxe cards, old postcards and miniature sheets featuring mosques.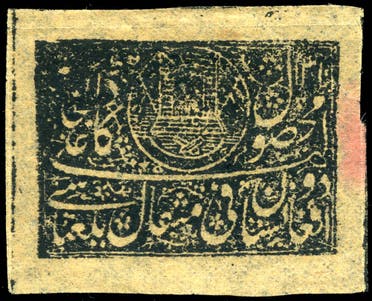 When asked about the digital age and whether it dampens a philatelist's mood, Rasul says: "We are in the world where everything is becoming digital. The children of this generation are not aware of stamps. Due to digital world the communication is by email and other social media platforms, so the importance of stamps and its role is slowly getting forgotten."
Abdul Rasul, for whom stamps are a highly prized and desirable collectibles, is now aiming for yet another Guinness record improving upon its earlier collection.
His another wish is his intention to set up small a museum to showcase his collection in Makkah if he gets an opportunity to do so.