IN PICTURES: Saudi Design Week back in Riyadh with display of color and dynamism
Saudi Design Week is back in its fifth consecutive edition, welcoming an estimated 18,000 attendees as the multi-day event played host to 58 designers, 35 of them local and regional, as they rose up to meet the challenge of this year's theme in all its interpretations: Sustainability.
"Showcasing local and regional talent is one of the main pillars of Saudi Design Week," Feras Sherraif, Director of Saudi Design Week said. "Not all entertainment has to involve music or shows, but that entertainment can also involve discovery, learning and engagement," he said.
The event aimed to showcase talent and to also invite renowned talents and industry experts from abroad to engage with local designers and artists.
What does sustainability mean?
"We aim to fuse culture and design to bring new life to heritage," claimed Raneen Bukhari, as her family's business, Desert Designs, has been operating since 1990. Desert Designs collects pieces of heritage of all kinds from all over the Islamic region, from Morocco to India, and gives it new life by making it a usable asset in everyday life.
"You can take your heritage from the past into your present and make sure it stays with you into the future," Bukhari added, while proudly claiming that pieces produced are "made and sourced very ethically and in Saudi, while ensuring carbon footprint is at a minimum."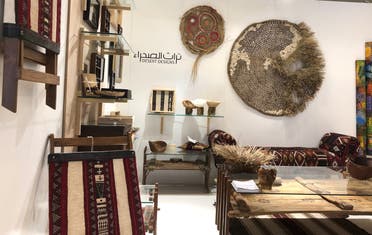 Across the other end of the designer-filled exhibit hall, Tamashee, a high-end footwear brand displaying Arabian Gulf designs, embeds the traditional and ancient art wall al-Qatt al-Asiri, which was inducted into the UNESCO List of Intangible Cultural Heritage of Humanity, contemporizing the ancient art into its products.
"We believe in entire cultural immersion by creating experiences around culture," Co-founder Mohammad Kazem said about integrating al-Qatt al-Asiri into their designs. "We want to make sure these art forms are kept alive, while at the same time believe in providing a platform and network for emerging artists in the region."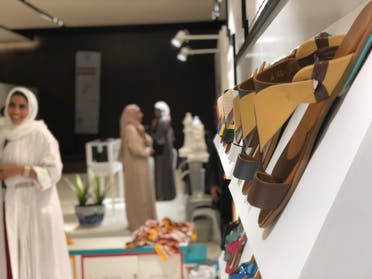 Strategic partnerships and knowledge exchanges
Among the central facets of Saudi Design Week is having a diverse and accomplished talent pool to come speak and hold workshops, done in partnership with entities such as the French Embassy, The British Council and the Hungarian Embassy.
"In the framework of the Vision 2030, the spirit of sustainable development is significant for France and Saudi Arabia, especially after the Paris Climate Agreement. Climate change and its challenges shall define our future," said a statement from the Embassy of France, seeing their involvement instrumental to advancing sustainability in everyday design and to raise awareness about the threats of climate change.
The Embassy actively participated in the programming of the event, as they invited renowned design figures to take part in workshops and speaking engagements. "Saudi Design Week represents occasions to provide a beautiful neighborhood and a brighter future for the next generations. In this respect, the French Embassy in Riyadh is proud to support the Saudi Design Week," the Embassy statement added.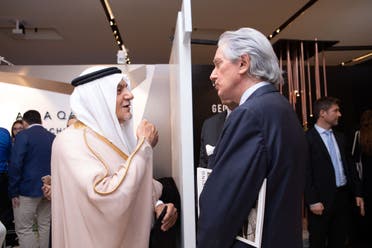 Among those invited as a speaker is Patrick Le Quément, founder of the Sustainable Design School and a veteran car designer and former design chief at Renault whose designs have been reflected in approximately over 60 million vehicles.
Le Quément advised young Saudi designers and design enthusiasts to "be curious" and to "work in multi-disciplinary teams" in order to effectively harness their talent in their quest to become a sustainable design powerhouse in the region and in the world.
The British Council invited a set of artists and designers to engage with local and regional designers and attendees. "Our work is about creating the space for conversations to happen," claimed David Codling, MENA regional arts director for the British Council. "It is where people who have found their voice can converse together with aspiring artists looking for their own voice." the nourishment is important and this interaction that happens across cultures is the foundation of a long-term relationship with Saudi designers"
"I think what they are doing is right," Morag Myerscrough, one of the U.K.'s most prolific artists and an invited speaker at Saudi Design Week, said about the local talent on display. "They're crossing boundaries and collaborating."