'Tashweesh': Looking at elements of everyday life that are often overlooked
Exploring the idea of everyday material noise is the theme of the fifth annual exhibition by U.A.E. Unlimited titled 'Tashweesh: Material Noise', featuring new works by six UAE-based artists, now running at Maraya Art Centre in Sharjah.

Maraya Art Centre curator Laura Metzler has curated the show and it marks the second partnership between U. A. E. Unlimited and Maraya, supported by the Ministry of Culture and Knowledge Development.

Responding to the theme, the six artists—Mona Ayyash, Ayesha Hadhir, Rawdha Al Ketbi, Hashel Al Lamki, Zara Mahmood, and Tor Seidel — have created works which are diverse in their approach and technique. They have taken inspiration from the environment around us, looking for elements that are often overlooked.

A highlight of the show is the new multi-media installation 'Around Us' by guest artist and mentor Nujoom Al Ghanem, who is representing the UAE at the current Venice Biennale.

'Around Us' represents the memories that the artist could not erase. "I brought them here to let them speak for themselves, and to leave some of their prints and noises in this space."

In Arabic, 'Tashweesh', refers to white noise in a technical sense, applied to radios and televisions, but can also be a type of mental disruption or confusion, a result of being overwhelmed.

The exhibition then transcribes this onto the physical world. The artists' responses, then, are seen as individual frequencies and voices, each with their own practice and methods that become a visual consideration of the variety of modes of art making that are present in the UAE.

Curator Metzler is not new to the format of this exhibition, having been Senior Adviser to last year's U.A.E. Unlimited's fourth exhibition titled 'Ishara' held at Al Serkal Avenue in Dubai.

"The exhibition has come back to Maraya after three years and it's been a really exciting and fun process to be curating it. You get to work with UAE-based emerging artists at various stages in their careers."

"We have a wonderful dialog and having Nujoom Al Ghanem as guest artist was a perfect choice because her practice moves between writing, visual art and film. And she brought all these elements in and was trying to push the artists to think about other influences and ways of bringing their practices together."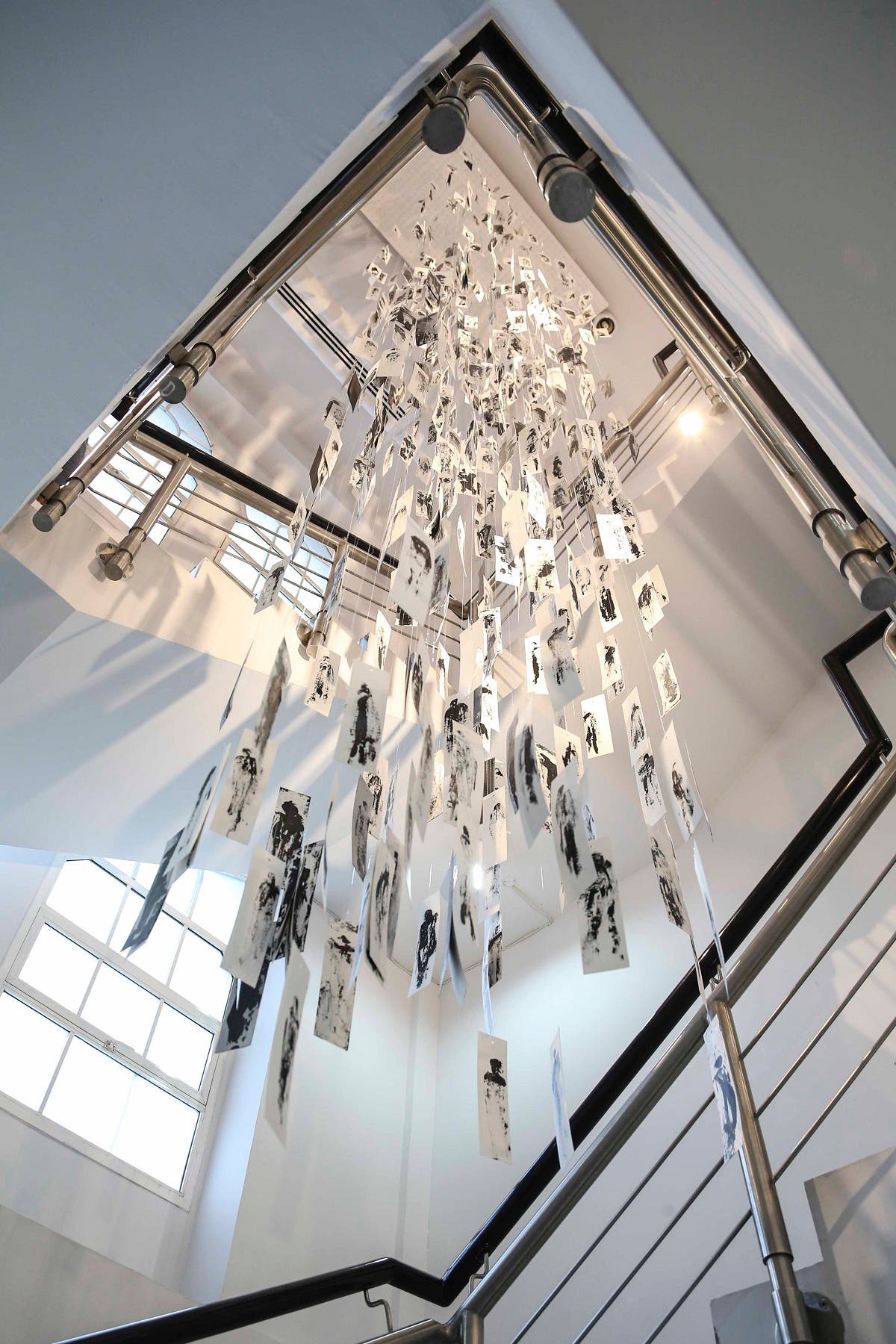 Metzler notes that one of the wonderful things about the U.A.E. Unlimited platform is that "it allows for research, experimentation, and thinking about the new possibilities" that tell the layered story of what the UAE is about.

The artists for the U.A.E. Unlimited are all invited and there is a careful process and discussion behind the selection process. And after that, it took nine months of research, mentoring, and pedagogy, for the show to take final shape.

Mona Ayyash, who is of Palestinian origin but grew up in Dubai, uses existing sports footage to think about boredom, slowness, and what's happening when nothing is happening. The chosen scenes particularly are looking at group sports and their choreography, continuously looping small segments. "I think of this work as something happening in the background. It is soft, not necessarily aggressive."

"In 'Groupings', I am looking at a group of figures and then thinking about the shape: about people working together and moving together, synching their bodies."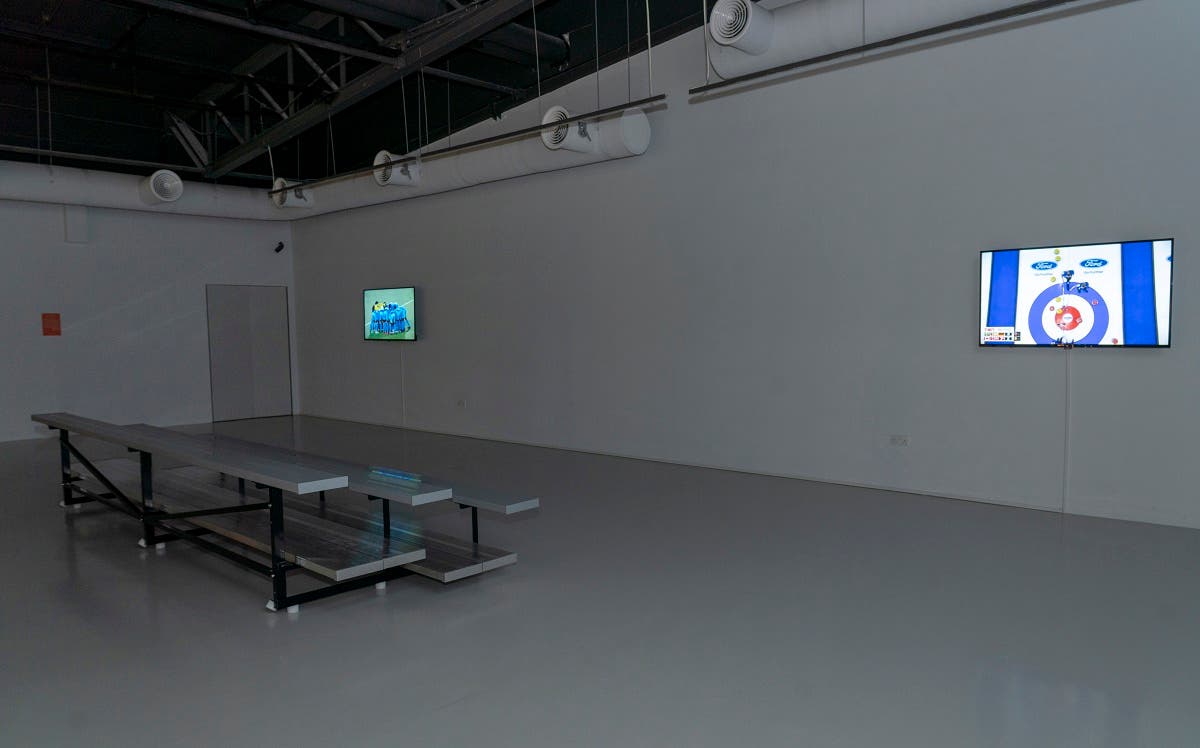 These are shown on two separate screens and the viewer gets to follow the action at a particular distance where you can only watch one screen at a time and "there is a small disruption in the viewing experience."

Ayyash says the work looks at 'the idea of boredom', thinking about pushing the viewer's attention so that a weird kind of relationship develops, the more time they spend watching."

Ayesha Hadhir is presenting a new installation inspired by the history of diving in her family and the relationship with algae at a specific site off Al Dibhya Island in Abu Dhabi where her father taught her how to dive.

Her work titled 'Plant the seed before the soil returns' is a mixed media installation of commissioned embroidery, family furniture, and natural growth. She has created a real world, personal feel into an organic environment where the elements interact seamlessly, like nature. She has used décor and furniture from her home to make the whole atmosphere "feel real and that it comes from a soul."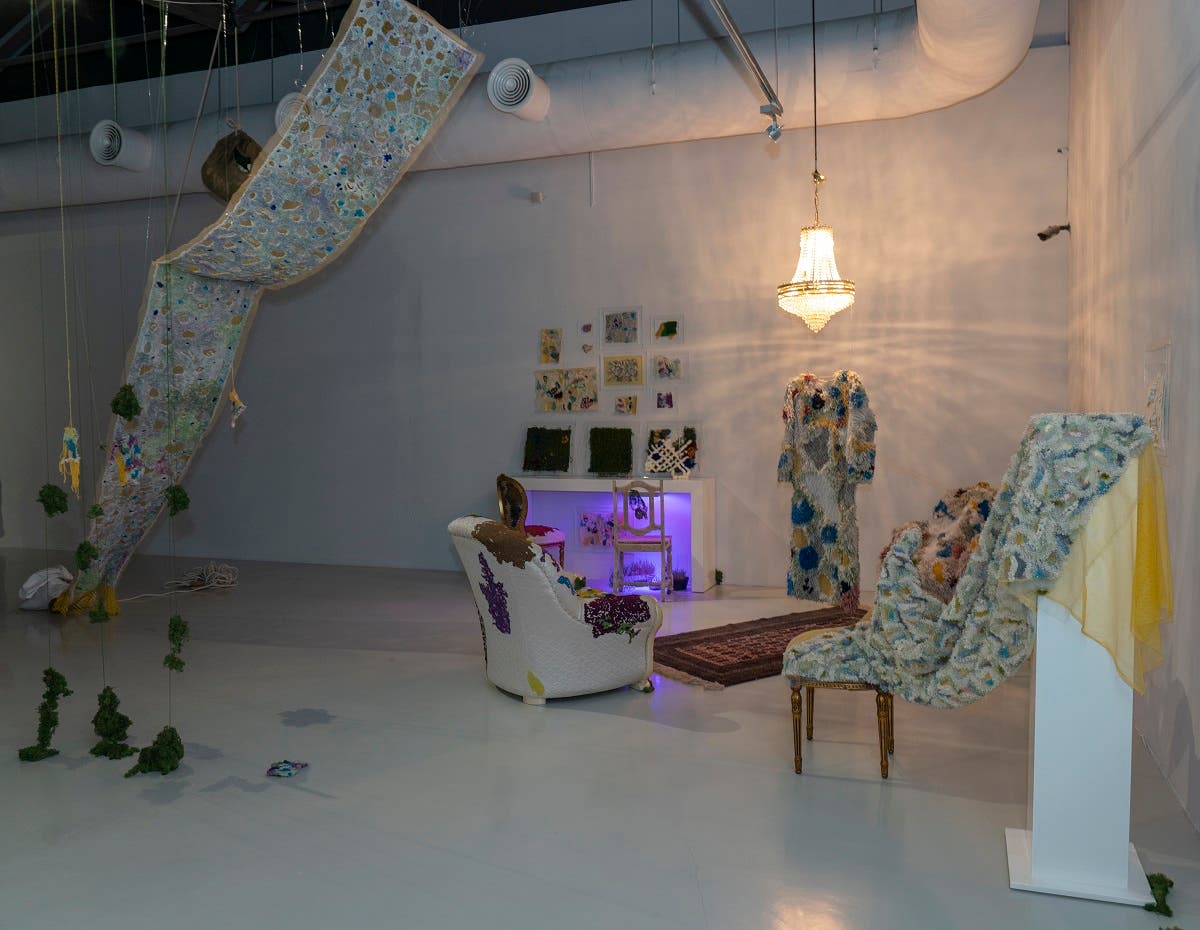 Hadhir has also commissioned a performance in collaboration with Camilla Singh, an Abu Dhabi-based performance artist and curator that thinks about entanglement. "It's another layer of embroidery and collaboration," says Hadhir.

Abu Dhabi-based Rawdha Al Ketbi uses found objects to piece together the story of a mysterious figure, Rafi, who has been showing up in her in pieces in an abandoned location in Abu Dhabi. 'Rafi' is a mysterious character in whose presence Al Ketbi becomes comfortable and visiting the space to search for more clues becomes a source of inspiration until one day she finds the place completely demolished.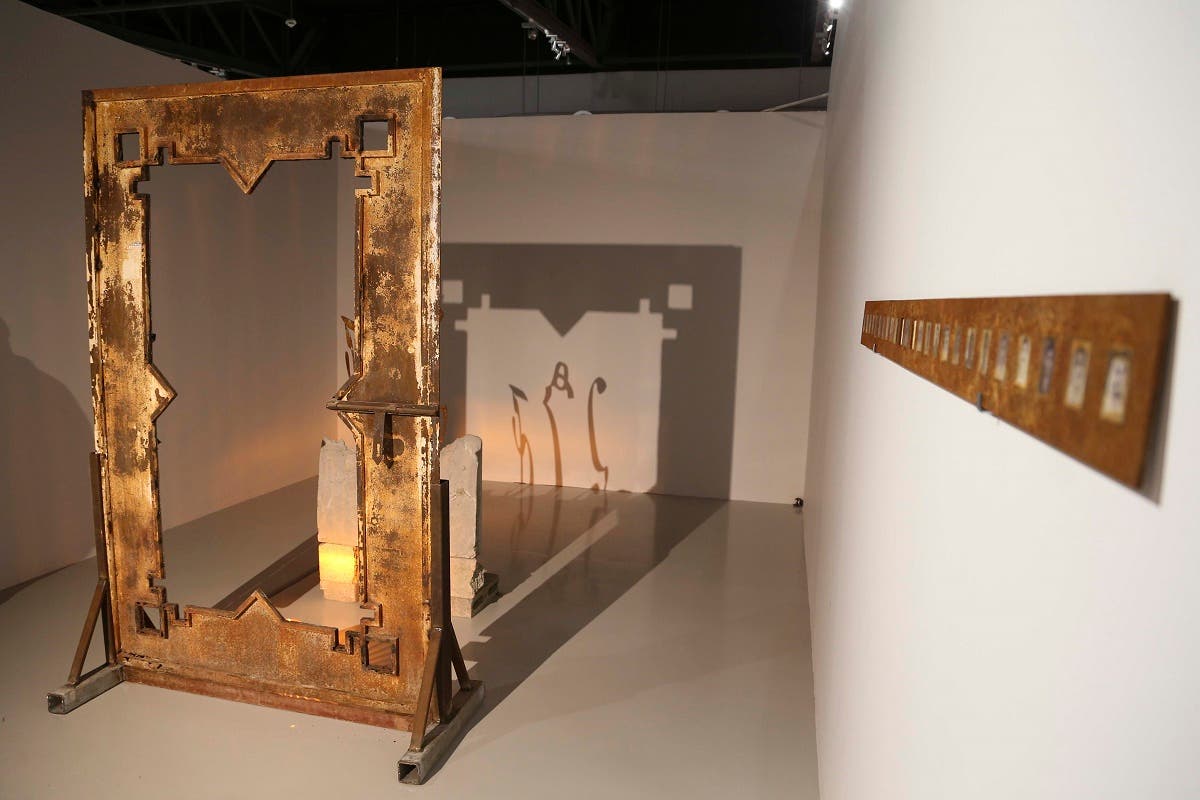 Her latest work 'Rafi is Gone' is the culmination of the series over the past three years that began with the work, 'Someone is Watching You'. "It was a journey through abandonment, and I found a lost spirit that spoke to me."

Hashel Al Lamki has created a seven-panel acrylic painting titled 'Palindrom Echo' that engages with the process of having to drown out the noise around you, thinking about interruption and the continual journey of production.

Lamki who studied art at Parsons New York and lived there for some time returned to Abu Dhabi and has been busy taking part in exhibitions in the UAE.

Speaking of 'Palindrom Echo', he says that he "decided to kind of not focus on specific material things and actually to focus on the state of mind and have the ability to have a panoramic view of life."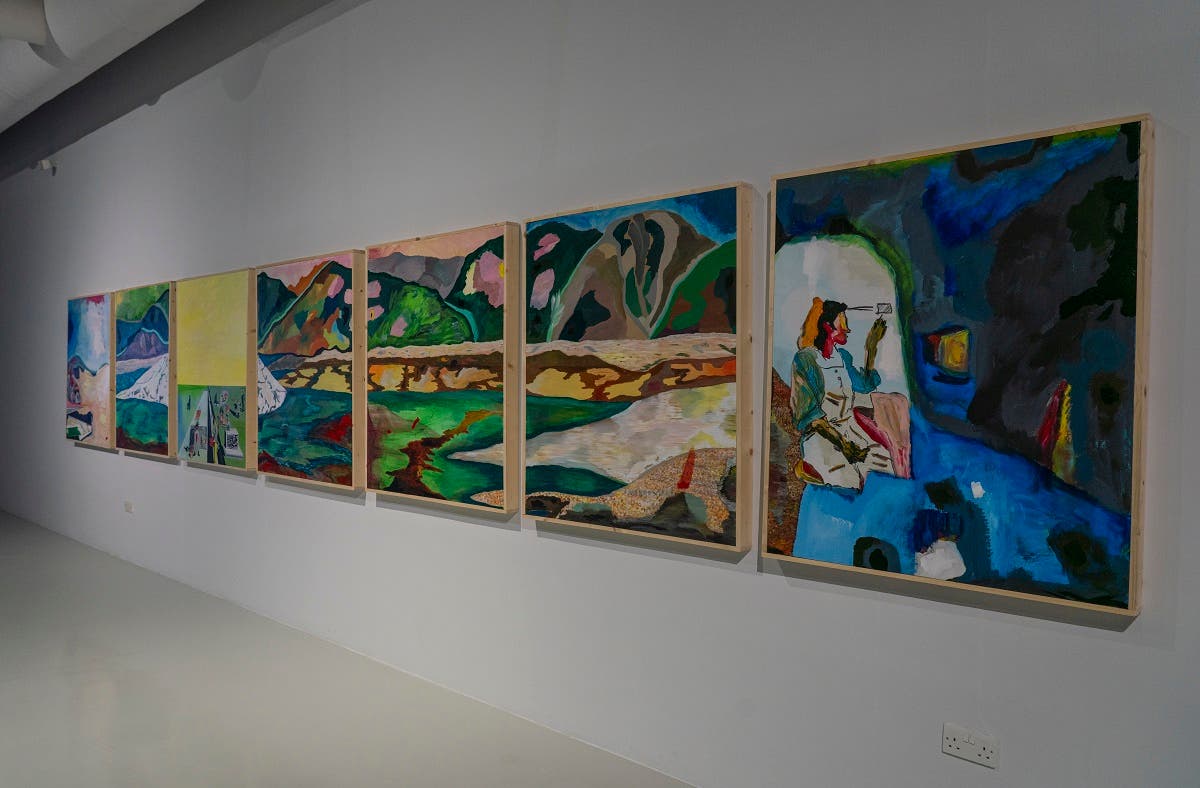 'Palindrom Echo' is not just focused on one plane – inner or outward. It is multidimensional, a parallel universe. These are imaginary landscapes with echoes of surrealism," he adds.

Zara Mahmood, who teaches art at American University in Dubai and Zayed University documented the movement of light on ordinary surfaces, thinking of light as an artist and its impact on the world around us.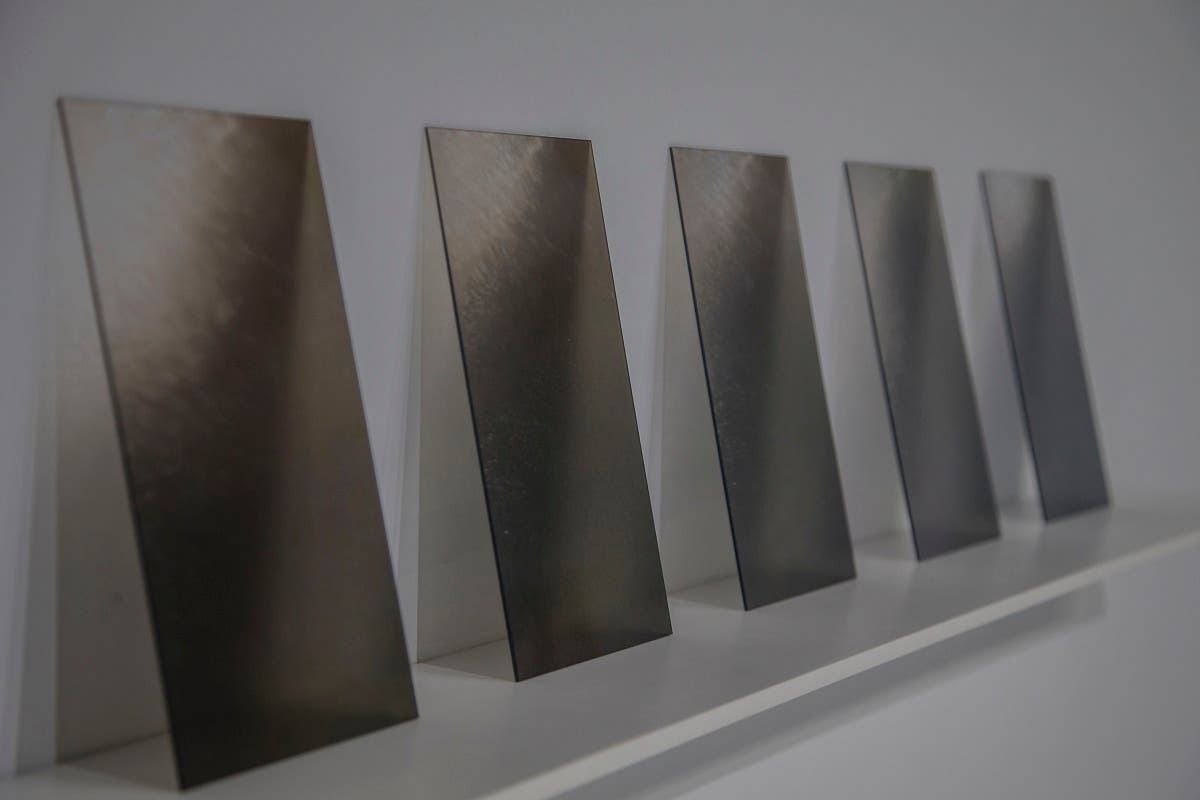 Mahmood, who studied in Lahore in Pakistan and Surrey, UK, and describes her works, 'Momentary I, II, III' (digital prints on acrylic) as 'drawings by light'. "It refers to drawings that don't leave a trace, which occur every day which don't leave any residue, impression, or marks. From that angle, it fitted well within the theme of 'Tashweesh'. Maybe it is worthwhile to invite the viewers to pay attention to subtleties that happen in our lives, but yet have become part of the 'white noise' in our lives."

Tor Seidel is a German artist who is at present a Fine Arts Lecturer at the University of Sharjah, has created two pieces, 'Spectrum 1' and 'Scent Fields…' that start with natural soap varieties available in the UAE and think of them as an atlas of different communities and memories through scent.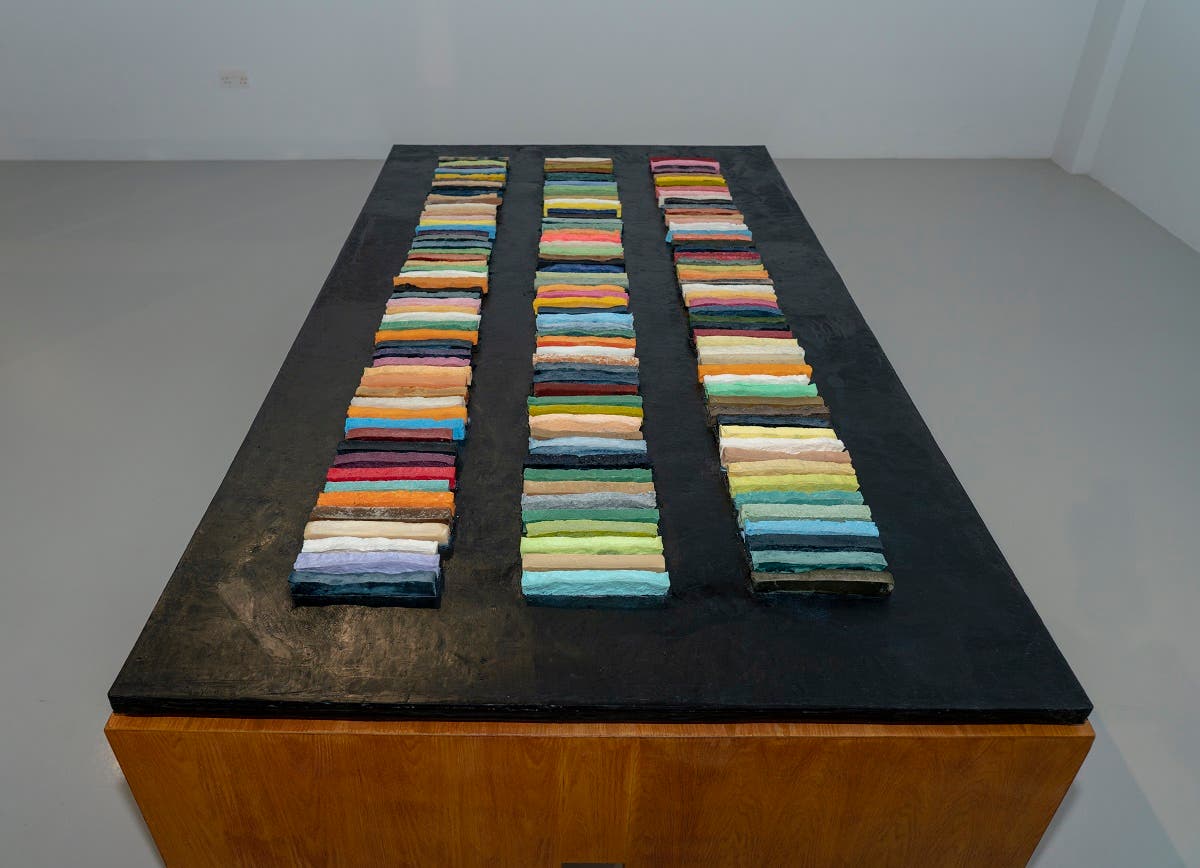 Seidel's works represent a visual archive or complex scent compositions of personal and collective memories tied to personal ritual.

The exhibition closes on May 25, 2019.