Saudi artist Zaman Jassim in the spotlight after work seen in Crown Prince's office
Saudi Arabian artist Zaman Jassim has received renewed attention for his artistic work after one of his paintings was seen in Crown Prince Mohammed bin Salman's office in a photograph taken during a recent virtual meeting of the Kingdom's Council of Ministers chaired by King Salman bin Abdulaziz late on Tuesday.
Jassim's painting, which could be seen in the background of the photograph, gained considerable attention on social media from many users who praised the Crown Prince's initiative to showcase local works from Saudi Arabian artists.
"The matter that is more important is not that my work only appeared in such an important place, but it shows how much importance and significance this will add to the local artists and industry as a whole," Jassim told Al Arabiya's Tafa3olcom show via video from his hometown in Qatif.
Read more: Coronavirus: Saudi Arabian women perform in all-female music festival online
"I've been practicing fine art for a number of years, especially painting. The painting which went viral in recent days, I painted three years ago exactly and it contains traditional motifs and calligraphy," Jassim said.
Jassim has become known in the region as a local artist who uses unusual forms and mixed media in his works. According to a profile of Jassim on the Riyadh-based L'Art Pur Gallery's website, the artist was born in 1971 in al-Khobar, Saudi Arabia. He received his diploma from the Art Institute in Riyadh in 1989, and has since participated in group exhibitions in the Arab world, Europe, India and Taiwan.
"He evokes earthy colors into a unique expression through mixed media. His style is heavily textured with unusual forms; rectangles, cones and some that look like appliqué works on the wall. His work is enriched with symbols, tattoos, patterns and calligraphy and narrates a simultaneously stark and rich visual story," L'Art Pur Gallery said, describing Jassim's portfolio.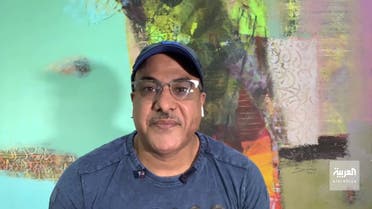 Read more: Saudi Arabian schools to now teach music, theater, art
Social media reacts
The portrait seen in Crown Prince Mohammed bin Salman's office received widespread reactions on social media, with many praising the focus on local arts.
"Celebrating art may take the form of a thousand images, but celebrating your children has one image. The one picture on a wall the world can see; and see that your trust in your people is matched only by their confidence in you," twitter user Khalid Alyahya wrote.
Jassim said he was surprised at first when his friends began sending him messages that they saw his painting in the background of the Crown Prince's office.
"I was surprised at the beginning obviously. I received a lot of messages from friends and relatives that they saw my painting in His Highness' office. At first, I didn't want to confirm that it was my painting because the painting in the photograph appeared very far in the background and I wanted to make sure that it was actually one of my works," Jassim said.
Saudi Arabian art's "Golden Age"
Jassim told Al Arabiya that the latest viral incident points toward a golden age for artists living and working in the Kingdom.
"We're living a period of growth as artists in the Kingdom as we're seeing an increasing importance placed on our industry. One of the main priorities of His Highness the Crown Prince through the [Saudi Vision 2030] is the arts and culture," Jassim added.
Another Saudi Arabian artist to share the spotlight in recent days is Lulwah AlHomoud, whose painting appeared in one of Crown Prince Mohammed bin Salman's offices.
"After I showed my works at international museums and institutions, I knew that nothing compares to your success within your own country and the country's appreciation for your art. How proud I am of my painting in the office of His Highness the Crown Prince," AlHomoud tweeted on Wednesday.
Reacting to all the praise for local artists overnight, Saudi Arabia's Minister of Culture Prince Badr bin Abdullah bin Farhan said it should come as no surprise of the Kingdom's support for artists hailing from the Kingdom.
"For your information, His Highness the Crown Prince since 2013 requested that all his official offices and workplaces hold artistic works made by Saudi Arabian hands," Prince Badr tweeted.
Read more:
MBC Ramadan series 'Umm Haroun' explores Jewish roots in the Gulf region
Wealthy snap up art, antiques as coronavirus hits traditional investments