Rehab Zakri's father, who works in construction, used to bring home samples of wood and marble to test them for his projects. Little did he know that these materials would inspire his 20-year-old daughter to become a popular artist.
In an interview with Al Arabiya English, the Saudi Arabian artist, known for her use of broken marble pieces as her canvas, shared the story of how she almost gave up on marble before pursuing her passion again.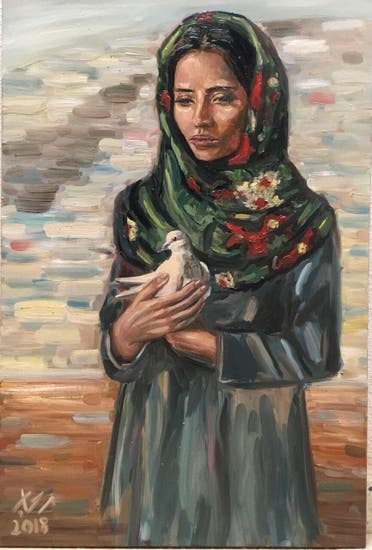 "When I first drew on marble, I fell in love with it, but I faced the problem of colors not sticking on to the marble, so after several trials, I left it for a while," Zakri said. "Then my friend told me that there's a certain material which can stick any kind of color to any kind of material. When I heard this, I was so happy."
Zakri, who has 16.3K followers on Twitter and nearly 8,000 on Instagram, said she is often told that her drawings have hit home. "They tell me they relate to my drawings, and that makes me very happy."
Describing herself as an impressionist, Zakri says her artwork is inspired by nature, music, and her own feelings.
Saudi Arabia's art scene
Several Saudi artists have come under the spotlight as the coronavirus lockdown forced people to stay at home. With internet use increasing, Saudi art has received new focus and exposure to a wider audience.
When Saudi Arabia announced its COVID-19 lockdown, artist Nahla al-Ghufaily quickly found herself running out of canvases to paint on, so she turned to what was readily available around her: furniture. View her work here.
In Taif, Klakh - dubbed "Saudi Arabia's own Banksy" - has received renewed attention aftering covering walls with his graffiti artwork. Read more about his work here.