AlUla Arts Festival returns with Saudi Arabia's first Andy Warhol exhibition
The AlUla Arts Festival will return for its second edition on February 16 with Saudi Arabia's first exhibition of artworks by the renowned American contemporary artist Andy Warhol.
The 'FAME: Andy Warhol in AlUla' will feature Warhol's famous paintings and prints of Hollywood stars and celebrities alongside his ground-breaking installation Silver Clouds and archival photography.
For the latest headlines, follow our Google News channel online or via the app.
The exhibition produced in collaboration with The Andy Warhol Museum in Pittsburgh, Pennsylvania and curated by the museum's director Patrick Moore was specifically designed to fit with the famous mirrored Maraya hall.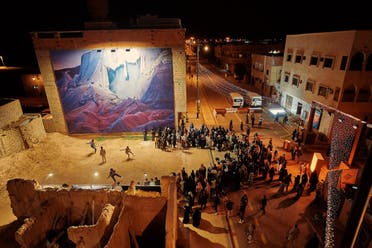 FAME will also be accompanied by a robust program of performances, talks, and workshops, including large-scale projections of Warhol's silent films set to a specially commissioned live soundtrack by cult rock duo Dean and Britta.
Under the theme 'Living in Color,' the AlUla Arts Festival is set to become a must-visit annual event on the global arts scene.
Hiking through the lens of art
Visitors can also go on guided tours to see AlUla's unique landscape through the lens of art.
The Art in the Landscape Guided Hike' will introduce audiences to the Wadi al-Fann landscapes where art commissions by global artists James Turrell, Agnes Denes, and Michael Heizer as well as regional heroes Manal al-Dowayan and Ahmed Mater will be showcased.
The six-hour guided hike will allow participants to navigate the canyons and stunning desert trail while learning about the Wadi al-Fann vision and artist narrative.
The hike will also include a visit to the Art in the Landscape public art installations that were originally part of Desert X AlUla in 2022.
Exclusive performances and experiences
The festival program boasts of art, culture, photography, as well as exclusive performances and immersive experiences across various locations.
AlUla Arts Festival will also feature an impressive program of events, exhibitions, and creative initiatives taking place across 12 days in the stunning landscape of the ancient city of AlUla.
The full schedule of events can be found on the city's official website.
Read more:
Alicia Keys in AlUla: Superstar to perform again at Maraya venue in Saudi Arabia
First reconstruction of 2,000 year-old Nabataean woman unveiled at Saudi's AlUla
Traveling to Saudi Arabia: Your guide to visiting the stunning ancient city of AlUla