One of Hollywood's most eminent special effects and makeup artists, Todd Tucker, spoke to Al Arabiya about his contribution to new movie The Smurfs 2. Tucker has brought his groundbreaking special effects skills to many box office hits including Pirates of the Caribbean, Benjamin Button, GI. Joe, Big Momma's House, and White Chicks. Tucker discusses the Smurfs 2, his past work, and his experiences as a special effects makeup artist in Hollywood.
1. Famous movies such as Syriana, Mission Impossible, Wall Street: Money Never Sleeps, Sex in the City 2, were either shot, or had scenes that were shot in the UAE Have you ever worked on a movie set where you had to come to the region? And what challenges did you face or expect to face if you were to come?
I have not been asked to film in that region. I would assume that one of the biggest challenges would be getting all the make-up supplies shipped and through customs. It's always been a difficult process when we work in countries outside of the US.
2. What is your advice to those in the Middle East who desire to become a part of the makeup effects industry?
To anyone who is interested in entering this field, you need to learn how to sculpt, mold, fabricate and apply. There are a number of books and DVDs that you can order online to help walk you through the many steps and techniques. Buy some materials then practice, practice, practice. When you feel confident that you are ready, put together a portfolio to showcase your best art work. Then locate different make-up FX companies and try to get an interview to show them your work. That's what I did.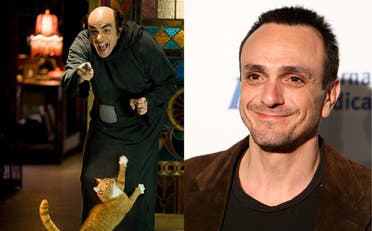 3. What potential do you think the Middle East has in developing an advanced motion picture industry? What advice could you give to achieve that?
I truly don't know enough about the film community in the Middle East to have an answer for that question. I'm sure it would be easier for them to make product that would sell in their country. The trick for any film maker is to create a product that has worldwide appeal. Not an easy task.
4. Most of Smurfs 2 is done in animation, could you elaborate on what your role in it exactly is?
For Smurfs 2, we designed, created and applied the Gargamel make-up, worn by Hank Azaria. We designed and created Hank's look for Smurfs 1 but did not apply it and for Smurfs 2 we had to re-sculpt the nose appliance and made it a little smaller to compensate for a slightly thinner Hank. It's always interesting when you are asked to create a realistic make-up that is based on a cartoon character. The make-up consists of a prosthetic nose, ears, teeth, eyebrows and a wig. Fortunately, Hank is such a great character actor, that he really beings the make-up to life.
5. So how was it working with Hank Azaria and transforming him into 'Gargamel,' the iconic evil wizard. How long did that process take? What was it like?
It's interesting when you are recreating something that has pre-existed on some level especially something as iconic as Gargamel. It's always a challenge when asked to translate a cartoon character that everyone knows, into a live action practical design. Luckily Hank is a great comedic actor and he really brings the character and the make-up to life. It's also fun to turn a well known cartoon villain into a live action character.
6. What were your challenges you came across while working on Smurfs 2?
One of the biggest challenges on current films is creating make ups that are flawless when they are being shot with the new ultra High Definition digital cameras. The new cameras are like a magnifying glass that sees everything. It is more important than ever that the sculpted appliances, make up application, and coloring is absolutely perfect.
7. Any future plans to visit the Middle East?
Not as of yet, but would welcome the opportunity.
8. What exactly was it that made you want to go into special Effects?
I decided that I wanted to do Special Make-up FX when I was a senior in high school. I got as many books and videos as I could find, then started building make-ups, masks and puppets in my garage. After a few years of practice I put together a portfolio of my best work, moved to L.A. and started working. My two friends, Matt Rose and Steve Wang were instrumental in helping me get into the industry. My first big studio film as a professional FX make up artist was Steven Spielberg's Hook. It was a dream to be involved on such an amazing production.
9. Who was your inspiration during the process of getting to where you are today?
As a kid, I was obsessed with movies like Star Wars, Jaws, The Dark Crystal and Halloween. I built a workshop in my garage and started making masks and puppets. It is a blast to conceptualize a character design, then create the finish product.
As a special effect makeup artist, my idols were my two mentors Matt Rose and Steve Wang. Both are friends of mine who helped train me and got me my started in the industry.
As a film maker my idols were Steven Spielberg, Jim Henson and George Lucas. I really enjoyed movies that took you to another world.
10. You've worked on movies such as Benjamin Button, The Watchman, The Smurfs, G.I. Joe Retaliation. Which movie would you say was your most challenging project?
The Smurfs was very challenging, mainly because they used a new ultra high definition camera that is like a microscope and see's everything. The make-up on Hank Azaria had to be extremely clean everyday. It was a challenge.
11. Which movie was the most fun to work on as a special effects artist?
I enjoyed working on G.I. Joe: Retaliation. The director, Jon Chu, really gets these kind of films and understands the action part of it. I was impressed with how he was able to make all the effects in the film look so practical; it doesn't feel like a video game, it doesn't feel CG. It feels like it's really happening.
12. You founded your own production company, Illusion Industry Inc. Tell me, how does it feel to actually own one of the best production companies and to hold the title as the most sought after special-effects makeup artist In Hollywood?
I started Illusion Industries with my business partner, Ronald L Halvas three years ago. I opened the company so I could offer the top quality Make-Up FX and accommodate the tighter industry budgets and turnaround time. We needed to be able to adjust to the current industry demands.
I love my job because of the reaction you get from people when your creation walks out on set. It's a great feeling of accomplishment when a director becomes genuinely excited because you were able to bring his or her vision to life.