Shakira sought 'Pique's approval' for steamy video with Rihanna
Arab commentators vented their anger at Shakira's raunchy video, pointing to her Lebanese origins
Colombian singer Shakira has revealed she had asked permission from her footballer partner Gerard Piqué before filming a racy music video with pop star Rihanna which has been recently blasted for "promoting lesbianism."
In an interview with U.S. radio presenter Ryan Seacrest, Shakira said: "I told him. I asked him if he agreed with everything and he agreed. I wanted to make sure because he's super jealous. He's a man. He's territorial. He wants to know everything is under control."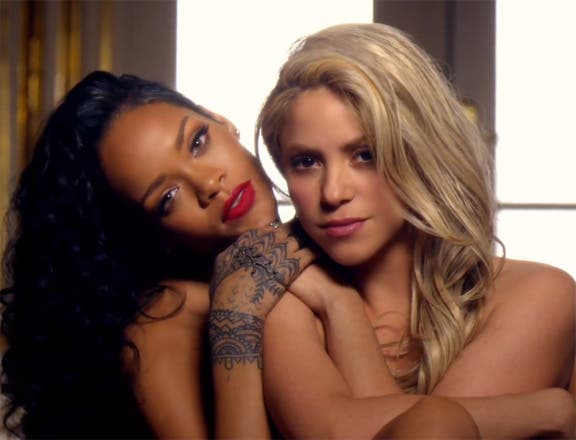 The music video for her new single "Can't Remember to Forget you" had not been given the nod of approval by many music critics and social media users alike after it showed the South American rolling around in bed with Rihanna, while smoking cigars.
Arab commentators in particular vented their anger at Shakira, pointing to her Lebanese origins; the star's paternal grandparents emigrated from Lebanon to New York City, where her father was born.
"It's a lesbianist music video, it's really over [the top]," Fadi Haddad, a Lebanese music video director told Al Arabiya News last week.
"They are both class A stars, and the song is amazing, but I thought the bed scene was over [too bold], and the hands [touching], it's really bad," added Haddad.
But the video did win some support.
"I do not think that it is promoting lesbianism, as much as it is catering to a male audience which would presumably appreciate eroticism between women," Lynn Darwich, the Lebanon-based coordinator of the Coalition for Sexual and Bodily Rights in Muslim Societies – a group aimed at breaking taboos around sexuality in the Arab region – told Al Arabiya News.
"My understanding is based on the performers' rather phallic cigars, coupled with their continuous gaze into the camera, instead of each other. The music industry often sexualizes women for the male gaze, and this video is no different," Darwich added.