Rolling Stone Mideast choose first regional artists for cover
Rolling Stone Middle East has chosen Lebanese indie band Mashrou' Leila to appear on their April cover
Rolling Stone Middle East has chosen the first regional artists to appear on the cover of their next magazine issue: Lebanese indie band Mashrou' Leila.
Set for public release on April 6, the issue will feature an in-depth look at a band that, since being formed six years ago, has risen to the "forefront of the alternative Arabic music scene," according to Rolling Stone Middle East.
Front man Hamed Sinno and guitarist Firas Abou Fakher are featured in the magazine, shedding light on the origins of the band and discussing the struggles of being independent artists in the region.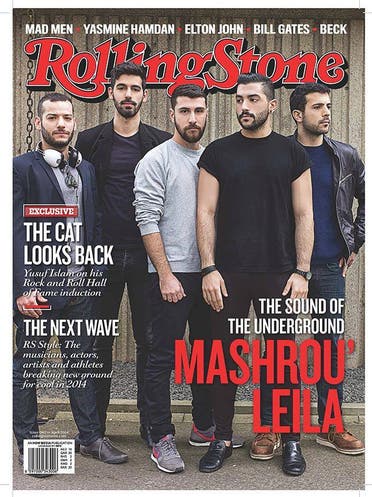 "There isn't really a ladder when you're working independently here," Sinno told the magazine, "or, at least, there are a lot of missing brackets."
Despite the apparent difficulties, the musical talents told the magazine that the creative scene in the Middle East is changing.
"There's a wide movement around the Arab world," said Abou Fakher. "It's not like we're isolated; there are filmmakers, artists, photographers, musicians… we come from a society that has been moving in this direction recently."
Sinno added that the band was founded upon an idea of what they didn't want to do, more so than what they wanted to do. We never heard anything in Arabic we could actually relate to," the singer said.
"We wanted to make music that we would like to hear coming out of our city at this point in time," Abou Fakher added. "I think it was that simple."
No strangers to attention, the band was previously described by The Guardian as "the Beirut-based band [that] are out to stir a musical rebellion in the Middle East," with their "gay front man and anti-establishment lyrics."
Sinno spoke to Rolling Stone Middle East about the pressure of being openly gay in the region, saying ""I've always been very aware of the importance of coming out – and staying out – in public. I think that kind of thing makes it a lot easier for younger men who are just starting to discover these things to imagine themselves having a happy life, and not necessarily killing themselves. That's important.
"But, at the same time," he added, "I don't want anyone to feel that I 'represent' anyone. I've always been very clear about not speaking for anyone's opinions but my own."
According to The Guardian, the band crowd funded their latest album "Raasuk" to bypass the control of a record company, and the idea seems to be working as they currently have a growing fan base, including 176,000 Facebook likes, and a Rolling Stone Middle East cover to boot.