Poker Face no more: Lady Gaga dons the veil
U.S. pop star seen wearing what resembled a women's Islamic face veil on the streets of New York
Pop star Lady Gaga, famous for her other-worldly outfits - including a dress made out of meat and a gold Viking helmet - has got the paparazzi buzzing again this week after she was spotted wearing what resembled a Muslim woman's head covering, the Daily Mail reported.
The "Poker Face" singer was seen walking down the streets of New York on Saturday wearing a black veil across her face from the nose down to her shoulders, in a look similar to a Niqab, a black veil commonly donned by conservative Muslim women to cover their faces.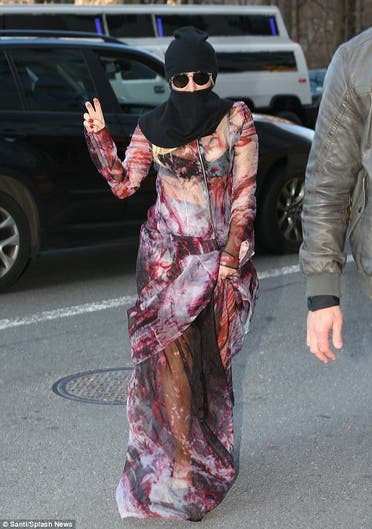 Gaga was pictured running errands - accompanied by her bodyguard - crossing the street wearing the head gear and a see-through long dress in which her undergarments were visibly seen.
In the spotlight
This is not the first time Gaga has been spotlighted for her interest in Islamic culture.
In 2013, a leaked demo track entitled "Burqa" (which was later on changed to "Aura"), roused a few comments from the Muslim community, as reported by U.S.-based news site Huffington Post.
The DC-based Washington Post even published an open letter to Lady Gaga with the headline "Dear Lady Gaga, 'Burqa' sends the wrong message."
In 2012, Lady Gaga took to Twitter to explain why she likes wearing veils.
"People ask me why I wear veils. I reply, I'm mourning. Mourning what? Well I figure something sh**y must be going on somewhere," she said as reported by UK-based entertainment site NME.