Engaged! Clooney proposes to Lebanese lawyer
They've been trying to keep things low key, but it's been hard to keep schtum since their romance began
They've been trying to keep things low key, but when one of Hollywood's most coveted bachelors gets engaged, it's hard to keep schtum!
Oscar-winning heartthrob George Clooney, has got engaged to his British-Lebanese lawyer girlfriend Amal Alamuddin, People magazine reported Saturday.
SEE ALSO: Who is Clooney's fiancée Amal Alamuddin?
SEE ALSO: Is George Clooney's fiancée an 'Arabian Anne Hathaway?'

"George and Amal are trying to keep things very low-key but they also aren't really trying to hide this, it doesn't seem," the celebrity publication reported, citing an unnamed source "with knowledge of the situation."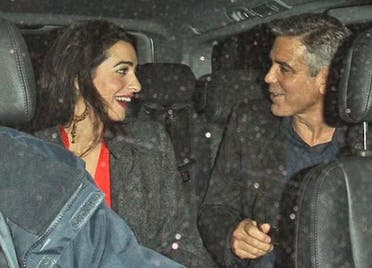 "I think it's like they want the people they love to know that this is real, that they plan on being together forever," the source said.
The source speculated that the engagement happened "not that long ago" and that there do not appear to be any wedding plans yet.
The magazine quoted a different source as saying that Clooney and Alamuddin were seen Thursday at a swanky Los Angeles restaurant dining with supermodel Cindy Crawford and her husband, described as longtime Clooney friends.
'Huge ring'
Alamuddin was then spotted wearing a "huge ring," the witness told the magazine.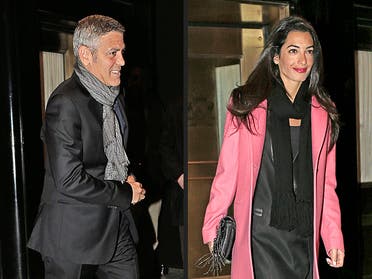 Clooney, 52, has had a string of younger model and actress girlfriends over the years but shown little interest in settling down.

Alamuddin, 36, is a British attorney specializing in international law and human rights. Clooney has long shown interest in human rights issues such as the humanitarian crisis in Darfur.

She specializes in international, human rights, extradition and criminal law, and has been appointed as an advisor to former U.N. Secretary General Kofi Annan.
They came out as a couple in October in London, according to People, and since have been seen together in New York and on trips to places like Tanzania and the Seychelles Islands.
The lawyer is representing WikiLeaks founder Julian Assange in his extradition proceedings with Sweden, where he is wanted for questioning in a sexual assault case.

(With AFP)