Who is Clooney's fiancée Amal Alamuddin?
News of the Clooney-Alamuddin engagement spread like wildfire in the Arab world and on social media
It's hard for words alone to do justice to Amal Alamuddin. She is a bright, trilingual, accomplished Oxford and NYU graduate, who recently got engaged to Hollywood's most sought after actor George Clooney.
News about their engagement spread like wildfire in the Arab world and on social media. Many Lebanese women are on cloud nine over the news that one of their own has tamed the perpetual bachelor after two decades of singlehood.
From Lebanon to London
Amal was born in war-torn Beirut in 1978 to Ramzi Alamuddin and Bariaa Miknass. Her father comes from the town of Baakline, a suburb of Beirut and a home to many Lebanese Druze. He is a retired professor of business studies at the American University of Beirut. Amal's mother Bariaa is a senior correspondent and editor at Al-Hayat newspaper and has interviewed many regional leaders. The family moved to London when Amal was two years-old. She has one sister, Tala, and two half-brothers, Samer and Ziad.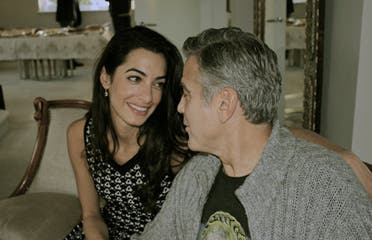 When Bariaa attended Al-Hayat's 25th Jubilee in London last November, news about that Clooney and Alamuddin had already surfaced. But like every mother trying to protect her daughter from the public eye, Bariaa insisted that the two were just friends.
However, sources told Al Arabiya News that Clooney invited the whole family to join the couple on a safari trip in Tanzania and the Seychelles last month. Around the same time, more photos of the pair started to appear publicly. The couple was seen holding hands at a movie screening at the White House, dining in New York and Los Angeles, and hanging out in Malibu with Cindy Crawford and her husband Rande Gerber.
Brilliant lawyer and multi-tasker
Those who know Amal speak of her brilliant mind, elegance and intellect. She won the Shrigley Award at Oxford University and the Jack Katz Memorial Award at New York University School of Law. She was also voted as the hottest London barrister in 2013.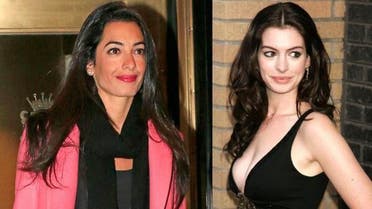 The Lebanese beauty, who the media has portrayed as an Anne Hathaway look-a-like, differs from Clooney's past ex-girlfriends, a long roster of supermodels and actresses. Her career blends humanitarian law and international politics. One of her clients is the controversial figure Julian Assange, responsible for leaking a massive amount of diplomatic cables between American officials. She also advises many governments on international law and has previously consulted for former U.N. envoy on Syria, Kofi Annan. She has also represented the state of Cambodia, the former Libyan intelligence chief Abdallah al-Senussi, and Ukraine's former Prime Minister Yulia Tymoshenko.
SEE ALSO: Is George Clooney's fiancée an 'Arabian Anne Hathaway?'
SEE ALSO: Engaged! Clooney proposes to Lebanese lawyer
For a 36-year-old, Alamuddin has an impressive resume, having also been appointed to several U.N. commissions. She has also lectured at several universities, including The Hague Academy and The New School in New York. She even interned with U.S. Supreme Court judge Sonya Sotomayor.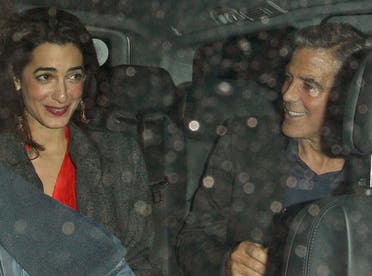 If that wasn't enough, she is fluent in Arabic, French and English and is a published author and editor of a book on The Special Tribunal of Lebanon.
It is Syria, however, that appears to have brought Clooney and Alamuddin together. A source told People magazine that George and Amal were initially just friends and merely "working on a satellite program over Syria." Clooney himself has been doing plenty of humanitarian work in Africa and the Middle East.
The Clooney-Alamuddin engagement promises the wedding of the century, with the potential of Hollywood bonanza colliding with international politics in one place, along with cross-cultural celebrations.