Director releases first shot of Ben Affleck as Batman
The caped crusader has launched himself from the shadows of Gotham City onto Twitter
The caped crusader has launched himself from the shadows of Gotham City onto Twitter as the director of the upcoming flick revealed the first shots of Ben Affleck in his Batman suit.
Director Zack Snyder showed off his version of the crime-fighting superhero this week, to a generally positive response in the Twittersphere.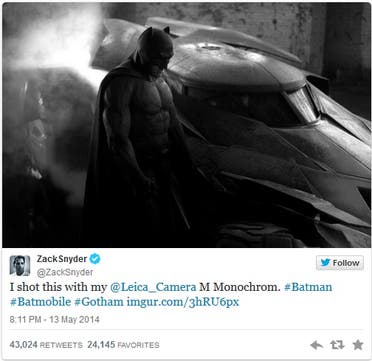 "First pics of Ben Affleck as Batman (and by pics, I meant pecs) that suit is looking killer," Twitter user Sky Hartman said.
"First pic of Ben Affleck as Batman. He looks older, grittier and pissed off. I like it!" tweeted Lee Mohan.
"The first image of Ben Affleck as Batman & Batmobile. Looks.... pretty good actually," another user said.
The response is surprising given the widespread howling on Twitter that accompanied the announcement that Hollywood A-lister Ben Affleck would play the new Batman.
But fans cried foul, with more than 20,000 people signing a petition at change.org calling on Warner Bros. to ditch the 41-year-old star.
"His acting skill is not even close to being believable as Bruce Wayne and he won't do the role justice. He's not built, nor is he intimidating enough for the role of Batman," the petition said.
"His portrayal of Daredevil was atrocious and he's not remotely close to an action star. Please find someone else."
The project is being referred to as "Batman vs. Superman," as it is the first time both superheroes will take on the big screen together, with actor Henry Cavill playing Superman.
The film is set for release in May 2015.