Lebanese diva courts controversy by visiting Geagea
Pictures posted on social media sites showed Elissa in casual dress sitting near Geagea
Lebanese pop star Elissa courted controversy this week after paying a visit to, and voicing support for, Lebanese Forces' (LF) Samir Geagea, one of the country's presidential hopefuls.
Pictures posted on social media sites showed Elissa in casual dress - light blue jeans and a white top – sitting near Geagea, joined by one of Lebanon's leading cartoonists Stavro Jabra, at the LF headquarters in Maarab, north of Beirut.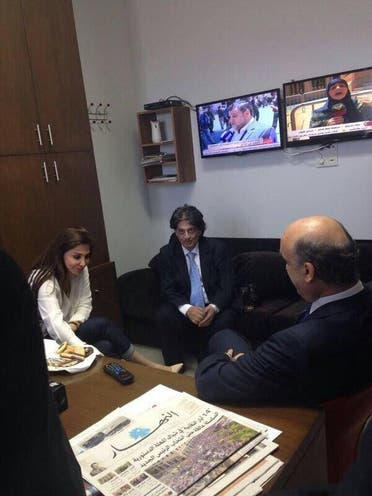 Elissa's Thursday visit to Maarab came as lawmakers failed once more to elect a new head of state due to a lack of quorum in Parliament. Geagea, who in 2012 claimed he escaped an assassination attempt, has been monitoring the developments of the election from Maarab.
The Lebanese singer, who is popular both in Lebanon and the Middle East, is a solid LF supporter and has repeatedly praised Geagea's candidacy for the top Christian political seat.
Her continuous support for Geagea has come at a price and her fondness for the LF leader was recently satirized in a television sketch by a local station.
On social media websites, many users voiced support for the visit, saying Elissa had every right to express her political opinion.
"It is her right to love [Geagea] and it is our's not to," @mohammedsoufan1, a Twitter user, said.
Others said the move was misguided.
"She betrayed her country to stand next to and support Samir Geagea: Today she was at his house in Maarab," said Twitter user @Rabiehharandas, in a post on the micro-blogging website.
"Elissa, haven't you read the history of Lebanon's civil war," asked a user in a Facebook post.
In 1994, Geagea was arrested over his suspected involvement in a bomb attack on a church north of the capital that same year.
Geagea, who headed the LF militia before it was disbanded, was also sentenced to life imprisonment over his alleged involvement in political assassinations during the Civil War period. He was released in July 2005 after Parliament passed an amnesty law.
Elissa is one of several Lebanese artists to court controversy through their political affiliation.
Renowned composer Ziad Rahbani was criticized heavily earlier this year after saying his mother, legendry Lebanese singer Fairuz, admired Hezbollah leader Sayyed Hasan Nasrallah.