Cannes Palme d'Or award goes to Turkish film
'Winter Sleep,' a three-hour-plus film, explores the huge gap between the powerful and powerless in Turkey
Turkish film "Winter Sleep" directed by Nuri Bilge Ceylan won the Palme d'Or award for best film on Saturday at the 67th Cannes International Film Festival, the prize jury announced.

Ceylan, whose three-hour-plus film explores the huge gap between the powerful and powerless in his country, noted that the award came on the 100th anniversary of Turkish film.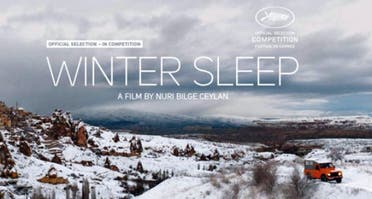 He dedicated the award to "those who lost their lives during the last year", adding that he was referring to the youth of his country.

"Le Meraviglie" (The Wonders) by Italian director Alice Rohrwacher took the second place prize for a coming-of-age story set in the Tuscan countryside as a family tries to eke out a bohemian life making honey.

Twenty-five-year-old Canadian director Xavier Dolan's film "Mommy" shared the third-place prize with octogenarian French director Jean-Luc Godard's "Adieu au Langage" (Goodbye to Language).

American director Bennett Miller won the best director award for "Foxcatcher", British actor Timothy Spall won best actor for Mike Leigh's film "Mr Turner" and Julianne Moore was named best actress in David Cronenberg's "Maps to the Stars".

"Leviathan" by Russia's Andrei Zvyagintsev took the prize for best screenplay.

"It was an extremely diverse ensemble - films that were classical, films that were radical, films that were about the future of cinema," jury member and Danish director Nicolas Winding Refn said after the awards were announced.

Hollywood Reporter critic Stuart Kemp said in a text message that the awards showed "no surprises with the awards going to predictable places".

A woman getting only second prize from a jury headed by director Jane Campion, the only woman ever to win the Palme d'Or for her film "The Piano" could be seen as a disappointment, Kemp said, but he added: "U.S. talent enjoys the best night in years at Cannes".

Critics had applauded "Winter Sleep" as one of the standout films in a festival that was somewhat short on fireworks, with the French newspaper Le Monde calling it "magnificent".

Variety critic Justin Chang called it a "sprawling, character-rich portrait of a self-absorbed Anatolian hotelier and his uneasy relationships with those around him".

It is only the second film by a Turkish director to win the Palme, after Yilmaz Guney and Serif Goren's "The Way" (1982).

Campion said she had been daunted by the running length of three hours and 16 minutes but said "it had such a beautiful rhythm ... I could have stayed there a couple more hours".

"The real gift of this film is how honest it is," she said.
Almost claustrophobic

Despite its setting in the vast Anatolian steppe, the atmosphere is almost claustrophobic as it shows a rich man and former actor named Aydin (Haluk Bilginer) who uses his intellect and position to bully his tenants and beat his wife and sister into intellectual submission.

Ceylan was peppered with questions during the festival about a recent coalmine disaster in Turkey, and about other unrest.

"Of course Turkey is a country where there are many problems ... every day you come up with another big issue. The artist doesn't have a lack of subject matter," he told Reuters in an interview after the film's premiere last week.

This year's festival had its share of glitz and glamour, with Nicole Kidman playing Grace Kelly in "Grace of Monaco," the widely panned film that opened the festival but was not in competition.

Those making a requisite turn down the red carpet flanked by tuxedo-wearing photographers included Sharon Stone, Aishwarya Rai, Uma Thurman and John Travolta, Eva Longoria, Naomi Watts and Jessica Chastain.