Lady Gaga's 'Middle East dreams' come true
The pop star was also urged to sing her song "Aura" which mentions the burqa – a form of Islamic dress that covers the face
Fans have been waiting with bated breath for Lady Gaga to sing in Dubai later this week, and on Monday night she arrived in the emirate welcomed by the crowds.
Gaga had said she was excited to start her first Middle East tour.
"My fans were so sweet at the airport I was so choked up! I have been dreaming of coming to the Middle East and finally #dreamscometrue," she wrote on her Facebook account while sharing a couple of pictures.
In her hotel, she then posted: "Lady Dubai in my absolutely exquisite hotel. What a privilege to be here. They have been so gracious and kind to me. #DubaiMonster4Life"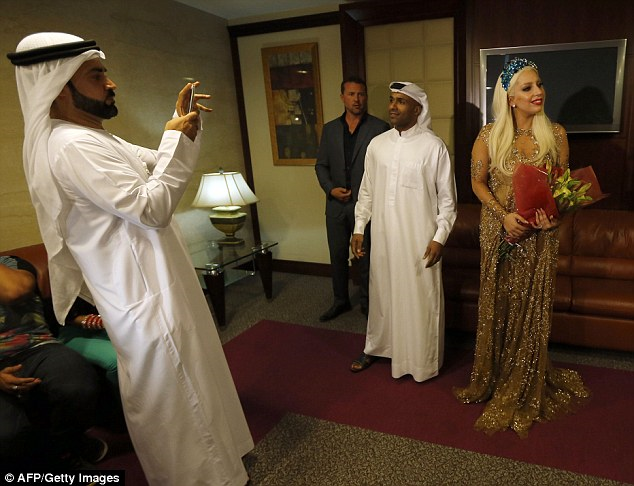 Gaga's concert is expected to take place at Dubai's Meydan Racecourse on Wednesday.
She reserved some time for the press to answer their questions in a VIP room at the Dubai International Airport after she landed.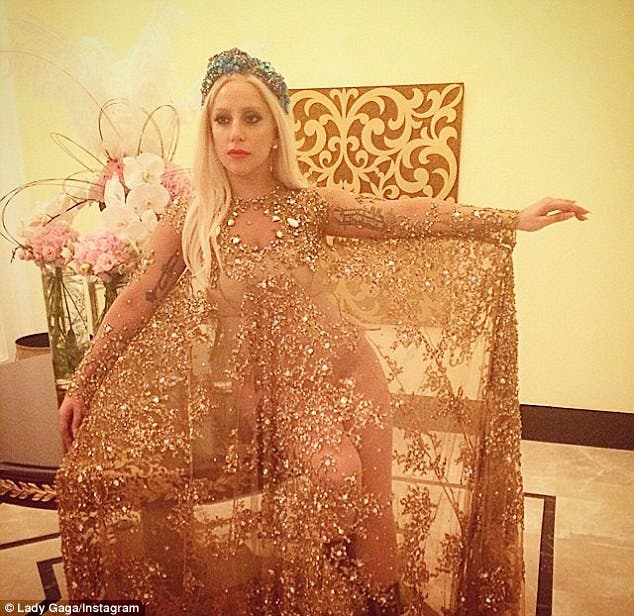 Gaga's was dressed in a long, sheer golden gown which was created by a Dubai-based designer and she paired it with a shiny blue headpiece.
Gaga added a dramatic touch to her look with kohl-lined eyes and red lipstick.
'Respecting the culture'
One reporter asked if she will be wearing the same dress in her performance on Wednesday. "No, I will not be. I respect the culture here and this show will be a appropriate for all the fans here in Dubai," she said.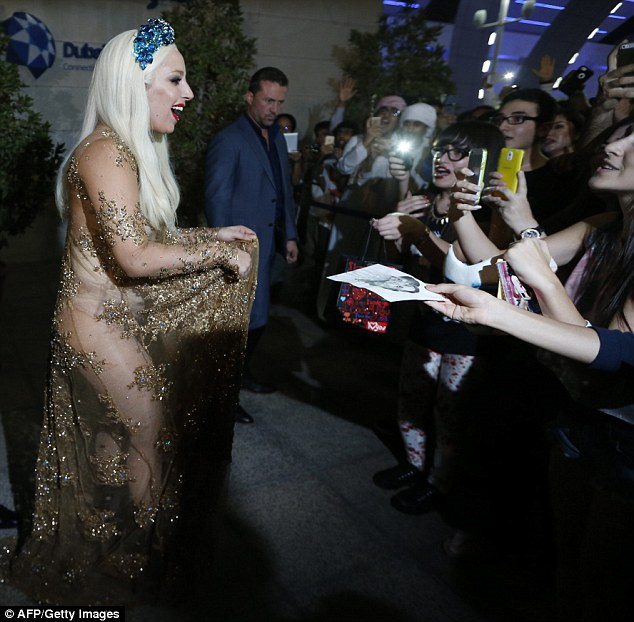 The pop star was also urged to sing her song "Aura" which mentions the burqa – a form of Islamic dress that covers the face.
In comments carried by UAE-based Gulf News, Gaga said: "At the end of the song, we mention the burqa. The song Aura is about the aura that we all carry with us. Our essence.
"And I say, do you want to see the girl behind the aura? Meaning: the presence and the image I've projected for years, are you interested in knowing what's underneath all of that? So, the burqa, the curtain, the veil, these are all metaphors I use to bring fans from all over the world with different cultures together."
However, when reporters asked Gaga about her opinion on her Dubai show failing to sell all tickets, she said: "Next question, please."
And the star voiced hope that all eyes wouldn't just be on what she wears.
"Most importantly, while I'm here, I'd like to leave a message of light and happiness and creativity and freedom with the fans, and that's more important than my clothes," Gaga said in a message to her fans.