Kardashian Arab costume draws anger from fans
In photos uploaded to his Instagram account, Disick is seen posing in attire similar to that worn by natives to the Arabian Gulf
Although not a Kardashian by blood, Scott Disick managed to attract controversy that usually surrounds his girlfriend's family by dressing as an "Arab Sheikh" this Halloween, which was deemed offensive by social media users.
In photos uploaded to his Instagram account, Disick, Kourtney Kardashian's long-time boyfriend and father to their two children, is seen posing in attire similar to that worn by natives to the Arabian Gulf.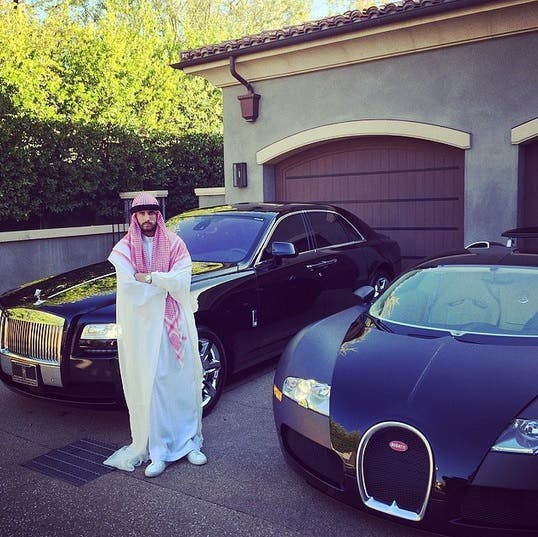 One of the photos, taken in front of a Rolls Royce and a Bughatti, is captioned "Happy halloween! We getting Arab money tonight," likely a reference to a 2008 song by U.S. rapper Busta Rhymes.
Another Halloween and these idiotic "celebrities" continue to do this shit.

— Miنi (@miniestmini) November 1, 2014
Khloé Kardashian, Kourtney's sister, also posted a photo of Disick and his friend, who wore a similar outfit.
Several people tweeted in anger at what they called were offensive costumes.
why did scott disick dress like that for halloween who does he think he is

— trap lord julia (@harryurnotfunny) November 1, 2014
This comes after U.S. retail giant Walmart pulled two Halloween costumes that sparked outrage on social media for being too offensive.
Following public outrage on Twitter instigated by the "Mens Papa Pashtun Costume," the name one costume was being marketed under, Walmart decided to pull the product from all its retailers.
The company also pulled an "Arab Sheikh" costume after it came under fire.
Middle Eastern references were abundant in Hollywood costumes in the U.S. this year, with some going as far as dressing up as Islamic State of Iraq and Syria militants, a group accused of war crimes and crimes against humanity by various rights groups including the United Nations.