'Sexual' movie poster of Egyptian belly dancer sparks controversy
The poster of the movie, called "Apple Charcoal" shows the legs of a female dressed in lace tights
Egyptian belly dancer Sama al-Masry sparked controversy once again this week after the release of a steamy poster advertising her new movie.
The poster of the movie, called "Apple Charcoal" (a reference to a component of the water pipes, known as Shisha or Nargile, commonly smoked in Arab countries) shows the legs of a female dressed in lace tights.
In between her legs, smoke rising from a black shisha pipe can be seen.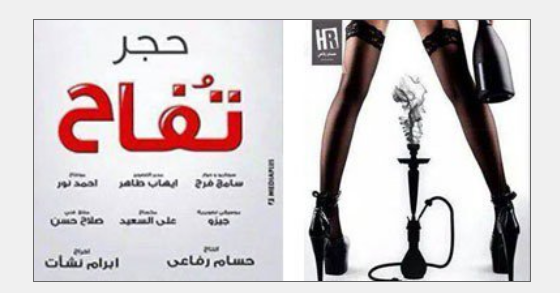 Social media users slammed the poster, saying it was overly sexual.
One user of social microblogging site Twitter user sarcastically wrote: "don't even talk to me about al-Sobky," referring to a controversial Egyptian movie director.
Another Twitter user created a hashtag in Arabic which declared the poster "disgusting."
Facebook users also expressed their anger at the poster saying that it "indicates a lack of respect for the viewer [in Egypt] and the Egyptian cinema."
"What kind of movie is that exactly?" another user commented, while another said "Is that what they call art?"
Masry is no stranger to controversy. In July, she released a video in which she danced and sang a message to U.S. President Barack Obama, accusing him of supporting the banned Muslim Brotherhood movement and meddling in Egypt's affairs.
She also came under the spotlight when she reportedly launched her channel as a stand against Muslim Brotherhood members in Egypt.