Rom-com on U.S. veteran, Iraqi refugee love set for silver screen
The romantic-comedy-drama handles the topics of corporate greed and race-relations
"Amira & Sam," an unlikely cross-cultural romance between an American war veteran and an Iraqi refugee, is set to release across U.S. cinemas in several cities like Austin, Los Angeles and New York on January 30 and will also enjoy a nationwide video on demand release.
The feature length debut by writer-director Sean Mullin, which received its world premiere at the Seattle International Film Festival in May last year, has been selected into Mashable's top 10 list of indie films to watch in 2015, ahead of its release.
The risk of deportation and the unscrupulous practices on Wall Street in a post 9/11 era sets the stage for the unconventional romance to flourish against the iconic backdrop of New York.
In line with the non-conformist nature of the romantic relationship, Mullin has created protagonists, played by Martin Starr who's starred in "Freaks and Geeks" and "Silicon Valley" and newcomer Dina Shihabi, that do not fit stereotypical representations of an ex-Serviceman or a Muslim Iraqi refugee. The atypical characterizations, whether it's Sam not suffering from PTSD or Amira wearing low-cut tops and mini-skirts with her hijab, successfully captures the complexity of cultural identities intersecting with personal motivations and aspirations.
When Amira has a run in with the police and Sam takes her under his wing, both characters bond over their common struggle to fit into an environment that essentially treats them as outsiders. For Sam, the struggle to reintegrate into civilian life and for Amira who lives as an illegal resident and sells pirate videos, pressure builds to an insecure climax for both characters when Amira is about to be deported.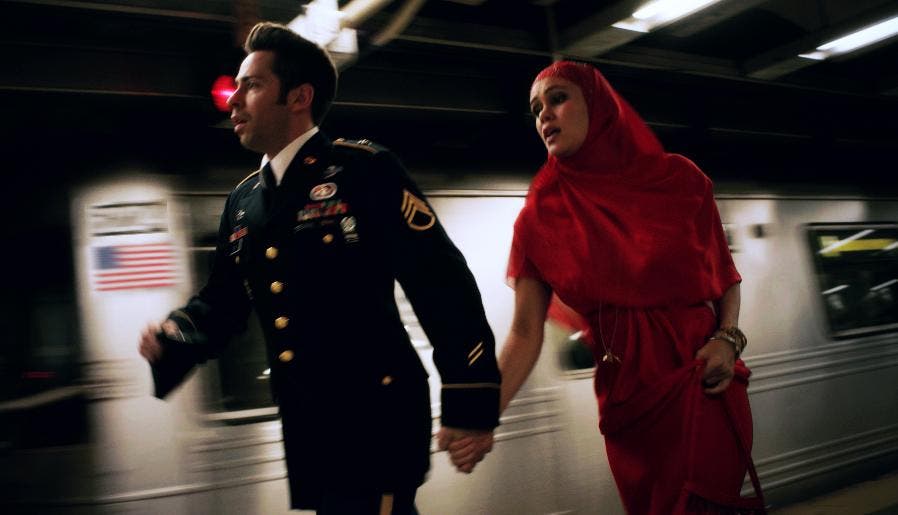 It's during a stand-up comedy scene that Sam has an epiphany - it's his country that has lost its mind. In order to save Amira from being deported, Sam is forced to risk everything he fought so hard to defend.
Speaking to Al Arabiya News, Sean Mullin, the writer and director of "Amira & Sam" explains: "The inspiration for the Iraqi storyline came from the stories I heard from my military friends who were actively trying to get asylum for their translators. I was immediately drawn to the dire circumstances these Iraqi men and women faced."
Prior to launching his filmmaking career, Mullin was a captain in the New York Army National Guard where he was a first responder after the 9/11 attacks. He spent his days working as the officer in charge of the soldiers at Ground Zero and his nights performing stand-up comedy. His background has helped inform his creative output that combines both comedy and drama. He even makes a cameo performance as a stand-up host who introduces Sam's stand-up act in the film.
He goes on to say: "Since September 11th, veterans and immigrants have become increasingly marginalized in American society and so it's our hope that 'Amira & Sam' can challenge some of the perceptions many people hold about both groups. Despite the current narrative pushed by the media, not every soldier who comes home from war is crippled with post-traumatic stress and not every immigrant is a detriment to the future of our country. I felt as though the best way for me to explore such large, complex issues in the context of an independent film was to create an intimate love story with universal implications."
In order to capture the cultural nuances for the Iraqi characters, Mullin leaned heavily on both his actors — Laith Nakli who played "Bassam" (Amira's uncle) and Dina Shihabi: "Laith ended up providing so much to the production that he was brought on board as an Associate Producer. Dina was raised in Saudi Arabia and Dubai — before immigrating to the U.S. at the age of 18 to pursue a career in acting. Her first-hand experiences of culture shock upon landing in NYC helped shape her take on Amira's character. Once Laith and Dina were both cast, they worked rigorously with an Iraqi dialect coach to make sure their Arabic flowed naturally."
The romantic-comedy-drama handles the topics of corporate greed and race-relations at a time when the American political, civil and media landscape is grappling with both these issues. It is both brave and ambitious for a small-budget independent production film. With strong writing, subtle comedic moments and strong performances by actors like Martin Starr, the different elements of the production combine to humanize the characters, successfully challenging any preconceived stereotypes of the characters depicted.