Liam Neeson confirms 'I am not converting to Islam'
The Hollywood actor was keen to clear the air once and for all
Is he or isn't he? Rumors surrounding Liam Neeson's faith have been making the rounds recently after the Daily Mail claimed he was thinking about converting to Islam.
However, during his first trip to Dubai, the Hollywood actor was keen to clear the air once and for all.
"No, I'm not converting [to Islam]," he said in an interview with Al Arabiya News on Monday.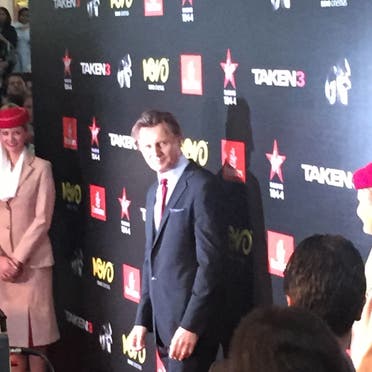 Neeson flew in to the emirate to attend the Middle East premiere of "Taken 3" on Monday evening with all ten screens sold out at the location.
Prior to the fan event, the 62-year-old actor chatted to media about the film franchise, working with Forest Whitaker and of course, converting to Islam.
While the news story first appeared in The Sun newspaper in 2012, it recently resurfaced in the Daily Mail, with Neeson – who was reared a Roman Catholic in Northern Ireland – reportedly admitted that the Islamic call to prayer "got into his spirit" while filming Taken 2 in Istanbul, Turkey.
"The call to prayer happens five times a day, and for the first week, it drives you crazy, and then it just gets into your spirit, and it's the most beautiful, beautiful thing," he was quoted as saying at the time. "There are 4,000 mosques in the city. Some are just stunning, and it really makes me think about becoming a Muslim."
However, Neeson has now clarified the suggestions, telling Al Arabiya News: "No, I'm not converting [to Islam]. But I did kind of follow up to that [call to] prayer at the time," he said. "It's funny; the first three or four days there it was an annoyance because it was waking me up. But later I looked forward to it every day."
Taking Dubai by storm
Neeson has made history by becoming the first Hollywood actor to attend a Middle East film premiere outside of a film festival. And he admits he is quite taken with Dubai.
"It's unbelievable, and this is the first premiere of its kind for me as I have none of my co-stars with me. This is my first time here and it has been wonderful.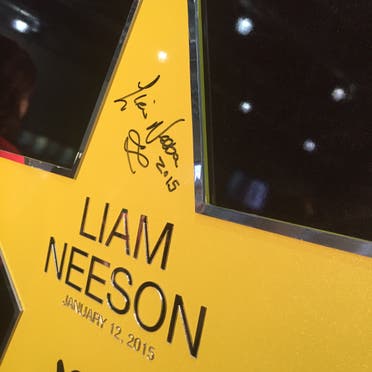 "I had heard about Dubai from various actors and actresses [who have attended] the Dubai International Film Festival, so I'd love to get an invite. And just from what I see them describe, you can make a cool film here. You really could."
So will there be a Taken 4? Neeson doesn't seem to think so.
"Look, I feel it's the end of the series – the poster's tagline ['It Ends Here'] even says it.
"Of course I'd really love to shoot a picture in Dubai – maybe not Taken 4, or 5 or 6 – but something else."
In the third and final installment, the actor returns as ex-covert operative Bryan Mills who is framed for the murder of his ex-wife (played by Famke Janssen). He is forced to flee, with the FBI in hot pursuit. Playing the lead detective is Forest Whitaker, who Neeson is a fan of.
"I've always been a fan since 'Color of Money'," he revealed. "I remember seeing him and thinking gosh… So when they got him for Taken 3 I was thrilled, I was jumping up and down. He's a lovely, lovely man too."
'For the fans'
So why Taken 3? Neeson says it's for the fans, and considering the film has just taken the top slot in the U.S. box-office, he seems to have a point.
"Certainly since the success of the first one, the fan base has gone from old ages to eleven and twelve-year-old boys and girls. It's been very touching.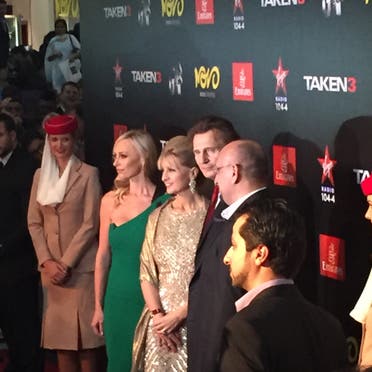 "For example, the movie just came out and I got a photograph from a fan in Texas who is a retired gentleman in his late 70s… and he was there seeing the film with three other couples all in their seventies. He sent me a photo of all of them after they'd just seen the film saying it's a great film. So it's all about the fans.
"People still want to see his character; they still want to see his relationship with his daughter, and his ex-wife. It's very heartening."
Taken 3 goes on general release in the GCC this Thursday, January 15.
Film fans wondering if this event was a one-off in the UAE are in for a treat. Debbie Stanford-Kristiansen, CEO of regional cinema chain Novo Cinemas told Al Arabiya News: "This is the first of many to come. We want to offer something different – a different type of event – for filmgoers in the region. Look out for more exciting announcements soon."