Michael Buble on fatherhood, Dubai and being a fan of Drake
"I want to go to Chuck-E-Cheese," the star said upon landing in Dubai
Whenever a celebrity jets in to Dubai for the very first time, they usually come armed with an extensive list of things they want to see or do in the emirate. Private tours, trips to the desert, the hottest parties. But ask Michael Buble what he wants to get up during his first trip to the Gulf, and there's no mention of the popular Burj Khalifa or SkyDive Dubai requests.
"I want to go to Chuck-E-Cheese, and I hear there's a great café called Rainforest," he says, smiling.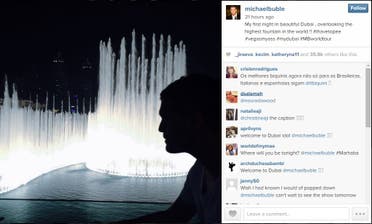 Yes, you heard that right. But the 39-year-old singer, who's set to play two stadium shows in the UAE this weekend, explains his bizarre choices. It turns out that he is here with his one-year-old son, Noah. And while his actress wife Luisana Lopilato wasn't able to make it due to work commitments, Buble also brought her sister and kids along for the ride.
So is Buble babysitting in Dubai?
"I guess so," he continues. "But I would be lying if I said I wasn't excited about going to places!"
Since signing his first record deal in 2003, the Canadian-Italian artist has enjoyed hit after hit, fusing jazz and soul with pop and swing music. Best-selling songs include "Haven't Met You Yet;" "It's a Beautiful Day;" and "Everything."
UAE fans will be able to enjoy those tunes and many more live when Michael plays on Thursday 12 and Friday 13 March at the Dubai International Cricket Stadium.
"I say with humility and grace that I hope they get to see one of the best shows on Earth! I'm one of the best in the world at what I do, because I love what I do, and there's no room for humility when you are this good," he jokingly tells Al Arabiya News.
On Saturday, fellow Canadian Drake performs at the same venue, and it seems that Michael is a fan of the hip-hop superstar.
"I might actually stay and attend the show," he says. "One of the few artists I haven't met is Drake, and I know that he and his crew just got here.
"He makes me really proud you know; I just love that this dude represents me and my country the way he does. It's a total different genre of music, but he's got such great cred. He's great at what he does. He's a class act. It makes me really proud as a Canadian that a guy like that is spreading the gospel. It's really cool."
Here's what else Michael had to say during his first visit to Dubai:
You are visiting with your son. How is fatherhood treating you?
It's great. What you see right now is a guy who has had three hours of sleep, because he has a little one-year-old. His teeth are just coming in, and he never ever stops talking! But it's the best, I can't wait to have to another, and he makes me better at everything. He is what I live for and he puts everything into perspective. I say it all the time: this is my job, and really it doesn't define who I am. I am a poppa and a husband.
Do you remember how you got into jazz and similar genres?
The first song that I really fell in love with was "It Had to Be You." Harry Connick Jr recorded it for the soundtrack of "When Harry Met Sally," and I just thought it was incredible. The arrangement for that song was incredible and Harry had a great voice. For me that was just amazing. I always liked that kind of music. My mom played all those records and it was my first introduction to jazz and I fell in love with it.
Are you surprised at the success you have had with the genre?
You know, the proof is in the pudding. Here we are over a hundred years later, and I have travelled to 35-40 countries in the world and I look out into an audience of 15,000 people, and I see 8-year-old kids who are singing songs that are over 100 years old, and that's proof that this music is timeless. When something is good, it's good. You don't have to apologize for it, you don't have to change it. It's just good. Music connects all of us, especially when the subject is love, because I don't care who you are – love touches everybody and we can all agree on that.
When you were first starting out, you tried using a different name, right?
I changed my name for one night - I think it was Moscone… Michael Moscone. And I went back to Buble the very next day.
When I got signed, I was 26-years-old and Warner Brothers had a meeting with me and told me that I would have to change my name because Michael Buble would never be taken seriously. Michael Buble could never sell a record. They said that my name was a joke. And so I was told to go and come up with a new name.
I was scared at that point, because I was in such a tenuous position - I had no power - and I remember telling my father. And my father loves me so much, he said: "Son, if that's what you need to do then that's what you need to do." But I could see that it hurt him, but when I saw that it made me angry. So I walked back in to the record company, and set up a meeting. I said: "Alright, let's make a deal. I am going to change my name, but you need to sign a contract that says that if I change my name I will sell a million records." They said that they cannot do that, so then I told them I couldn't change my name.
You are sometimes referred to as a "crooner." Do you like that title?
No-one wants to be categorized. No-one is comfortable being pegged as any one thing. And I fight it. I fight it every day. I fought it from the beginning. But I think the reason I can play two shows in somewhere like Dubai, or Germany, or France, or Japan, is because I got lucky enough to be schizophrenic. I got lucky enough to make records. I got to be part of continuing the legacy of people like Frank Sinatra and Dean Martin, but at the same time I am on pop radio with Justin Bieber. And Drake. It allows for me to have a really cool versatile audience. It's the coolest thing in the world. All these different people and cultures coming together and celebrating music.
What's next for you?
When I make my next record, I will try to show growth, but without alienating the 50 million people that bought the records in the first place. And that's a tough line to traverse through because if you make the same record every time, then people will ask why they should buy the next record. But if you decide to take a huge risk and make a different record, and then people ask why you change. You always just have to try and make it work. I am also going to take some time off to spend with my wife and support her while she is working.
Apparently she's not happy with you regarding your wedding ring…
Yes, you might have noticed that my wedding ring is not on my left hand, that's because I was playing hockey last week and I came in on a breakaway and I got knocked down. And I felt my finger pop, and now my ring won't fit any more on my finger, and it hurts! My wife keeps telling me to put my ring on my left hand in case paparazzi spot it, but I'm like "Babe I can't". But yes, nothing strange is going on in my personal life!