Tunisian director shares secrets behind hit Romeo and Juliet film
Tunisian film maker Hinde Boujemaa reveals the story behind her award-winning Romeo and Juliet
Love is presumably the theme of Hinde Boujemaa's increasingly celebrated film "And Romeo Married Juliet," but the title can be very misleading.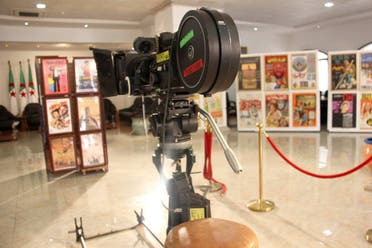 Those of us who enjoyed the production at the eighth edition of the International Arab Film Festival in Oran – where it won the best Short Film award – came away feeling decidedly cynical. Rather than revelling in the initial youthful excitement and adventure of William Shakespeare's legendary play, Boujemaa's work cuts straight to the misery. It portrays the traditional union between a man and a woman as one which inevitably succumbs to tedious convention. The film is just fourteen minutes long, but its sense of black comedy makes it feel like a lifetime at times. It is brutally effective, and was a worthy winner of a "Wihr d'Or" (Golden Lion) in the Algerian port city – an honour which follows similar ones in other parts of the Arab World.

Hinde, a Tunisian, said: "I was, of course, very happy to receive such a distinction at a leading Arab Film Festival, especially as I also received an award at the Dubai Film Festival.
"Clearly, this shows that there's a sensitivity about my film which touched the Arab world in spite of the fact that the story is a generic one that affects everyone. It evidently struck a particular chord with Arab audiences.
"Algeria is very close to Tunisia, so there might have been a greater understanding there about the subject of my short movie.
"I did not expect to win anything in Oran or in Dubai, as they were very good entries in both Festivals. So my awards just confirmed to me that there's a story to be told in the Arab world as a whole about love… or the lack of it."
"And Romeo Married Juliet" is deliberately repetitive so as to illustrate the monotony of married love. The protagonists – an elderly couple who contrast brutally with the young Romeo and Juliet – do not even have names. It is as if their very identities are irrelevant as they cope with their overwhelmingly boring lifestyles.
Routine informs every single aspect of their lives, as they go through familiar rituals, from cleaning and cooking, through to watching TV and going shopping. The banality of it all accentuates the sense of time passing, as the couple fail to communicate at all.
Discussing this feature of her film further, Hinde said: "Life for the couple has become so heavy with time. Time is very important for the woman: there are clocks everywhere and she's been crossing every single passing day in the calendar for the fifty years they've been married…like detainees do in prison."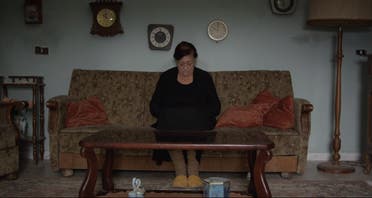 When her husband goes out shopping for a brief moment, soap bubbles are used as a metaphor, with Hinde saying they signify how the woman "can now breathe – it's a parenthesis of happiness. It's part of a dream for her, and expresses great relief. Technically, it works, as it makes audiences laugh or smile."
Astonishingly, you have to wait a full twelve minutes into the film – almost at the end – before there is a hint of meaningful dialogue between the two. Inevitably, it amounts to a vicious argument. The old woman pours a bag of calendars on to the man's head and lap – one dating back to January 1981. It appears that she has ticked off every single day of their half-a-century together.
"The idea of my film was not a social study but a personal view on couples in general," said Hinde. "I noticed that literature actually destroys love stories, it kills people. Romeo and Juliet is about a secret marriage and then the lovers die. The same theme of destructive love is present in Tristan and Iseult, and Arab literature.
"So these are not plots about fifty years of marriage like in my film. Even in stories like Snow White, you have the initial fairy tale and then fast forward to "And they lived happily ever after"… but there is never a description of routine married life.
"If Shakespeare had followed the story of Romeo and Juliet on a daily basis, it would probably have had less appeal, and that's perhaps his genius."
Dealing with taboos
Explaining her focus on old age, Hinde said: "My film deals with taboos, especially in the relationship between old people. A scene that sums this up is when the husband – who desperately needs to go to the toilet – enters the bathroom while his wife is cleaning herself and is in the nude.
"She strongly objects that he sees her naked. It's like a violation of her privacy. My film is about old people getting further away from each other. They don't share the same bedroom any longer, for example.
"So my work is about the structure of society that makes old people stay together in spite of the distance between them. Maybe younger couples, especially independent young women, would now refuse that societal framework. These are questions that my film raises.
"What motivated me to use this title is simply that Romeo and Juliet is the most well-known love story across the world. It is a symbol of absolute love worldwide and epitomises passion, par excellence. It's a universal story and pretty much everybody has been a Romeo or a Juliet.
"They are people who will rush into marriage because of passion and love. In the Arab world, this is not always an incentive for marriage and very few people will admit to being madly in love with each other.
"I think that in the Arab world the approach to marriage is very idealist: it has to be the perfect man or woman, conditions of both families should be met. I believe all these parameters are not always right or necessary. But some people would argue that love will come in the end. Maybe.
"What is certain, however, is that cohabitation and living together leads to a transformation of sentiments. Monotony becomes part of any relationship. People have nothing to say to each other anymore, love vanishes, and habits settle in. But routine is not a sentiment, it's instead about alienation.
"For the husband, it was a shock to find out that his wife had been counting the days they've spent together all her life. The husband lives in denial, anyway.
"The couple do not have the energy to argue anymore, and prefer the quietness of day-to-day life. I found that introducing dialogues would defuse the tension in the couple. Silence and the bare minimum of exchange, however, are more dramatic. Besides, the constant ticking of the clocks has its own language in the film."
A change from the Arab Spring
Hinde accepted that her observational film won at a time when many other entrants to Oran were more interested in the increasingly gruesome post-Arab Spring landscape.
"Perhaps the jury wanted to say something else about the Arab World", she said.
"Also, I'm convinced that Arab audiences want to see social dramas. Censorship is becoming outdated in the Maghreb region. Arab films are audacious again, with more and more young people wanting to be involved in film making so as to tell their own stories.
"Arab cinema has suffered a lot in Tunisia, for example, because of years of dictatorship and lack of funding for culture. But the politics are changing and there are lovely stories about the Arab world to be told to a worldwide audience.
"There have been too many lies for too many years, and Arab societies are screaming to see real stories. I believe that you can convey anything you like through cinema. My approach is to be subtle but some directors are blunt, while others dodge important issues. But you need to tell stories: stories about your own country then become part of its History."
As Shakespeare himself put it: "For never was a story of more woe / Than this of Juliet and her Romeo."