Dubai's music scene through the eyes of an LA producer
Joshua F. Williams has lent his talent to the United Arab Emirates' developing music industry
Joshua F Williams, an acclaimed music producer, audio engineer, musician and writer, has lent his talent to the United Arab Emirates' developing music industry over the past few years. Having moved from Los Angeles and collaborated with top acts such as Fergie, Akon and Flo Rida, Williams is seeking to help UAE artists find their sound.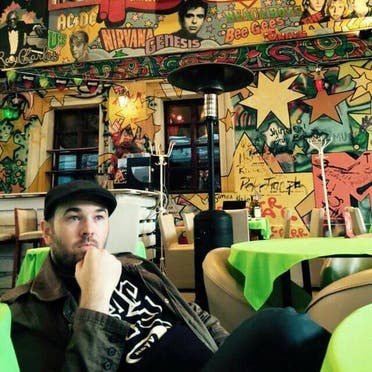 What got you into music / producing?
I grew up the youngest of four kids in LA. My grandfather, father and brother were all trumpet players, and I routinely slept to the sound of my dad practising. To this day, the sound of a trumpet will make me tired. Trying to be like my dad and older brother, I started playing trumpet in middle school and for a few years of high school, but I never had the passion to practise much so I switched to bass guitar and joined a rock band.
After high school, I joined a punk band while also enrolling in a new recording arts program at Citrus College in Glendora, California. My band was a regular at all the Hollywood music venues such as the Roxy Theatre and the Whiskey A Go-Go, but our biggest show was opening up for the Vans Warped Tour in 1999 with artists such as Eminem, Blink 182 and Black Eyed Peas.
How did you get into the industry?
Toward the end of my time at Citrus College, I had a homework assignment to call up a studio and find out how much it would cost and how long it would take to record an album. I had a list of all the studios in LA, so I picked one randomly - Frontpage Recorders - and called. A guy asked me to call him back the next day to talk about possibly interning there, but every time I called he was too busy to talk.
After two weeks of calling every day, I was on stage graduating when my phone rang. I silenced the phone but called back as soon as the ceremony was finished. It was the studio, and they asked me to come in the next week to start interning.
I ended up doing a session with a cartoon ogre, a princess and a dragon chasing it. My job was to lock up the sound effects with the music for a scene where the ogre puts his sword through a chain to keep the dragon locked up. I had no idea this cartoon would be the major blockbuster "Shrek."
Which music genre is most reflective of your style?
I like working on pretty much every genre, and I think my style is reflective of that. I usually use live musicians instead of electronic programing for most of my productions. In Dubai, I have what has been labeled "The Ghost Crew," as my session musicians come from different parts of the world.
What brought you to Dubai?
I came to Dubai with my then-wife to visit my parents. While visiting, I read an article that had the phone number of a studio called Creative Kingdom. I called it up and started talking to the guy who worked there. We decided to meet up at the studio and while I was there, the famous beat boxer "Scratch" happened to be doing a song with a rapper from Abu Dhabi. The manager asked me to do the session, after which they gave me an offer that I agreed to. I worked for Creative Kingdom for almost three years.
What is the biggest risk you have taken musically
Moving to Dubai. Hands down, no question. Leaving one of the biggest cities in the world when it comes to music, to move to a city with basically no music scene, was and still is a huge risk. However, in the mid 2000s the music industry in the United States was in such decline that studios were closing down and labels were no longer signing artists. The music business of old was dying.
At that same time, Dubai was booming not only financially but with the want for creativity. The fashion industry was starting to rise, the art galleries were starting to open up with lots of interest, and with musicians from all over the world together in one city, it was only a matter of time for the music scene to rise, become strong and offer the world something new.
What I like and get out of Dubai is diversity in culture. I have learned a lot about Arabic, Indian, African, South American and East Asian music that I would not have if I stayed in LA.
How has the music scene developed in the UAE?
When I first moved to Dubai in 2007, there were less than a handful of rock bands, maybe two rappers that I knew of, and the musicians playing in the hotels were most likely in their late 40s or 50s playing 80s rock. Most of the studios were only doing corporate ads, because the local music scene was so small that it was not a viable business model to work on independent music.
Now there are so many talented artists coming out. I know a few fulltime producers who are only working on local music and bypassing the corporate field. The UAE also pays musicians more for their residency gigs than most places, so some of the best musicians in the world have moved to Dubai to make a living. While they are mostly in cover bands, they are also starting to create their own original bands, and they are good.
Do you believe Dubai has growth potential in the music scene?
Living in Dubai has made me believe that nothing is impossible. If Dubai wants to do something, it is done. However, there are a few things that a city such as LA has that Dubai does not.
1. More music venues: In LA there are so many places to perform. Every night these venues have artists perform original songs to varied audiences. A tourist is pretty much guaranteed to hear an amazing band just by going to a few different venues on Sunset Strip on any given weekend night. In Dubai, there is basically one dedicated music venue, the Music Room, where a band can put on a show and play their original stuff and improve.
2. Competition: Dubai needs more competition, and I am not talking about a "Battle of the Bands" competition. I mean natural competition.
3. Radio play: If a band records a song and no one hears it, does it make a sound? A few years back, radio played more original artists throughout the day. Now it is very rare that they do so except on Wednesday night on Dubai Eye 103.8.
Are there any interesting upcoming projects that you are partaking in?
I am working on a few projects. I am finishing the last mixes for a band from Cuba called the Cubanitos 20.02. It has a little bit of reggaeton, salsa, hip hop and pop. I believe that album will do very well in the Latin American market.
I am also doing a project with an artist named Abbo called #521fornow. The concept is that we have five hours, two people, one song, released now. We do it every Tuesday. Sometimes it comes out better than others, but there is always something interesting in it.