Best and worst dressed: Arab designers and more at the 2017 Golden Globes
Designers featuring on the red carpet at the 2017 Golden Globe Awards included Elie Saab
It's that time of the year again. Awards season is back, with the 2017 Golden Globes giving us a sneak peek of the trends to expect on the red carpet this year.
Lebanese designer Zuhair Murad featured prominently at the event, dressing not one, but four celebs (Elsa Pataky plus three featured below). Here's our best and worst of the night.
BEST DRESSED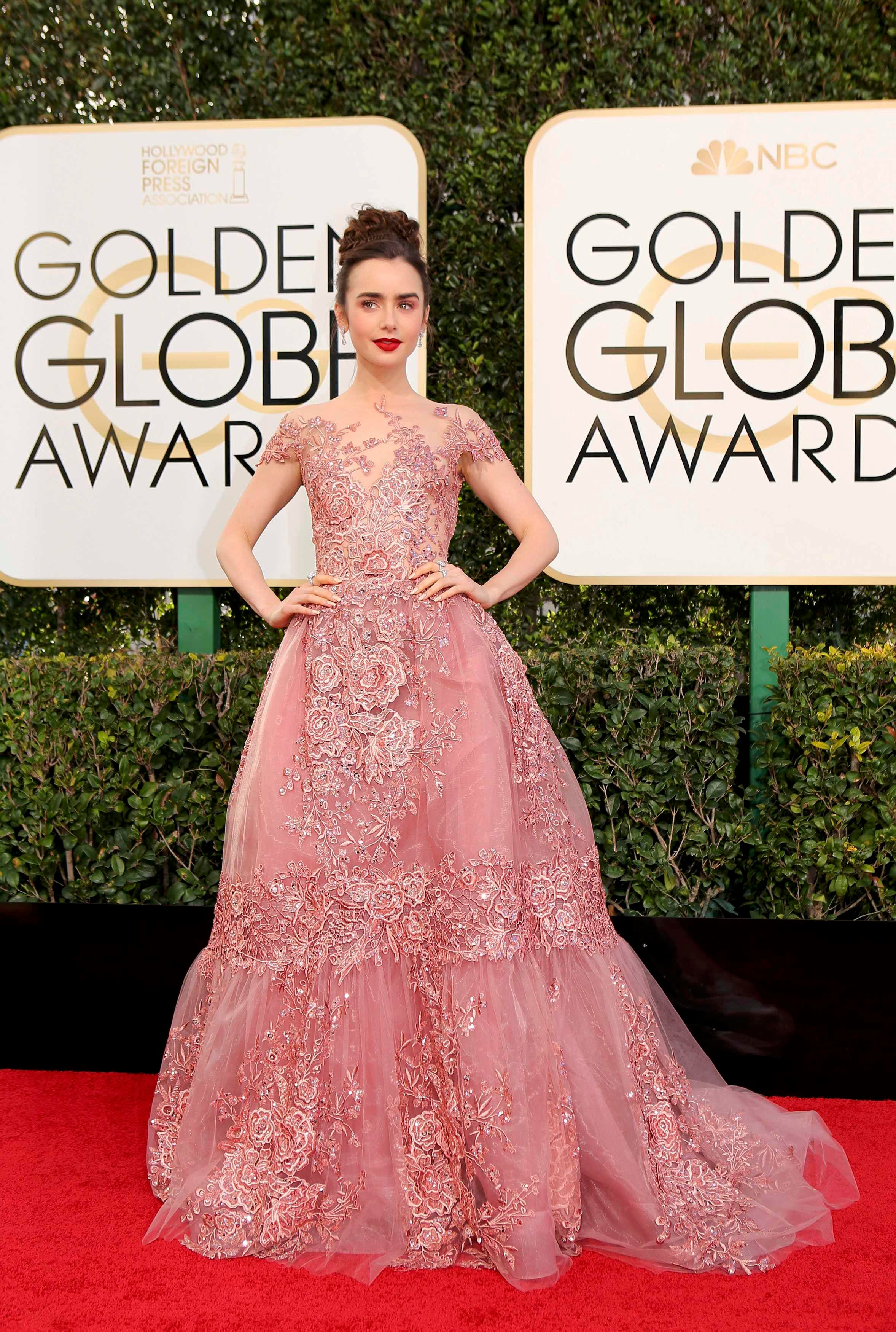 Lily Collins
Another Lebanese designer appearing at the event was Zuhair Murad, who dressed Lily Collins in this pink embroidered haute couture ball gown. So pretty, so ethereal.
Jessica Biel
Hand on heart, we're not being biased because he is Lebanese, but Elie Saab is killing it in the fashion world right now. We're yet to find one of his dresses where we just feel 'meh' about it.
Jessica Biel's plunging gown is probably our best of the night.
Tracee Ellis Ross
Zuhair Murad also dressed Tracee Ellis Ross, who won Best Actress in A TV Series for her role in 'Black-ish'.
Emily Ratajkowski
The stunning model and actress wore a gold cutout gown by Beirut-born Reem Acra.
Julia Louis-Dreyfus
The 'Veep' actress wore an Edition by Georges Chakra dress, paired with Chopard jewels.
Viola Davis
Yellow was made for Viola Davis.
The actress – who won the Golden Globe for Best Supporting Actress for her role in 'Fences' – celebrated her first win out of five nominations in a spectacular Michael Kors dress.
Evan Rachel Wood
Proving that trousers can be worn on the red carpet, 'Westworld' star Evan Rachel Wood appeared in an Altuzarra tuxedo.
During a red carpet interview, she explained: "I want to make sure that young girls and women know they aren't a requirement and that you don't have to wear one if you don't want to. To just be yourself, because your worth is more than that."
She added that the outfit was also an homage to David Bowie whose birthday would have been on 8 January.
Issa Rae
'Insecure' creator and star Issa Rae demonstrates that a dress doesn't have to be revealing to attract attention. This floor-length white custom gown by Christian Siriano is divine.
Michelle Williams
The Best Supporting Actress nominee demonstrates that it's perfectly okay to accessorise with everyday items. 2016 was all about the choker; is 2017 the year of the ribbon?
She looked beautiful in a white lace off-the-shoulder Louis Vuitton creation paired with a choker-inspired ribbon necklace.
Millie Bobby Brown
We wish we looked this cool when we were 12. 'Stranger Things' star Millie Bobby Brown sported a silver Jenny Packham midi-dress, perfect for the big event.
Emma Stone
'La La Land' darling Emma Stone sums up her Valentino dress by telling Ryan Seacrest: "It's pink and it has stars". What else do you need?
Hailee Steinfeld
And the longest train of the night belonged to this lilac Vera Wang dress with cold shoulders, worn by singer-actress Hailee Steinfeld.
Amy Adams
This black Tom Ford gown looks very unforgiving, so can we can only applaud Amy Adams for taking the risk. Going to the gym clearly pays off.
Felicity Jones
The 'Rogue One' star looked ultra chic in a pink and black Gucci gown paired with Chanel Fine Jewelry earrings.
Janelle Monáe
The singer-actress is very hands-on when it comes to putting a look together, and Janelle Monet reportedly worked with Armani to produce this custom creation. From the hair right down to the fancy pedicure, Janelle has it nailed.
Brie Larson
Even though wearing red on the red carpet is considered a 'no-no' we can imagine that this Rodarte dress was hard to turn down. It looks like it was made for Brie Larson.
----
WORST DRESSED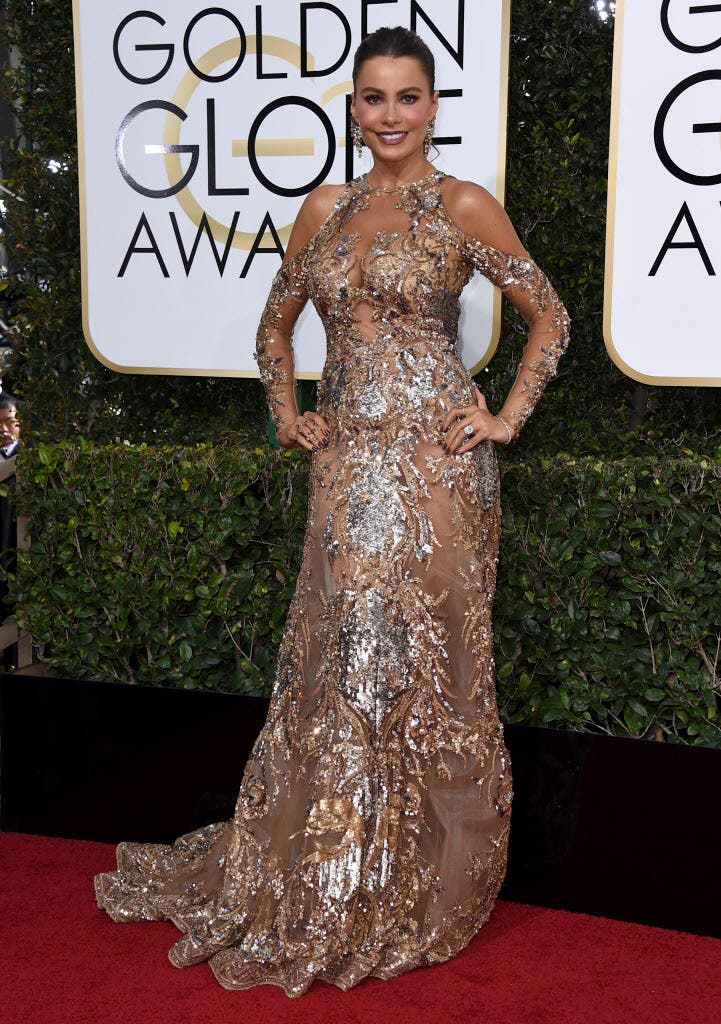 Sofia Vergara
Sorry Zuhair Murad – you've made it onto our Worst Dressed as well. Sofia Vergara has a killer physique, so when a dress can make it look bad then you know we have trouble.
Kristen Wiig
Reem Acra also appears on this list thanks to this laser-cut lace white dress.
Sarah Jessica Parker
She's known for her high fashion choices, so it puzzles us that SJP looks a hot mess here. Wearing a Vera Wang bridal-style gown, we're not sure about the sleeves, the length and that hair.
Kerry Washington
It's definitely artistic, and according to Kerry Washington, this dress is from Dolce & Gabbana's couture line, which has never been worn on the red carpet before. But we don't like the length.
Sophie Turner
This Louis Vuitton dress looks like it was made with leftover fabric. Fail.
Sienna Miller
Was Sienna Miller running late? It certainly looks like she forgot to do her hair. We would have kind of liked this Michael Kors Collection dress if it wasn't accessorised with that horrendous pearl necklace.
Zoe Saldana
If there was a dress that best represented a Quality Street wrapper it would be this Gucci gown.
Carrie Underwood
No, no, no, no, no. Just no. #LooksLikeACupcake