Fancy a slice of Italy in Dubai?
The Artisan is a Dubai-born concept that draws inspiration from the three Michelin-starred restaurant, Enoteca Pinchiorri
Florence's finest can now be experienced in the Middle East (in Dubai's high-end dining precinct DIFC, to be exact), thanks to the recent opening of The Artisan by Enoteca Pinchiorri.
The Artisan is a Dubai-born concept that draws inspiration from the three Michelin-starred restaurant, Enoteca Pinchiorri, in Florence, owned and run by well-respected chef Annie Féolde. French native Féolde is widely recognized for being the first female chef outside France to earn her restaurant those coveted three Michelin stars. She is considered not only one of the greatest women chefs in Europe, but also one of the most enthusiastic ambassadors of Italian cuisine.
I caught up with the elegant, soft-spoken chef and restaurateur on her most recent Dubai trip for a quick chat about her connection to the region, and what Middle Eastern diners can expect from her restaurant.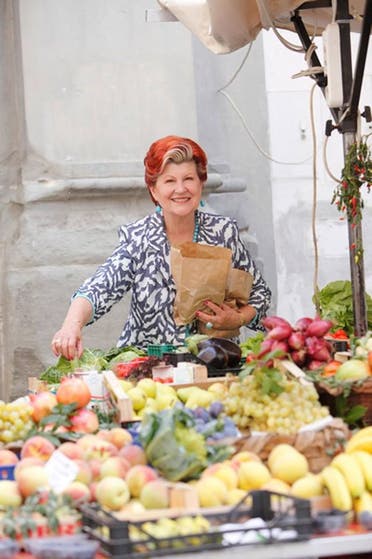 What made you decide to open a restaurant in this region and why now?
I came here as I wanted to show good Italian cuisine, with good ingredients, knowledge and nice ways of cooking traditional dishes. We've been approached several times before of course, but it was a question of working with the right people, who will respect and share the same philosophy as us. So when our local partner came to me, I said why not!
This is a place that is moving very fast. I remember I first came here for a gourmet festival in Abu Dhabi a few years ago. It was all very new and surprising to me, but I found it interesting to understand what people are doing in different countries. It was a very pleasant experience and I was impressed with what I saw here, I found the local people very friendly and clever. I thought to myself, here is the new world. Europe is the old world you know, it's dying.

What can diners from this region expect from your Dubai restaurant?

People here prefer light, simple dishes, and this is what I like also. Italian cuisine is about simplicity and freshness. My approach is fresh, clean, high-quality ingredients, cooked with knowledge and creativity, and that's what we have here. We have very good suppliers, and take a lot of care to get some of the important ingredients (such as the olive oil and cheeses) directly from Italy, so you can find certain things you won't get in any other restaurant here.
You're originally from France, but are now known as one of the foremost ambassadors of Italian cuisine. How did that come about?
I didn't mean to stay in Italy, but I met my husband in Florence when I was travelling. I decided to stay on, that was my decision. He had opened a wine bar just then, which was very nice. Even my career in food was quite accidental, although I come from a family of hotel owners. I didn't study to be a chef as such, but my background gave me the knowledge of good food and a good palate. In my husband's enoteca, I noticed that the beautiful wooden table was bare but for lots of excellent wine, and thought, that's not good enough - we have to have something to eat. So I started to cook a few things, small things at the beginning, to go with the beverages. Then I started to cook some pasta… I had to learn from cookbooks, because this wasn't something I'd planned for my future.
And the rest, as they say, is history! So, what makes you so passionate about Italian cuisine, and what do you think makes it so special?

When people think about Italian cuisine, there are only two or three things that come to mind. But there are so many things about Italian cuisine that people don't know - such big differences from one region to another. There are so many possibilities within Italian cuisine, we can never stop talking about it. But I'm afraid Italians don't do enough to spread the message. There is a big difference between the Italian people and French people, and also their governments. In France, they understood a long time ago that it is very important to help their chefs, and the possibility to improve the gastronomy. After all, we don't do this for just love, we do it for money. If we do a good job of promoting the possibilities in Italian cuisine, it will help the country.