Exclusive: 'Life' star Jake Gyllenhaal made a 'true friend' in Ryan Reynolds
Jake Gyllenhaal needs a break. In his prolific past few years, he's earned himself quite a reputation for pushing himself to his limits. Reportedly deciding to lose 30 pounds for 2014's stunning Nightcrawler, spending five months training as a boxer for Southpaw (2015) and almost getting frostbite for Everest (2015), the actor has chosen roles that were both emotionally and physically grueling, exacerbated by his tremendous drive.
At first glance, you might wonder what attracted Gyllenhaal to Life (2017). After all, these hugely challenging roles for which he's received so much acclaim didn't happen by accident. A hard sci-fi film designed to deliver old school movie-house thrills seems atypical of his recent choices. For Gyllenhaal, that's exactly why he chose it.
When I met him, after telling him a personal story about my experience watching his breakout performance in October Sky (1999), he returned the favor.
"Outside of a press junket space, since you just told me a very intimate thing in your own life, I think [I was attracted to] just having fun, honestly. Choosing a project where I didn't rack myself in a particular way I had in the past few years. Just getting into something that was enjoyable with a group of people that were really lovely.
"I've worked with a lot of lovely people, but the idea that you could get into a purer, fun entertainment and enjoy yourself was a big part of it."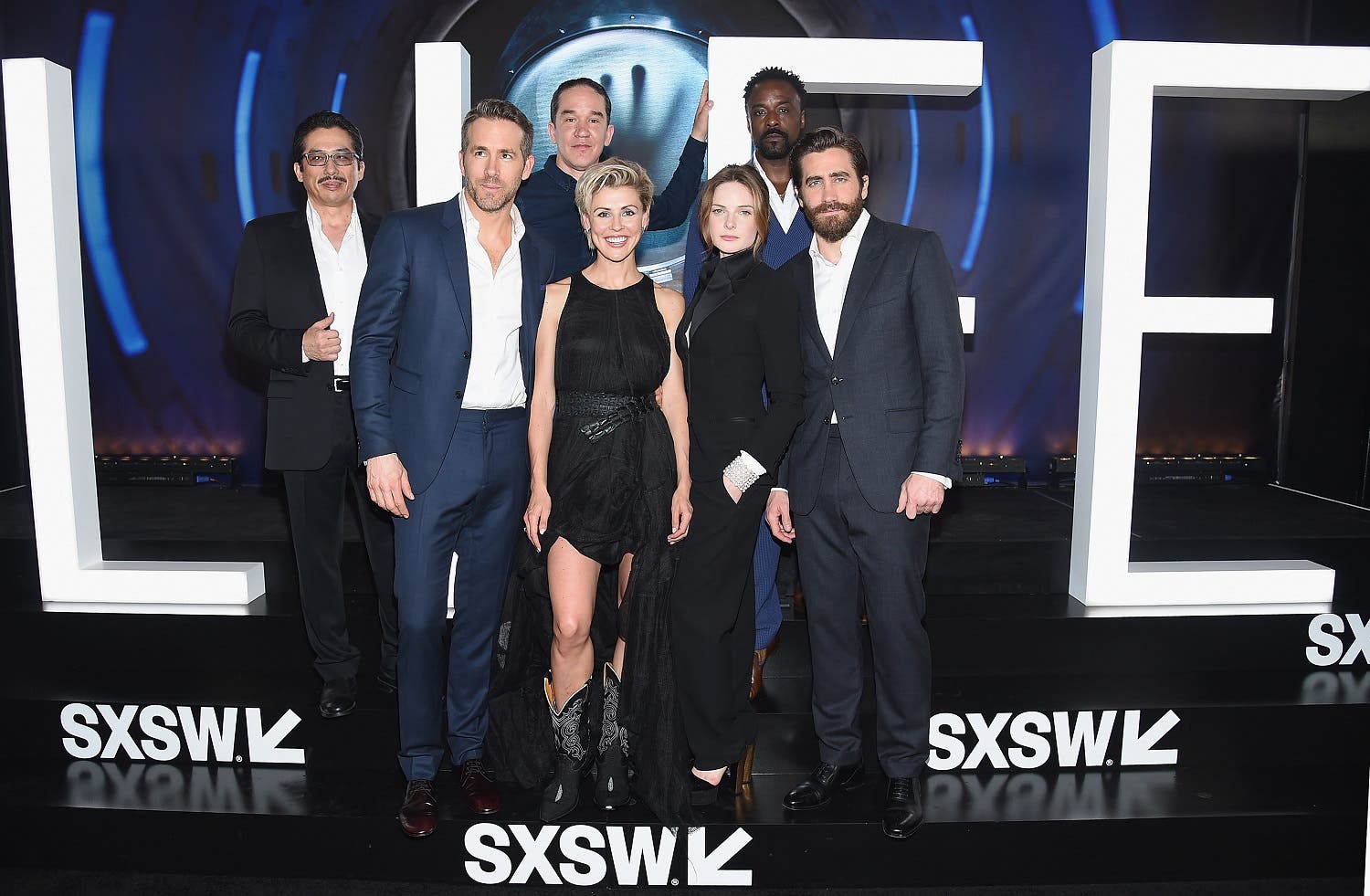 The hard part was not pulling a Jake Gyllenhaal and pushing himself harder than anyone asked. "It was challenging for me to not take every moment extraordinarily seriously."
For one of the greatest actors of his generation, who has famously eschewed big budget franchise fare after 2010's disastrous Prince of Persia, he has worked his way into a place where he can do what not many actors in the world can do—pick and choose his roles in an industry landscape where everyone and their mother would like to work with him. And he makes those choices extremely carefully, having learned lessons about the industry and himself throughout his career that began in childhood.
"A lot of times in my career, up until about five or six years ago, if it was reviewed well, if it made money, that was somehow a success of some kind. That does give an allowance to keep doing it, that's for sure. But I think success for me is if I've gotten to something, or understood something that I feared, or had a connection that is true, be it with another actor, with the material, with an advisor who actually does the job that my character does, or the director—whatever it might be—I think success feels like when you've opened your heart enough to the people you're working with and are able to truly connect. We're in the business of 'connecting' but it doesn't happen much. It's like a forced family. And when it does, it really is a triumph."
Friendship with Ryan Reynolds
If he has the movie Life to thank for something, it's in gifting him a wonderful friendship.
"In this case, I met Ryan Reynolds when we were working on the movie. I knew him a little bit, but I never really spent a lot of time with him. I really made a true friend in this process with him. It's rare in this business we're in when your contemporary, who is your age, who's doing the same thing, who you've known from afar, where there isn't some sort of funny competition that is either real or created by the environment or the representatives or whatever. And he is a true friend that I really love. And I feel blessed. As much as I am proud of the movie and love the people involved in it, his friendship is what I consider the success of this film for me."
But just as how Gyllenhaal evaluates his own work has changed, the way acting itself fulfills him has changed too.
"[Acting doesn't fulfill me] in the same way, no. I think when I first started, I was chasing something very hard. I was very young, very ambitious. I've always believed in the story above anything else, but now I've really resigned myself to the story—to how hard it is to tell a story well. It is close to impossible. There are a lot of things in storytelling and how people see it that have to do with really unknown factors. There's a real gamble in all of it, and it's not just a gamble in how it does and how people go see it, there's an axis of time, the universe and creativity that matches when something really blooms, you know?
"I've had that a few times in my career which is a blessing but it's very hard to make a movie that works. I know it probably doesn't look like that to people who watch movies and don't make them—but to make any creative venture that even tells a story that works, the amount of time and energy that has to go into it from such a large group of people…"
While Gyllenhaal chose Life for the fun of it and values most the relationship it gave him with Reynolds, as luck would have it, he loves the finished product too.
"That's why I'm so amazed by the work that Daniel Espinosa has done on this movie, because he has not had a long amount of time, and he has really created something that a lot of people would have fallen and failed and faltered at, and it's a testament to him."
While Life turned out to be a creative success, the uncertainty in the process reminds me of something that French director François Truffaut said in an old interview. When asked what he learned in his first ten years as a director, he said he learned that it takes as just work to make a bad movie to make a good one. I share this with Jake.
"I think it's a humbling process over time. And the irony is that you can often misinterpret—and I have in my own career over time—misinterpreted my own importance. And I think what's changed from the beginning to now, which is hopefully not the end, but I was searching for some sense of importance that has been realized into a sense of really being a really efficient piece of a cog in a wheel and really deeply enjoying that, and giving all of my work to that piece that I do."
Wherever Gyllenhaal career goes from here, whether or not he slows down, Life director Daniel Espinosa, for one, believes that his relationship with Reynolds will bear more fruit down the line.
"Jake is the idea of the brooding actor, and Ryan is the idea of the flamboyant playboy. What's funny with them is that when they met, they had much more in common than they would have thought, and they became the best of friends. Ryan is the Robert Redford of his generation, and Jake is the Dustin Hoffman. So maybe they can get together and make another All the President's Men!"
Life is in theaters this Thursday, March 23.