The King Fahd Cultural Center in Riyadh hosted yesterday the first Japanese orchestral concert led by maestro Hirofumi Yoshida.

Dr. Adel Al-Tarifi, Saudi Minister of Culture and Information, inaugurated the Japanese Cultural Week in the Kingdom as part of the cultural exchange program of the Saudi-Japanese joint vision 2030.

The audience's harmony and interaction with the show was striking despite the relatively less exposure of the Saudi public to this genre of musical art.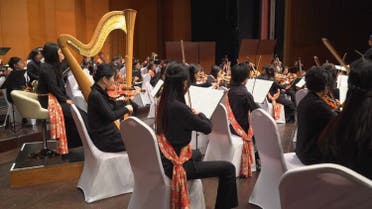 The more than 80-strong orchestra comrised instrumentalists and choir artists. Orchestras are usually labeled as elitist and target a group of people with cumulative knowledge and a refined taste in music, but the Saudi audience of men and women enjoyed the event and applauded the orchestra, especially after the beautiful gesture of the band of performing the Saudi national anthem.
Reactions
As it is the case for all concerts in Saudi Arabia, the event won its share of reactions in social networking sites. Media figure Talal Azhari stated that it was "a historic night" saying: "Figaro! Figaro! Figaro! My childhood memories came true at the Riyadh Theater tonight."

Twitter user @aljo_oo stated: "I loved the Japanese baritone performance mainly since they are influenced by the Italian school. Fumiyuki Kato's performance was beautiful especially in Figaro and Rossini."