The UAE's first lady of comedy: Through the eyes of a non-Arab in the Mideast
Her wish is to perform in Arabic one day, and frankly, we're not surprised. In fact, at times, UAE-based comedian Mina Liccione comes across as more Arab than she does American.
Having been based in the region for nearly a decade, the New York native has embraced all things Middle Eastern. She jokes about having a male Egyptian name, set up Dubomedy, the region's first comedy school, and even married into a Khaleeji family – her other half is her Dubomedy co-founder, Ali Al Sayed.
And now she's just brought all her local experiences together for her debut stand-up comedy special, which took place over the weekend. Missed it? Not to worry – 'Mina Liccione: Araby by Nature' is the comedian's first show filmed for television, so expect it to hit screens soon.
"With everything that is happening in America, I wanted to film my special in the Middle East to help a wider audience see things from a new perspective; through the eyes of an Italian New Yorker who married a Muslim, Arab comedian," she tells Al Arabiya English. "My favourite style of comedy makes you laugh but also makes you think afterwards. Truth in jest goes a long way."
While it is being filmed locally, Mina hopes for the show to reach global audiences.
"I definitely want it to go global because some of the jokes really look at negative stereotypes and (hopefully) help defuse them through the eyes of a non-Arab living in Arabia," she continues. "It really sheds a positive light on the region and tells a much different narrative than I've seen before. It's a fish-out-of-water point-of-view with all its observations, 'lost in translation' moments, comparisons, stereotypes, cultural differences – and similarities. It would be great for Westerners to see it, laugh, and perhaps think afterwards."
Read on for the rest of our interview with Mina.
How were you feeling about this special?
There's a thin line between nervous and excited and I was surfing both strong. Being nervous is a good thing though, it means you care. If I wasn't nervous, something would be very wrong.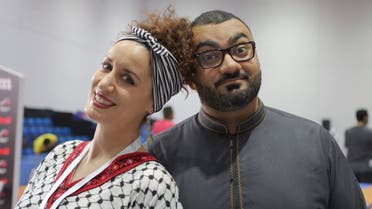 You're pro getting more women into comedy in the region. You recently featured in 'Comedia 3al Wagef' on Comedy Central as the only female comedian. Should comedy be gender-neutral or is it better to have the distinction?
Well, when there's only one female performer out of 30, it's kind of hard not to point it out! In most cases, we're all just a bunch of comedians trying to tell jokes and make people laugh. It's all about the funny factor in the audience's eyes; we're either funny or we're not and our gender doesn't matter.
I'll watch a male comic and not connect at all, then watch another male comic and completely relate and laugh hysterically. Same with female comics. It's about who I relate to, whose energy I vibe with and their commitment to the joke. Comedy is so subjective, it fascinates me.
What got you into comedy in the first place?
I started performing at the age of three. Performing is second nature, really. I started with dance then moved onto theatre, improv and musical theatre. I was always cast as the comic relief or the villain. It wasn't until many years later that I started doing stand-up.
It happened by accident. I was MC-ing an event in San Francisco and there were technical difficulties. The organizer pushed me onto the stage, shouting: "You're funny, go do something funny!" I improvised with the crowd, made fun of the situation and told some stories. Afterwards a number of people told me I should really do stand-up comedy.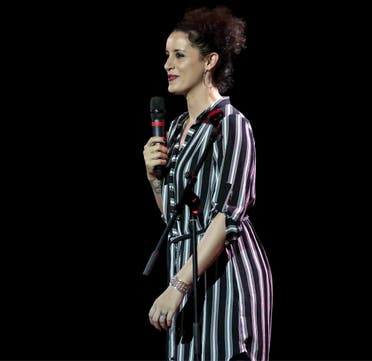 You're married to a fellow comedian - how do you avoid getting competitive over jokes?
Ha! Well, the good news is that there are always three sides to every story. His side, my side and what really happened! Since we travel together, live together, eat together…etc. we have a lot of the same experiences. Some of our joke premises will cross over, but the point of view is always different as are the punchlines. My husband is actually extremely supportive. He's the subject of many of my jokes, but also the first person I trust to test them out on.
You moved here nearly a decade ago. If you could teach your younger self something you now know about comedy/working in the UAE, what would it be?
I would tell myself to go to class and learn to speak Arabic! I've learned a lot of phrases and understand a lot, but if I had applied myself when I first moved here it would've made a big difference. I really want to perform comedy in Arabic one day.
Any plans to go regional?
Yes! I'm in Doha right now performing and just a did preview in Kuwait last week. I've been invited to perform in Egypt this August and will continue to keep doing shows in the region including Jordan and Oman.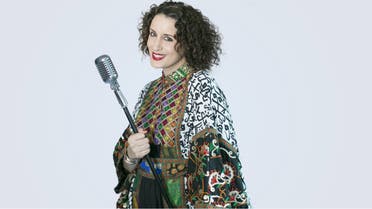 Who, in your opinion, is the funniest comedian in the Middle East right now?
As biased as it may sound, Ali Al Sayed. He always, always makes me laugh. Even if I've heard the joke 100 times, I laugh. His energy, timing, ability to improvise with the audience is so much fun to watch.
And who is underrated?
Nemr Abou Nassar. Now, you might think "Wait, he's pretty famous!" He is well-known; however, I don't think he gets enough recognition. He was able to cross over from Lebanon to the USA. He tours and constantly writes new material. He's a fantastic storyteller and his energy onstage is very engaging.
Who should quit while they're ahead?
The Kardashians. I think it would be awesome if they ended their reality show and used some of their fame and fortune to help underprivileged families and refugees succeed.
Looking back at the regional scene, it is still quite small. What would you like to see more of?
More televised platforms like 'Comedy Central Presents' and 'SNL Arabia' being filmed in the region. There's a lot of great talent here; let's keep it going!
Finally, what advice do you have to those who want to try their hand at comedy?
I highly recommend jumping into a stand-up comedy course. It gives you a chance to learn how to structure jokes, meet like-minded people and test out your material in a supportive environment.