EXCLUSIVE: Blade Runner 2049's cast reacts to Jared Leto acting blind on set
Jared Leto has built up quite the reputation for his method acting, immersing himself in roles farther than any others might dare. I don't need to recount the stories—he's lost weight, he's gained weight, he's sent strange gifts to costars.
The real question when Jared Leto takes a role is—what is he going to do this time?
Director Denis Villeneuve had the same thought before filming Blade Runner 2049.
"I had heard how Jared embodies his character and I wondered what he would do about Wallace, with regard to him being blind," says Villeneuve.
"He came in and he was blind…he acted blind."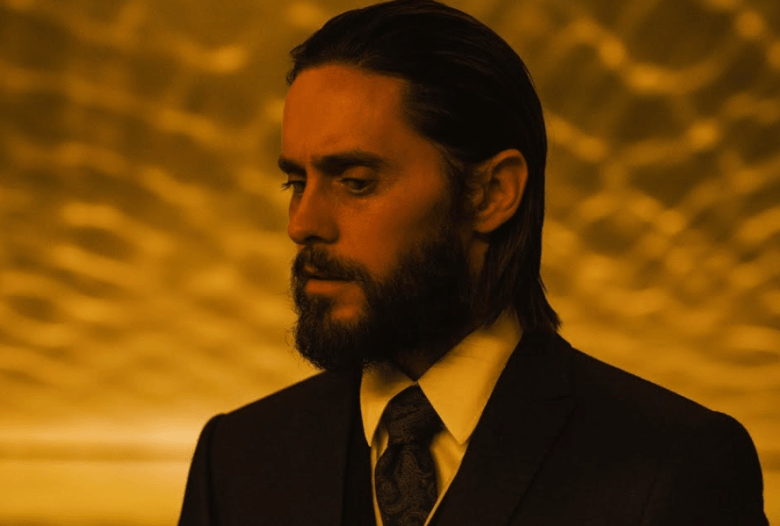 Leto didn't just close his eyes and pretend, however. The actor went and spent time with people who were visually impaired, observing things such as how they navigate spaces or hold a conversation.
"I could feel that Jared was someone who was deeply passionate and very serious about what he was doing," says Villeneuve. "He was 100 percent committed."
In Blade Runner 2049, Leto plays Niander Wallace, the head of the corporation that builds the 'replicant' slave class that does most hard labor in this particular dystopian future.
The role was originally meant for David Bowie.
"I needed a rock star to pair with that character," Villeneuve says. "In the beginning, our first thought was to go with David Bowie. We decided at the time that we should offer the part to Mr. Bowie, and at the time it was my understanding that he would be free. They said he'd be free next year. When we approached him, we learned the sad news."
With Bowie's tragic passing, Villeneuve looked to another actor-cum-rock star in Leto.
"I had to find someone else that would have some qualities that I was looking for, and Jared Leto came on board. Jared is someone that has a developed dedication that is very high. It was quite a journey to work with him—a positive one. It was quite something working with Jared Leto. I love him. I cannot say a bad thing about him."
Sylvia Hoeks, who plays Luv, a character who works directly with Leto's Wallace, spent more time with Leto on set than virtually anyone.
"It's the first time I worked with a method actor like that—I never had that before. And I think that it's very intriguing when somebody comes on set and you've never met them and you introduce yourself as Love and he introduces himself as Niander Wallace," Hoeks tells me.
Leto himself thought his 'blindness' created a unique experience, and imbued him with the confidence he needed to perform at the top of his game.
"I could feel the energy on that set, and playing someone who is blind, I was able to experience it in a way I otherwise wouldn't have. If you close your eyes, it's incredible what you can tell about a space you're in. And one of the great gifts to me was that in these cathedral-like spaces voices would reverberate off the walls. The sound helped me feel very empowered in my role."
Hoeks never had the chance to speak to 'Jared Leto' before they began filming—only Niander Wallace. He came to set in character, reportedly wearing special contact lenses that simulated his character's blindness for the duration of his filming.
"You've had all these thoughts in preparing for the film—all these ideas, all these fantasies in how it could be, and how it would be and what relationship you would have," Hoeks says.
"I didn't have a chance to talk to him about it before because I didn't meet him, but it was kind of interesting because it gave another element to our scenes. It made it more distant and awkward, in a way.
"My character was longing more for his approval, and he was a bit further away I even think. It was interesting—it gives a different element to the scenes—which actually was helpful in a sense. It was very intriguing because I never had that before with another actor—I've never experienced it before like that.
But—I ask directly—did these antics make Hoeks uncomfortable?
"No!" she says immediately. "No, because I think I respect people doing it their way. I have a certain way of preparing and a certain way of getting myself into the zone, and everybody has a different way of preparing and getting there. I think you should respect every single person in their craft.
"I'm always, as my self, in first gear, and when I'm on set I'll go into second, third, fourth, fifth, sixth. Sometimes I joke around, sometimes I need my space, and everyone has a different way of going about those things. I thought it was pretty interesting how he never left the character," says Hoeks.
Ana de Armas, who plays Joi, the love interest of Ryan Gosling's K, had a similar reaction to Leto's artistic process.
"At times it is very intense and weird and you can't meet him because he can't see, but then that really brings that spirit," de Armas tells me. "He challenges all. He's playing hard, and we know we have to raise our game. It's very interesting and very inspiring to see how someone can give so much and do it all the way."
WATCH: Harrison Ford explains why he's done arguing over Blade Runner