EXCLUSIVE: Gerard Butler on Geostorm and working with Egyptian actor Amr Waked
There is no dearth of big-budgeted films depicting the tragic stories of survivors in end-of-the-world devastation. The upcoming apocalypse-epic Geostorm will be yet another addition to the genre. However, it distinguishes itself as a great movie by avoiding trite subplots and still has something exciting to offer.
Gerard Butler stars as Jake Lawson, a scientist who travels back and forth from space to fix a malfunctioning weather-control satellite. He will have help from his brother and fellow scientist Max (Jim Sturgess), Secret Service Agent Sarah (Abbie Cornish), International Space Station overseer Ute (Alexandra Maria Lara) and United States President Palma (Andy Garcia). Geostorm has received special attention for featuring an ensemble, diverse cast from all around the world; including Egyptian TV and film actor Amr Waked.
Congratulations on the film! Saw it last night and absolutely loved it. I believe it's so timely with the things happening around the world. What was the biggest challenge you faced filming for Geostorm?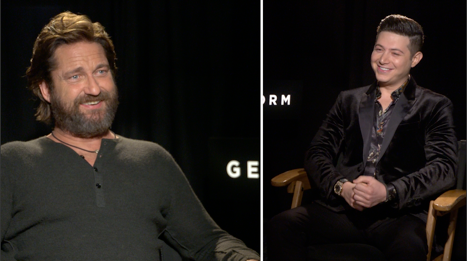 Gerard Butler: "Probably all the of the wire work. Because half of this movie, I'm weightless and even though that always looks easy on film, it means you're hanging around on wires for 12 hours a day. And having to pretend that you're not! But in real life, you're not weightless, and you're walking on this big battery pack. That was tough. But to be honest, my favorite jobs are the always the ones where you have to put that much more in, because you feel like you're actually in space, or you're actually in that environment. In this movie, every day I stepped onto that set, I felt like I'm in space! [laughs] I'm really somewhere else. I was transported; got on a space shuttle, took a trip! It was great."
In this movie, we see Dubai and the tallest buildings in the world. We also see the Egyptian actor Amr Waked. What was it like working with him?
Gerard Butler: "The best! I love that man. He is such a good, decent man. He's so funny. He's got such a dry sense of humor. We were a great team in this movie. It was a real international, global cast! From Egyptians, to Romanians, Germans to Mexicans to Scott-American [laughs] I'm Scottish but I'm playing an American. Yet everybody got along so well. But he's such a strong guy! And he's got this cheeky little smile [laughs]. I could make every movie with him!"
Working with a green screen, how do you visualize a coming storm, when there's actually nothing there?
Abbie Cornish: "Well, the only time that my character was within an actual storm was when I'm driving the electric cab which you see in the trailer, and there's an electrical storm happening around. We had a very vocal director (Dean Devlin) who really liked to tell us exactly what was happening. And he's so animated. I actually feel like his performance was better than ours [laughs]."
James Sturgess: "But it's amazing that when you do a big film like this, it actually blew my mind, the amount that they build for you. The world that they actually create for you. You'd think it's all green screen but they build huge sets that are about as real as you can imagine."
What do you think will people like most about this film?
Gerard: "There's a lot of stuff to like about this movie, it's epic! As you said, you get carried away……"
And the relationship between the two brothers, which is so relatable….
Gerard: "Yeah! Because there's incredible special effects and action. But it's always the heart of it that gets you. The action doesn't mean anything if you're not taking a journey with the characters. And at the heart of it, there's this great relationship between two brothers. You can see they love each other but you can see that they're deeply hurt by different paths they've taken in life. And the story requires them to get over it and learn to work for a greater good. It's very powerful and it's really funny. And it's really quite emotional. Also my relationship with my daughter. The idea of her having to say goodbye to her father, as he heads up to do something incredibly dangerous. And nobody knows him better than this girl! It's also a coming of age story for my character in that respect. He is a guy who can save the planet, but he doesn't know how to communicate with his own daughter! He's not great at the more intimate issues in life. That's also very touching part of the story."
Geostorm opens in theaters around the world on October 19, 2017.