Daniel Radcliffe nearly starved, floated neck-deep in mud for 6 hours, for new film Jungle
In 1981, three friends went into the uncharted Bolivian rainforest in search of adventure. Two of them made it out alive.
The true story of Yossi Ghinsberg's trek is harrowing. To bring it to life, it would require something extraordinary.
"I thought, the role is going to require someone to really throw themselves into it and not just be doing a job," director Greg McLean tells me. "They're going to have to really commit to the performance and the character. These are real people."
Enter Daniel Radcliffe. Since the final Harry Potter film in 2011, the actor has chosen a range of films that have turned heads. From playing the beat poet Allen Ginsberg in 2013's Kill Your Darlings, a farting corpse with a heart of gold (I'm serious) in Swiss Army Man (2016), and an undercover cop investigating neo-Nazis in Imperium (2016), Radcliffe has taken bold, challenging roles turned in commanding, dedicated performances.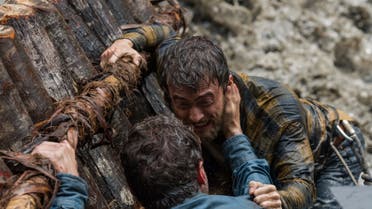 After seeing the "risky, edgy" films Radcliffe has been making, McLean wanted that actor for the role of Yossi Ghinsberg. From their first call, they were on the same page.
"I got on the phone with Daniel, we talked about the story and we were both excited about the same things. The challenge, the intensity of what he goes through and emotionally the kind of range the actor would need to display to pull it off. I think we connected on how much we loved the story and how much we wanted to tell it."
The two of them hashed out the most difficult thing the role would require. In the jungle in 1981, Yossi became separated from his friends, lost for three weeks on his own with little to eat. By the end, he was a shell of the man he was. To do the role properly, Radcliffe would have to go through a similar transformation—and near-starve to do it.
"We talked about that in our first conversation," Mclean says to me. "We didn't want it to feel kind of phony or fake. Basically, Daniel said, 'If we do it, I want to find a way to do a weight loss within the shooting schedule so that when I get to that point we can show what he was really going through and look like when you haven't eaten for 20 days.'
"He devised a healthy way to do it with his trainers in terms of his diet, but it was pretty severe. Even though it was done under supervision, you're still basically starving. You're starving yourself. You're eating a chicken breast a day or very limited food in order to get to that physical state. It was really built into the schedule in how to work out how to do those kinds of things, because it becomes a bit of a scheduling nightmare if you're doing that. But it was all part of the plan—it was all to do with how to authentically show what he went through and what he survived and what he was like at the end of that journey," says McLean.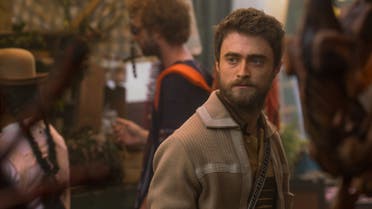 Radcliffe himself downplays what he went through. "Yossi didn't starve, but nor was he comfortable. I didn't want to be too comfortable throughout the shoot, so I ate considerably less. I lost about 14 pounds in total from the beginning of the shoot to the end."
The shoot didn't only require Radcliffe to near-starve. He would have to do dangerous stunts, all with little food in his system in the middle of the Colombian jungle, where the crew simulated the Bolivian side of the Amazon rainforest where the trek actually occurred.
"The rivers are just as dangerous as it looks in the movie, and it's them actually doing it," says McLean. "It was nerve-wracking that whole picture because you're on the water, you're going through whitewater rapids, you're active there. It's not just Daniel who is in danger; it's the whole crew."
Luckily, they avoided any injuries while filming. "We found this amazing Colombian canoe crew who were experts on that river and helped us and made sure we got in and out properly."
"The Colombian river safety crew were just amazing," Radcliffe says.
"Without those guys we would have been in deep trouble," says McLean.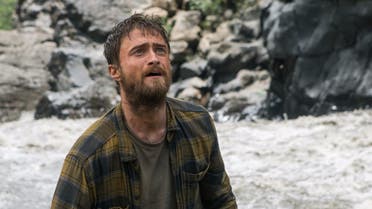 Through it all, McLean was in awe of Radcliffe.
"[I respect] how he's managed to stay so grounded and focused while being so famous and having been through what he went through. He started Harry Potter when he was 11 years old, and spent a decade in one of the most iconic story franchises of our time. Coming out the other side of that and being a very nice person, a kind person, and considerate of the people he works with, is very unique. "
What has kept Radcliffe so grounded?
"I think his parents have a lot to do with that because his family kept him aware of what fame is and aware of what it is not," McLean says, "People get confused sometimes and it screws them up, but he's been focused on being a good actor, doing good projects, working with good people, seeking out things that he wants to be involved in, and being very much in charge of his life.
"It's a unique experience to have that level of fame and not go completely bananas. He's a very impressive guy. He's focused on it. He comes to set full of ideas and full of focus and desire to do good work. All you can ever ask for as a director is to find people like that and try to keep working with them."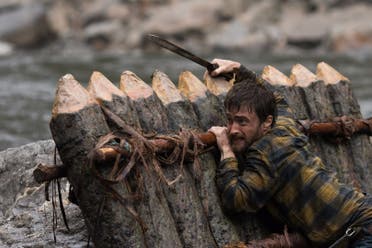 One moment in particular stands out in McLean's memory.
"Usually you'd have peaks and valleys with people. You find yourself in so many difficult situations where you'd expect for people to be justifiably annoyed, uncomfortable, or pissed off. He just had an ability to keep focused. This was when he hadn't eaten for days. I remember thinking at the time, 'this is amazing.'
"It was that scene where he goes in the swamp and gets stuck in the quicksand," says McLean. "The whole crew was standing around, and we had the camera on the crane, and we're waiting, and he had to just jump in. I remember talking to him and saying ok, here's what we're going to do."
"I remember him saying, 'OK, to make it easier for everyone, let me just do the whole scene in one go. I'll just be in there, and I won't get out until we've finished.'
"I said, 'are you ok? Are you sure? Cold stuff is going to be crawling around you.'
"He said, 'I'm just going to do it. It'll be much easier. I know it will be painful and cold and weird, but I'll just do it.'
I had to push McLean to tell me this story for half an hour, but when he finally tells me, his voice rings with absolute sincerity.
"We did that for five or six hours, and he crawled out at the end, and went back. That was really amazing. Usually, most people would do a take, get out, get cleaned off, go back in the caravan, come back in. He said, 'let's just get it done.'
"Part of that is experience. He's done so many different films, done so many different things. He's just done it all. He realizes that sometimes it's just better to power through even though it takes a bit more pain to get it done. That kind of stuff was just really impressive. You admire that kind of experience, maturity and effort."
For Radcliffe, it was all about honoring what Yossi went through in 1981.
"I think Yossi's story, although it's very extreme, is applicable to anybody who has battled any kind of adversity. Yossi went into this journey completely unprepared. He had no warning, he had no training for this situation and based on his instincts and willingness to survive and his determination, he was able to survive.
I feel like if there's a message for this film, it's you can do more than you think you can just by persevering."