WWE's Cesaro gets all his suits custom made in Abu Dhabi, where WWE returns next weekend
"I wasn't looking for another tag team," Cesaro tells me.
My, how times change. As we speak, Sheamus and Cesaro are the WWE Raw Tag Team Champions, regularly getting huge crowd reactions and developing a reputation for top tier tag team matches.
A year ago, Cesaro himself would have never believed it. In fact, according to him, the two of them didn't even know they were being put in a tag team in advance.
"The moment I found out I was teaming with Sheamus was the moment the fans did. It was when Mick Foley announced it on [Monday Night] Raw. I didn't know much before that, and actually anything you saw on TV since then, and even before that with the best of seven series, was essentially art imitating life.
"Sheamus and I did have a rivalry, and then became a team, and we went from being work acquaintances to becoming best friends. That's what makes this team so special and what makes the fans connect with us—that they were a part of this whole journey with me and Sheamus."
Why was Cesaro not interested in the idea at first? When you've been in as many different tag teams as Cesaro, trying to find that chemistry with someone else doesn't seem possible.
"I was lucky enough to have many different tag partners. I was partners with Kassius Ohno as the Kings of Wrestling [in the indies], and in WWE I was with Jack Swagger. I thought we were the best tag team to never win the WWE Tag Team Championship. Next, of course, my partnership with Tyson Kidd, which was tragically cut short after six months. I wasn't looking to be in another tag team, and I know neither was Sheamus. Now we're having the time of our lives."
Cesaro is renowned for his athleticism and commitment to his craft. He proved that again recently at WWE No Mercy. At the beginning of his latest championship match, Cesaro was thrown in the air, landing mouth-first on top of a ring post. The impact knocked all of his front teeth up into his skull, sending blood pouring onto the ring.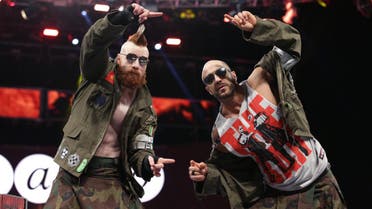 Rather than stop the match, Cesaro pressed on, barely losing a step.
"As soon as the blood started gushing, I was actually afraid they were going to stop the match," he tells me. "I was hoping they wouldn't, because it's a live WWE Network special and it's for the WWE Tag Team Championships, and those mean a lot to Sheamus and myself. As you said, those teeth went up my jaw, and it hurt, but I also didn't really know what I could do at that moment to make it better, so I thought, well, let's continue, and win this match."
Cesaro is excited to return to Abu Dhabi on December 7 and 8, where he will defend his tag team championships. Why Abu Dhabi? That's where he got his entire collection of suits.
All my custom made suits come from Abu Dhabi. Custom made," he stresses. "Freddy's in Abu Dhabi. I got 18 of the made last time I was there. That's all my suits and I wear them a lot. Very nice."
Cesaro knows a quality suit when he sees one—he's quite the seamster himself.
"When when I first came to WWE I made a bunch of my own stuff, including jackets. Now I just don't have the time anymore, except, as you mentioned, when I was hurt, the suits that I wore on TV I made myself. Ever since then I've been extremely busy, so I have much more talented seamstresses than me dealing with my gear."
Beyond another visit to Freddy's, Cesaro promises Abu Dhabi a show worth seeing,
"This is the WWE Raw roster coming to Abu Dhabi. I think last time you guys got the Smackdown crew so this time you'll get the A-show, so to speak. There's always a good rivalry there. You're going to see myself and Sheamus, you're going to see the Shield, Triple H, Braun Strowman, Samoa Joe, Finn Balor, Sasha Banks, Alexa Bliss, Matt Hardy, The Miz, and all your favorite Raw Superstars. It's going to be very exciting and we're all very happy to finally come back to the UAE."
- WWE Live in Abu Dhabi takes place at the Zayed Sports City Tennis Stadium December 7 and 8.