British director Abrar Hussain came up with a unique scope to film Kaaba, the muslim holy haram in Saudi Arabia, in his project 'One Day in the Haram'.
Hussain spoke to Al Arabiya at Dubai International Film Festival this week about the process of filming and the cooperation he received from Saudi authorities as well as his own upcoming projects.
It took the production team almost two years to wrap up the film between getting approvals filming and editing.
The film generated a lot of interest as it is set from the perspective of the workers in the haram, which is a unique idea that has never been done before, Hussain said.
Abrar is grateful for the support he received from the production company Arabia Pictures, Al Reyasa Department (the media department of the haram) who got the project through to Sheikh Sudais, the Imam of the Grand Mosque in Mecca, who also put his weight behind the project.
The reception of the movie was really great, said Hussain with an element of pride as he did the cinematography himself.
In Saudi Arabia, Hussain says as soon as he released the trailer, the film got a lot of attention as he started receiving a lot of calls from ministries and the most significant call was from the prince of Medina who wanted a similar project done for the Prophet's Mosque from the perspective of the workers.
So, 'One Day in Medina' is going to be a sister project for 'One Day in the Haram', Hussain added.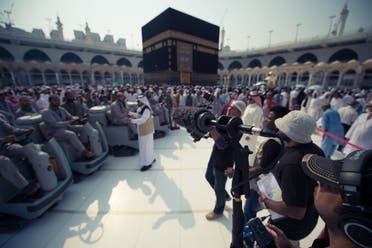 Another upcoming project is going to be done for the Saudi football federation for the world cup, as well as another film focusing on extremism and how to combat terror.
Cinema is coming to Saudi Arabia, 'One Day in the Haram' will be one of the first films to be shown widely across cinemas in the Kingdom.