Eager little hands stretched to the sky in a race to answer Nickelodeon's series 'Shimmer and Shine' pop quiz composed by the cartoon's very own creator, Farnaz Esnaashari-Charmatz.
The quiz came as part of Charmatz' meet- and –greet session at Dubai's annual Market Outside the BOX event (MOTB). This revealed the middle-eastern fan base of 'Shimmer and Shine'. The children displayed excellent general knowledge of the show and were rewarded with presents.
"Shimmer and Shine is inspired by the Middle East, because obviously I am Middle Eastern, and as a creator, you always put a lot of yourself in what you do," said the Iranian-American Charmatz.
A magical world
The show is a culmination of cultural aesthetics and designs assembled to create a magical world full of fun, glitter, and fantasy. The characters, Shimmer and Shine, are dressed in eye-catching outfits based on genie folklore, rather than one specific cultural attire.
The animation has a general oriental feel and includes characters with Middle Eastern names, such as Princess Samira. In addition, Charmatz revealed that at some point, the art direction would be inspired by Dubai's Miracle Gardens, known to be the world's largest display of natural flowers. "It was so beautiful, eventually you will be seeing a little bit of Dubai in Shimmer and Shine at some point", explains Charmatz.
The two characters - Shimmer and Shine - are a pair of rookie genies who can't seem to accurately employ their human friend, Leah's, magic wishes.
Charmatz believes that "children should know that it is fine to make mistakes, and I hope the show empowers them to make a good situation from a bad one".
It takes eight to nine months to complete one episode of this Nickelodeon show. "It's like having a baby every time", compares Charmatz. Her team may end up working on five different episodes per day to complete at least 40 episodes in just a year and-a-half.
The animator told Al Arabiya English that her favorite part of the process is the impact it has on her audience. "I cannot begin to explain how amazing it is to imagine something and see it come to life only to see kids connecting and falling in love with it and the characters''.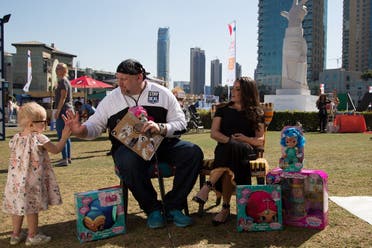 Charmatz was just an intern at the entertainment giant's television station working on the famous Dora the Explorer.
She fell in love with the way Dora influenced children all around the globe. After her pitch was accepted by Nickelodeon, she knew that it was now time for 'Shimmer and Shine' to shimmer and shine.
Charmatz hopes her show illustrates what it means to be resilient in addition to promoting kindness, compassion and teamwork among children.