EXCLUSIVE: Sonam Kapoor on year-long break, Pad Man, Sanju and Veere Di Wedding
There's something different about Sonam Kapoor, and I sense it immediately. The last time that Sonam Kapoor and I sat down to talk over peppermint tea, we talked about her upcoming film Neerja, based on the tragically short life of Neerja Bhanot, who gave her life to save the passengers of a hijacked plane in 1986. At the time, she was effervescent, bursting with passion about the woman whose story she would immortalize on screen. It's all she wanted to talk about.
The film went on to become a huge hit, garnering now 32-year old Kapoor more acclaim and awards than she'd ever received before. We're now in Dubai, where the fashion icon is a guest of luxury watch brand IWC Schaffausen. I start our conversation by bringing this up the accolades she garnered for Neerja. She's quick to push them away.
"I feel like you should always have a sense of equanimity when it comes to certain things," Kapoor tells me. "You can have ups and downs in the way that you feel when it comes to your work, but you should always look forward. You need to understand that everything you do is for everyone else's consumption, and to feel anything off of that, any elation—I don't know if it's healthy. There's always a downer after that."
A combination of that attention, the heaviness of the subject matter, and how much she gave to the performance caused Kapoor to step away from film for longer than she ever has before.
"I took a year off after that. It was hard for me to get into anything else. Then I decided to sign things after. I always take some time off after difficult films. I took some time out after Raanjhanaa," says Kapoor.
"I think that's what's important—to kind of disconnect to a certain extent. Stay with it, but don't get overwhelmed. If you're working non-stop after that, you get into a bad place. It's always important to approach it in a very clinical way after the film releases."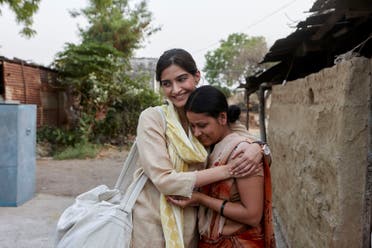 The first project Kapoor took on after her break was Pad Man, which tells the true story of Arunachalam Muruganantham, who developed the first affordable sanitary pad for women in India. The titular role of 'Pad Man' is played by Akshay Kumar, one of Bollywood's all-time highest-grossing stars.
When I ask Akshay Kumar about Kapoor, he too noticed a change.
"I first worked with Sonam Kapoor in Thank You, a couple of years ago when she was fairly new in the industry. Over the years she's grown as a person and as a performer," says Kumar.
Kapoor acknowledges the change herself.
"I think it's important, as a person and an artist, to evolve, and to say something through your work," Kapoor tells me. "If you don't do that, then there's no point being an artist, there's no point being an actor. You're here to entertain as well, but it has to be a combination of the two. I hope I just get better with whatever I do. Everything I say through my work is important, in some way or the other.
"Acting is the way that I express myself. The whole point of being here as a human being is to communicate, is to express yourself in some way or the other. You need to have a purpose, and acting gives me purpose," says Kapoor. After her long break, Kapoor chose her next three three films very carefully, each with a specific message she wanted to communicate to the public.
"Working on Pad Man, which is a biopic, was very important for me to do because of the state of women in our country. We don't get the same opportunities that men get. We don't get the same respect that men get. There's a lot of misogyny in India. Sanitation is a basic need for a woman. Having a period doesn't make you impure or less. We reproduce because of it! There's a lot of stigma attached to getting your period," says Kapoor.
"Sanitary napkins are heavily taxed in India so regular women can't afford it. With his invention and his innovation, women could get cheap sanitarian napkins. Also his invention and innovation gave women an opportunity. He created lots of jobs for women through it. I thought it was a very important story to be told, and I wanted to be a part of it."
"If you get your period, it doesn't mean that you're dirty," Kapoor again stresses. "It doesn't mean that that you have to sleep outside the house and you have to use a different toilet, or you can't go into the temple or into the kitchen. It doesn't make you unclean. That's a basic thing that women in India don't know."
Though the film about women's empowerment stars a man and focuses on a man, she still felt the role she took was empowering and essential.
"I think it was about supporting this character, and understanding why my character was so important in this film. I might not have the titular role of Pad Man, but he needed the support of women in this. He needed the support of the right thought process. My character is someone who comes from the city and doesn't understand why people think that way, while 70 percent of India thinks that way. Working with Balki, who was the director of the film—he's made a lot of amazing films like Shamitabh, and he's a very progressive thinker and director."
Kumar credits Kapoor for what she brought to the role.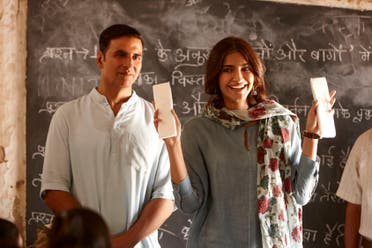 "Of course, she's well known as a fashionista in the industry," Akshay Kumar tells me. "In fact, her nickname on set was 'Paris'. Jokes apart, Sonam's character in Pad Man demanded just the opposite of that, which she managed to achieve effortlessly and added her own touch."
In researching the role, she learned things about her country she had never realized were so bad.
"Some of the statistics were shocking—76 to 80 percent of women don't have access to tampons or sanitarian napkins in India. They use dirty cloth. To prepare for it was actually very hard, because a lot of the information I got was frankly very scary. I had to understand that my country was so ignorant and so illiterate in this matter. We live in a cocoon. It was very scary, but I had to use that fear, that sensitivity, and that compassion as part of the character that I was playing," says Kapoor.
After Pad Man, Kapoor turned her attention to another true story.
"Besides Pad Man, I'm doing a film called Sunju, based on the life of Sanjay Dutt, who's an actor, and I'm working with a director called Rajkumar Hirani and I'm excited about it."
While she's credited online as playing actor Tina Munim, Kapoor denies that the role is based on one single person.
"My character is an amalgamation of a lot of things, and I'm not allowed to speak about it because of everything that's attached to the film, but I was excited to play it. Even though it's a very small role, I wanted to be a part of that film. When people see the film they'll understand why I wanted to be a small part of that."
For her third project, Kapoor chose to work with her sister and closest friends.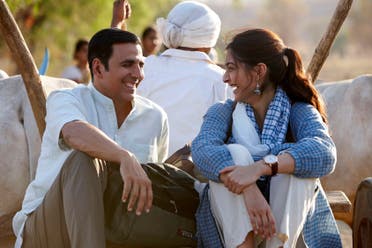 "The other film I'm doing is called Veere Di Wedding, and it's completely helmed by women. My sister is producing in it, I'm acting in it with a couple of my girlfriends, and it's basically to say that women can make films that are very entertaining, commercial coming of age and buddy films, not only men," says Kapoor.
Though a comedy, the film has serious intentions, according to Kapoor.
"What's unfortunate is that women don't understand the kind of propaganda that has led to us competing with each other. It's almost been a kind of 'divide and rule' situation. The more we understand that the more we stand together, there's strength in numbers. The more we work together, the more we support each other, the opportunities for us will be better and the way that we are treated will be much better. Not that I'm saying that men and women are at opposing ends, but women need to come together at some point," Kapoor tells me.
"We wanted something really fun and very real. The film is very real. It's exactly what happens in society. It's women in different stages in their lives and four best friends. I am working with my best friends in the film—the girls playing my best friends are my best friends. The dynamic is very interesting. We didn't have to create any chemistry. The director did a movie called Waisa Bhi Hota Hai Part II, and he does amazing comedy. He's also very good at the other side too—it's more dramedy than comedy. It's pretty cool."
Pad Man is now running in theaters across the Middle East.