EXCLUSIVE: Jason Bateman was supposed to direct Game Night—here's why he didn't
Jason Bateman was originally slated to direct Game Night. After New Line acquired Mark Perez' script about a game night that goes awry in 2013, Bateman and his team spent years trying to find the right writer to polish it before he took the helm.
"Most of my work as a producer on this was during the years of development with the script, going through different writers, and trying to figure out how best to shape this concept into something that I felt that I could really do a good job with as a director," Bateman tells me.
One of his biggest hits as a comedy star came with Horrible Bosses (2011), his only film to earn a sequel. Its writers, John Francis Daley and Jonathan Goldstein, went on to greater success, writing the well-received Spider-Man: Homecoming (2017) and making their directorial debuts with Vacation (2015). Unsurprisingly, Bateman wanted the duo to take on the Game Night rewrite.
Bateman is no slouch as a director himself. His debut, Bad Words, about a foul-mouthed man who enters children's spelling bee, was an underrated gem, one that he followed up with 2016's Family Fang. But the chance to work with John and Jonathan again proved more enticing than directing his third feature.
"It was something that I was going to direct as well as star in. When the idea of John and Jonathan came around to write the final draft of it, we knew that they wanted to no longer just write things and have somebody else direct, but they wanted to direct things that they write. So I said, 'I'll step off as a director if you guys will agree to write it'. They said yes. That turned out to be a great decision because they made a great movie," says Bateman.
When I speak to Daley and Goldstein, they politely introduce themselves.
"I'm Jason Bateman. This is Rachel McAdams," says Goldstein.
When I ask about stealing Bateman's film, Daley proudly admits it. "We did indeed. We had been itching to steal anything away from Jason."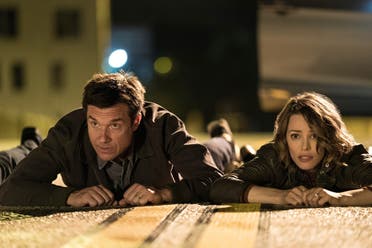 "He's actually living in my old apartment in Atlanta, so he stole that from me, so now we're even. I took his movie," says Goldstein.
For them to feel comfortable directing the film, Daley and Goldstein had to rewrite it until the script felt like it was theirs.
"We were able to put it into our voice, the big twist and the general gist of the movie is what Mark Perez wrote, and that's basically what motivated us to do the movie itself. It was so much fun, there was so much potential for genre mash-up which is what we were intending to do, where it's both comedy and thriller," says Daley.
Bateman was impressed with the two of them throughout the filming of their sophomore effort.
"The thing I was most impressed with was their preparation," Bateman tells me. "The director is really the only person on the set that doesn't have a job, if you really think about it. They don't really have to do anything. They just kind of can say yes or no to the results of other people's work. That sometimes gets a person in that chair that doesn't do a lot of preparation. These guys were the opposite of that. They knew exactly what they wanted every day and we're all forced to follow that director. If a director doesn't have a plan, it gets a little frustrating, but when a director does have a plan, it's very easy to follow that person and try to make their plans come to fruition."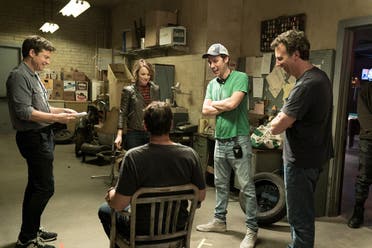 The film's most technically demanding scene involves a game of hot potato with a Faberge egg, something Goldstein and Daley stress was more difficult than it sounds.
"We did it to look like one long shot, so it took a day and a half to shoot. We had to get the camera from the first floor from the second floor," says Goldstein.
"That doesn't sound that impressive," says Daley.
"It doesn't sound that hard, but when you're trying to do that smoothly it's pretty difficult. The end scene on the bridge was very challenging because it was three nights to shoot. I think it was around 15 pages. There was so much going on with gun paly and character beats. Trains kept going under the bridge and they were those long trains and we had to wait for them and it was just eating up our night," says Goldstein.
"And it was negative 30 degrees!" says Daley.
"Was it?" says Goldstein.
"No," says Daley.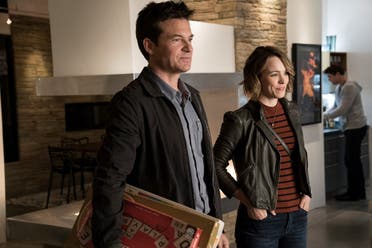 Bateman struggled with the film's constant night shoots.
"This film takes place over the course of one night so there were a lot of days in this production when we had to film at night. We wouldn't start work until the sun went down and we'd finish work when the sun came up. That became a bit difficult. You start to lose your mind a little bit. We tried to limit those days. I think out of eight weeks of shooting only two weeks were full nights. Otherwise it was kind of just a few hours of night here or there. That took a lot of planning or adjustments to the scripts to put scenes indoors so we could tent the set, kind of like when you exterminate for bugs, so it looks like it's night," says Bateman.
Coming off the successful first season of Ozark, Bateman's 2018 will be filled mainly with television, as he finishes up the second season of his Netflix drama, as well as the next season of the cult classic Arrested Development. Beyond that, he's still unsure what the future holds, but after turning Game Night over to Daley and Goldstein, his first priority is finding the next project for him to direct.
"We're working on developing some projects for me to direct or to act in, some of which I'll just act in, some of which I'll just be directing, some of which I'll be directing and acting in. We'll see what comes together in time for the next moment that I'm available to do that which will be coming up this summer and then again after potentially the third season of Ozark," says Bateman.