Dubai Opera featured for the first time, on Wednesday night, an Arabic music concert led by professional musicians of the newly launched Dubai Music Band.
Dubai Music Band presented a collection of famous Khaleeji, Arabic and classic songs which are very popular in the region.
Maestro Ahmed Taha led the musicians through classic pieces, including "Magadeer", for Khaleeji star Talal Madah, "Nasam 'Alayna Al Hawa" by Al Rahbani for Lebanese singer Fayrouz, and "Enta Omri" by Egyptian composer Mohamed Abdel Wahab for Umm Kulthum and many more.
The band featured young female violinist Khawla Al Rwayhei who as soloist played sections of Umm Kulthum's iconic song "Enta Omri" (You are My Life), receiving wide applause from the audience.

Khawla told Al Arabiya English that she has started performing with the band since the beginning of the year and that she is happy to betaking part in their first concert at Dubai Opera.
Dubai Music Band was established in November 2017 under the sponsorship and funding of Emaar Dubai and Dubai Opera.
Emaar Chairman Mohamed Alabbar commended the performance of the new national band and pledged to support its growth under the wing of Dubai Opera.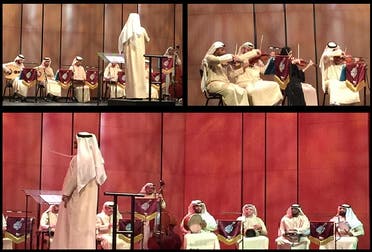 Alabbar said that this is just the beginning, "a day like this has a significant impact on our people, community, culture and civilization."
He added that for every one to see such passion and evolution of local talent is the real investment behind the building and that he will continue to nurture and support such initiatives.
Emaar has been a dedicated supporter of cultural and artistic initiatives underlined by the creation of Dubai Opera, the first multi-purpose theater for performing arts.
Since its opening in 2016, Dubai Opera has welcomed the world's largest musical productions and concerts by legendary artists from the region and around the world.