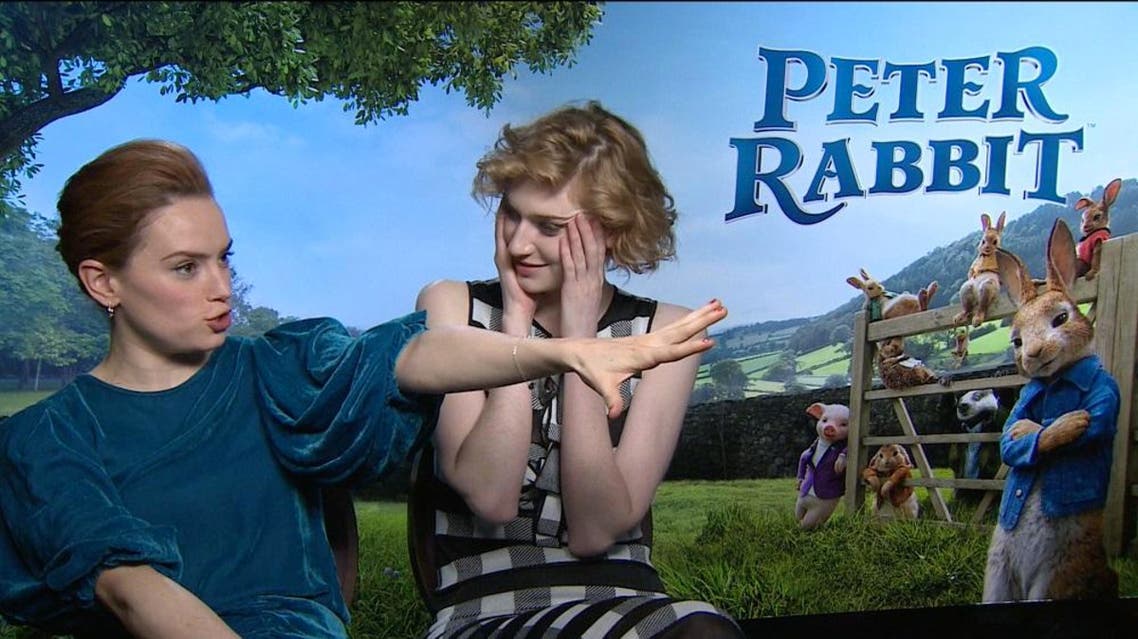 Peter Rabbit's Daisy Ridley: Most memorable moment of my career was filming in Abu Dhabi
"You're from Al Arabiya? Where are you from?" Daisy Ridley asks me as we sit in London to talk about her new film Peter Rabbit.
"Dubai," I say.
"Dubai! Is Beatrix Potter big in Dubai?"
Daisy is sitting next to her co-star, Elizabeth Debicki. The two of them play two of three triplet sisters in the film, Cottontail and Mopsy respectively, the younger sisters of Peter. These are the sorts of things I'm supposed to be asking them about, but instead, Daisy seems to be interviewing me.
"I think she's big everywhere," I say about the beloved children's book author of the series.
"That was a very political answer. No, someone told you to come here," she jokes.
Ridley has a history in the UAE, of course. In 2014, she was cast in the lead role of the new Star Wars sequel trilogy as Rey, perhaps the biggest role to come along this generation, catapulting her to stardom.
The first film in the trilogy, Star Wars: The Force Awakens, spent weeks filming in Abu Dhabi. To Ridley, her time in Abu Dhabi was the most memorable moment of her entire career thus far.
"When we filmed the first Star Wars we went to Abu Dhabi for the first two weeks," Ridley tells me, "I've never been anywhere like it. I remember eating, back when I ate meat, amazing steak and lobster, and I was like, someone else is paying!"

"We went to a Souk, which was like, oh my gosh. We went to this proper desert, and this amazing hotel, I've literally never said anything like it. I've also never been so hot. People's shoes were burning. It was incredible. There were endless sand dunes I've never seen anything like it. It was brilliant."
"That was such a blend there. Hotel lobster shoes burning! Sounds like a fever dream!" Debicki says.
READ ALSO: How Peter Rabbit allowed James Corden to reconnect with the home he left behind
Though Peter Rabbit is coming out in the spring of 2018, Ridley, the rest of the cast and crew worked on the film over a period of years.
"For me, I remember growing up with my grandmother Camille, who read me every single one of the Beatrix Potter books, as she has all the first editions," I say.
They aww in unison.
"My mom used to read us them all, too!" said Ridley.
"My mom read them to me too," says Debicki. "So sweet! Gosh we better do that for our children."
"I know, or else we will have failed!" says Ridley.
"The circle must continue!" says Debicki.
For years, the estate of Beatrix Potter never allowed a film adaptation of the series to be made. Writer/director Will Gluck's script was, in fact, the first one that they approved. For Gluck, it was all about capturing the spirit of the books as accurately as possible.
"We stayed very close to what they looked like, what their costumes were, what the DNA of the characters were. We took every little element we could of the source material and expanded on it. This movie is timeless. There are no pop culture references; there are no references to time or place. This could take place now, this could take place back then. We wanted to honor that feeling of the garden and the McGregor manor and not go nuts with it."
When he assembled the cast, which also includes James Corden, Domhnall Gleeson and Margot Robbie, he took full advantage of their talents, altering what he'd written to suit each of them.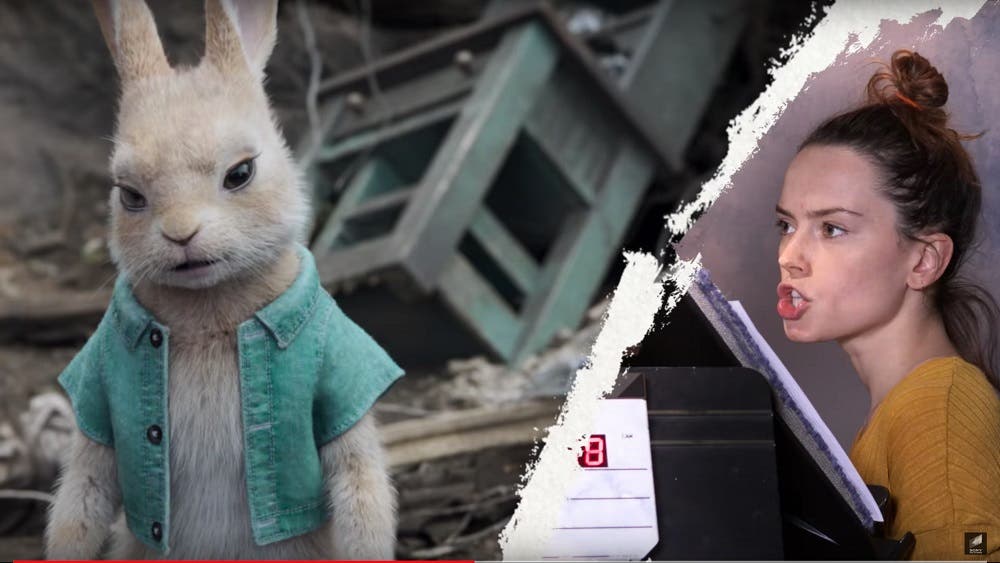 "As soon as we were lucky enough to cast these guys I rewrote the parts for them. We changed every single character constantly, over and over again, with Daisy, Elizabeth and Margot. That was so fun to do. Usually when you shoot a movie you only have a couple shots at a scene, but because we could keep doing it over and over again, it was fun to be able to iterate it as much as possible. The only reason we could do that was because they were so great," says Gluck.
Ridley tells me that even through all its changes, the script never lost what it accomplished in its the first draft.
"I think if we read the script now we would be surprised by how much it changed, but it didn't feel like it was changing, it felt like it was sort of adapting, because, it's bound to. If you're filming something, you're recording something, and the other person isn't there, it's all reactions, so it's bound to happen that you're going to have to tailor reactions," says Ridley.
"I feel like there were different incarnations of the characters, but each of the time they would develop, they would level up, and become more specific, and more detailed. You would have the residue of what you recorded previously and little character traits, but as an actor it's a beautiful process because you only get better at it as you do it, so by the time we're recording the final lines, or versions of scenes, we've done quite a few hours with the voices, so it's more natural,' says Debicki.
The two have a natural chemistry, which Debicki attributes to the fact that they were able to interact early on.
"We recorded together to begin with, we had two sessions together, which is very helpful," says Debicki.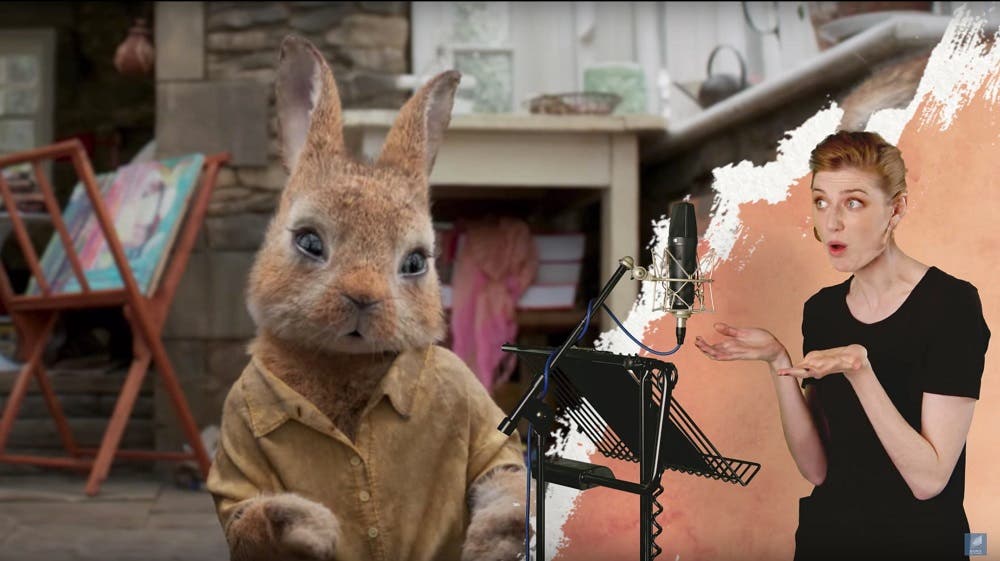 The third triplet, Margot Robbie, was not present with the other two during any part of the recording.
"I've never met our other triplet. Yeah so that chemistry is, you know, some skills," says Ridley.
"That's some serious acting," says Debicki.
"That's some serious, serious acting," stresses Ridley.
Often times, the voice over sessions took place with the actors alone in a booth with Will Gluck sometimes present only via Skype.
"It's interesting doing animation because you're in a dark recording studio by yourself, so, in a really good way, you kind of lose track of what you're doing. Often we'd have a line, and at the very end of recording a line, almost before you've taken a breath, Will would spit out a different version, and you'd spit it back out, and so it was quite quick and spontaneous," says Debicki.
Ridley has done voice over work previously in cartoons as Rey in Star Wars and in the Studio Ghibli film Only Yesterday, but nothing like this.
"Only Yesterday only took two days. This was different anyways because our sessions were spread out over two years for this. That was interesting, there was a lot of time between each session, which is unusual, but it was great because we could add new things every time."
Going back and forth between projects, and with so much filming in such a short span of time early in her career, Ridley admits she has had a hard time processing it all.
"It's sort of like a jumble. Things happen so quickly that there wasn't much time in between to process, so everything is kind of a… bunny with a lightsaber," says Ridley.