Stars of La Casa de Papel, Netflix's top foreign series of all time, talk Part 3
La Casa de Papel is the sort of show that we're are always waiting for—the kind where you'll stay glued to the couch for days, anxious to find out what happens next. It's no wonder that it's become, in five short months, Netflix's most popular foreign original series of all time.
The hook is simple—eight career criminals, organized by a mysterious man who calls himself The Professor, break into the Royal Mint of Spain to try to lock themselves in for 11 days and print 2.4 billion euros. Over 22 episodes, viewers follow that one single heist from start to finish.
I'm in Rome sitting with its two stars. Úrsula Corberó plays Tokio, a mercurial criminal whose passion and recklessness make her both an asset and a liability. Álvaro Morte is The Professor, the unassuming mastermind.
"Do you love Dubai?" Úrsula asks.
"Yes, and Dubai loves you—this show is a phenomenon."
The show, called Money Heist in English and La Casa de Papel: The Professor in Arabic, has particularly become a viral sensation in the Arab world, as Netflix has dubbed the show into Arabic, broadening the appeal of a series that originally aired on Spanish broadcast television. Guests at 2018's Middle East Film and Comic Con walked the convention dressed in the now iconic heist outfit, sporting red jumpsuits and Dalí masks.
Álvaro has received notes from many Arab fans.
"Yeah! Now days, with social media, Instagram, and Twitter, you are connected with the whole world, so we receive a lot of messages," says Morte.
"The people of Spain have all followed us all of a sudden. It's so crazy. I'm experiencing something really new for me and I think the whole cast is too. I'm used to walking around Spain and being recognized, but now, when I land in an airport somewhere far away, it feels unusual to be recognized wherever I go. To be honest, I'm really enjoying it, and I'm full of happiness and pride for what we have made. I can't wait for the third part, and I'm really excited," says Corberó.
A day before we sit down, it was announced that, against most expectations, the story was not over. La Casa de Papel: Part 3 will come exclusively to Netflix in 2019.
This was not part of the original plan. In fact, Morte and Corberó never had any idea the story would continue while they were filming the initial parts.
"We were shooting those first parts, and from the beginning, we said it would be a closed thing. This is what it's going to be, and that's it. It was so sad when we finished because I knew I wouldn't be the Professor anymore, you wouldn't be Tokio anymore. It's kind of sad! Suddenly, with all this huge success in the whole world, there was suddenly hope, a bolt of lightning waiting just over there…" says Morte.
"Waiting for the call!" says Corberó.
"Waiting for the call! Oh please! Come on! We have to go for part 3! Come on! Come on! Then suddenly [series creator] Álex Pina called, and it was very exciting," says Morte.
"It was great," says Corberó.
"Are you nervous at all about living up to the amazing first two parts? It's one complete story. Are you hesitant to jump back in?" I ask.
"We're excited," Corberó says.
"We're excited, not nervous. We're wishing for it," says Morte.
Corberó pauses.
"There is some pressure," she admits.
"Yeah, because now the expectations can be huge! But I promise to you that we don't know anything at all about part 3. At all. Nothing. But we talked to Álex Pina, he told me, 'You are going to have your mind blown with part 3.' 'Really? Why? Tell me!' He said, 'No, I'm not going to tell you anything.' We said, 'What?!' It seems it's going to be great," says Morte.
"So now we're waiting now for another call," says Corberó.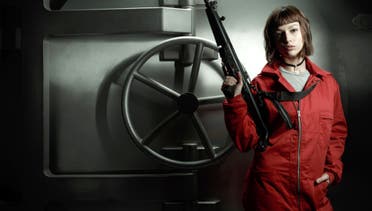 Álex Pina was equally as secretive while he made parts 1 and 2.
"When we started shooting, and we just had the first episode script. The second one came, and then as we were shooting I said, hey, Ursula, in the mail we've got the 4th! She said, really? Come on! Then we took a break to read," says Morte.
"We were shooting, and reading the [next] scripts!" says Corberó.
"We were reading an iPhone saying, Wow! It's going to happen! We didn't know where we were going. We knew it was a heist, but we didn't know how it would finish, nothing!" says Morte. "Alex had thought of the plots, but he didn't have everything developed and written down, he wanted to see the results, the interactions between the characters. Some things were there, some things developed as we went along," says Morte.
Making the professor
Because they knew little about their characters, the development of the characters was often difficult for the actors. Morte originally thought the Professor should be someone much different from who he became.
"When we read the script for the first episode, each character could have been performed in many ways, especially the Professor. I did five auditions for this role. I auditioned for more than two months. My first audition, I said, ok, it's a heist, it's Spain, so they're going to want to make a copy of Ocean's Eleven, and so they must want George Clooney! My first audition was all self-confidence. They called me, said they liked it very much, but they wanted a 'freaky' side to this guy. I said, 'freaky what?' says Morte.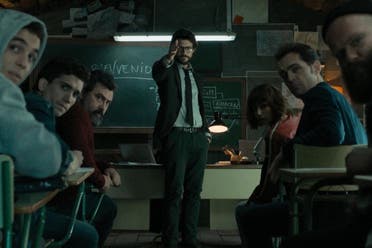 "We wanted to do this like Superman. Superman has two faces—Superman and Clark Kent—but Superman is the real one. But what we wanted to do was the opposite. He is Clark Kent, but sometimes he has to behave like he's Superman. In fact, we wanted to connect him with many parts of the superhero world. He has different faces. He's the Professor, he's Salva, he's Sergio. His hanger is like Batman's cave. He has a mysterious, enigmatic past, like Wolverine," says Morte.
"He had to have a lot of charisma—enough to take all of these criminals and make it so they say 'ok, we are with you,'" says Morte. "If that's enough to make nerds in the world feel a little bit like heroes, I'm really happy with that."
Part 3: A wish list
While Álex Pina won't divulge details to the actors, they have their own hopes for where their characters ended up after the world's greatest heist.
"I would like, and I think many people would like, to see a little bit of the lives of these thieves after all the bad things they have been through in the Royal Mint of Spain, eating so badly for so many days. I believe that fans are waiting to see them enjoying life. I would like to see Tokio on an island acting wild, fishing for Rio, like Ursula Andress in James Bond with a knife on her belt. Tokio would be a bit bored there, though," says Corberó.
"I like to think about the professor that he's a modest guy. He's been doing this robbery as a revenge against the system, but not because he's enjoying the wealth. I imagine him living in the Philippines, but having a modest life on the beach with some Filipino kids around, playing with them, teaching them universal history, maths, or whatever. I think about him in that way, but I'm sure that something's going to happen that he's not going to be able to find that quiet life," says Morte.
"We're going to be in trouble!" says Corberó.