How Lucy Liu entered the Marvel Cinematic Universe as a director with Luke Cage
Lucy Liu remembers very well where she first met Cheo Hodari Coker, creator of Marvel's Luke Cage. It was on the set of Southland, the acclaimed crime drama, where Coker was a writer and producer.
"I got the **** beat out of me," Liu recalls. "On day one. It was a very real show, so they didn't pull punches. They used three cameras, they shot very quickly, and I was in and out. I was on the ground, and the whole crew had left, and I was still sitting on the ground, bruised and battered," Liu says.
While Liu was only on set for a short time, she made an impression on Coker.
"Watching Lucy's process in terms of how she would process a script—the table reads, thinking on her feet not only in terms of asking questions about her character but always being very conscientious about what her fellow actor was doing in the scene. All these things, I felt—and I was right about this—gave us a short hand from that shared experience that I knew would be invaluable for Luke Cage," Coker says.
The three of us are sitting in Rome, ahead of the launch of the second season, for which Liu directed the first episode. For season two, creator and show-runner Coker enlisted six women directors to take on the continuing story of the hero of Harlem, Liu leading the way.
"I got a call from my agent, and Cheo had a call on Skype together with his team. He asked me very specific questions about how I would approach working with actors, and how I would do stunts, and specifically how I would shoot them. We seemed to connect on what we would have done, or how we would work together. Then I got a call saying please come and do the show," Liu says.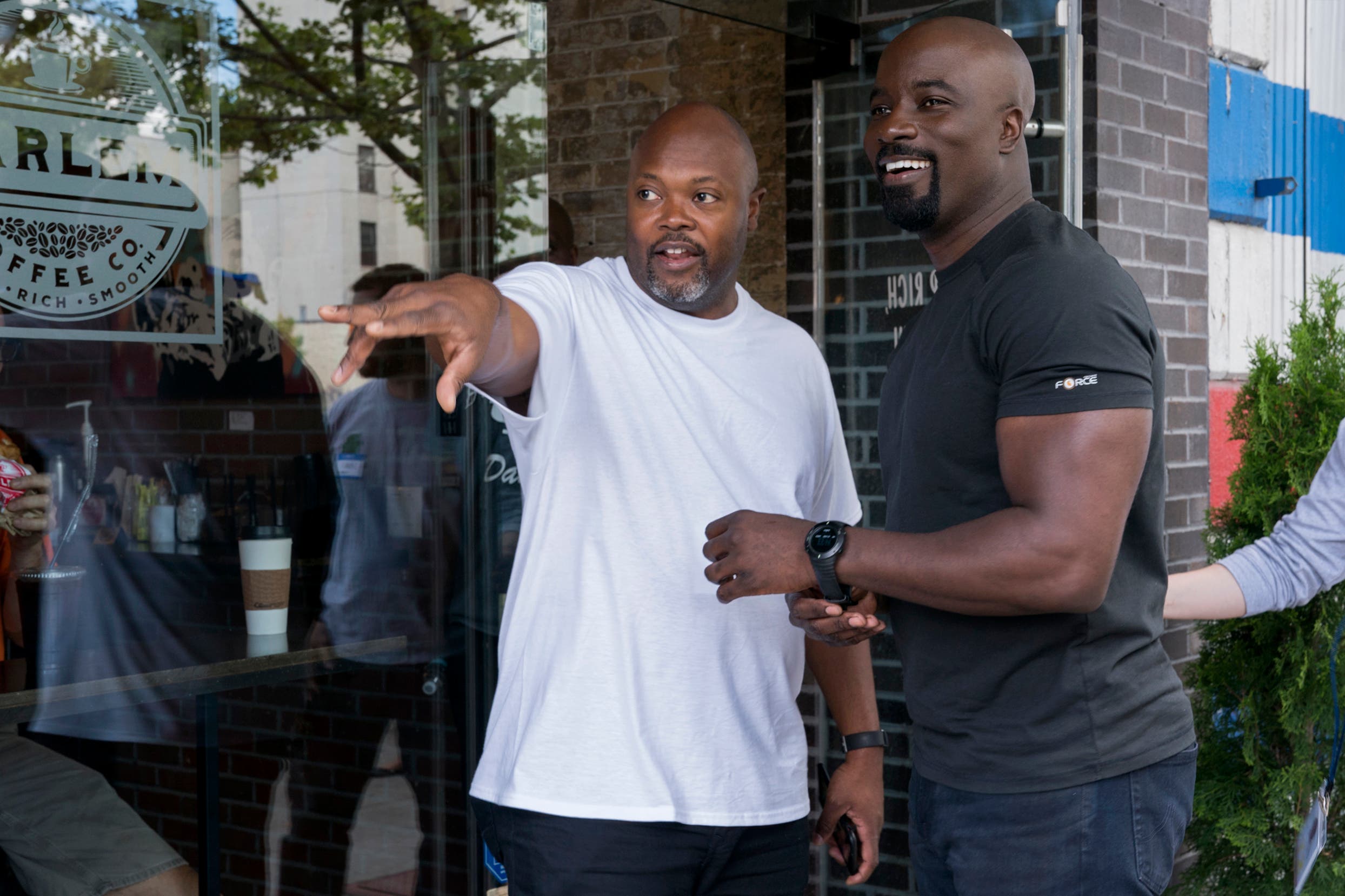 Coker wants to be sure that "every director that comes to the show has a passion for the show, and a passion about their craft. That was the thing that immediately struck me about Lucy the director—how persnickety she is about preparation, and how that gives her the opportunity to be laid back and have things happen, which is something that we get from Southland," says Coker.
Coker, a professed fan of Liu the actor, was wowed by Liu the director's confidence and ability.
"What was so gratifying about how she directed the episode is that she had a very specific vision for every single scene, but at the same time, because she listens, because she communicates, if an ad-lib needs to happen, or if there's a moment that we didn't anticipate on its feet that added to a scene, then she captured that. At the same time, she always knew when there was enough. She'd very quickly say, 'ok, we've got it, and we're going to move on'. That's the hardest thing to do!" says Coker.
"You have to really trust each other as a group, and that's hard sometimes," says Liu. "All of a sudden, this person is a director, and they're in charge."
Liu had to fight to start her directing career on her hit series Elementary, now approaching its seventh season. It went well—she's been invited back to direct five more episodes of the show. Directing, she says, allows her to work intimately with the crew to plan the process, whereas as an actor, she only comes to set once everything's been decided.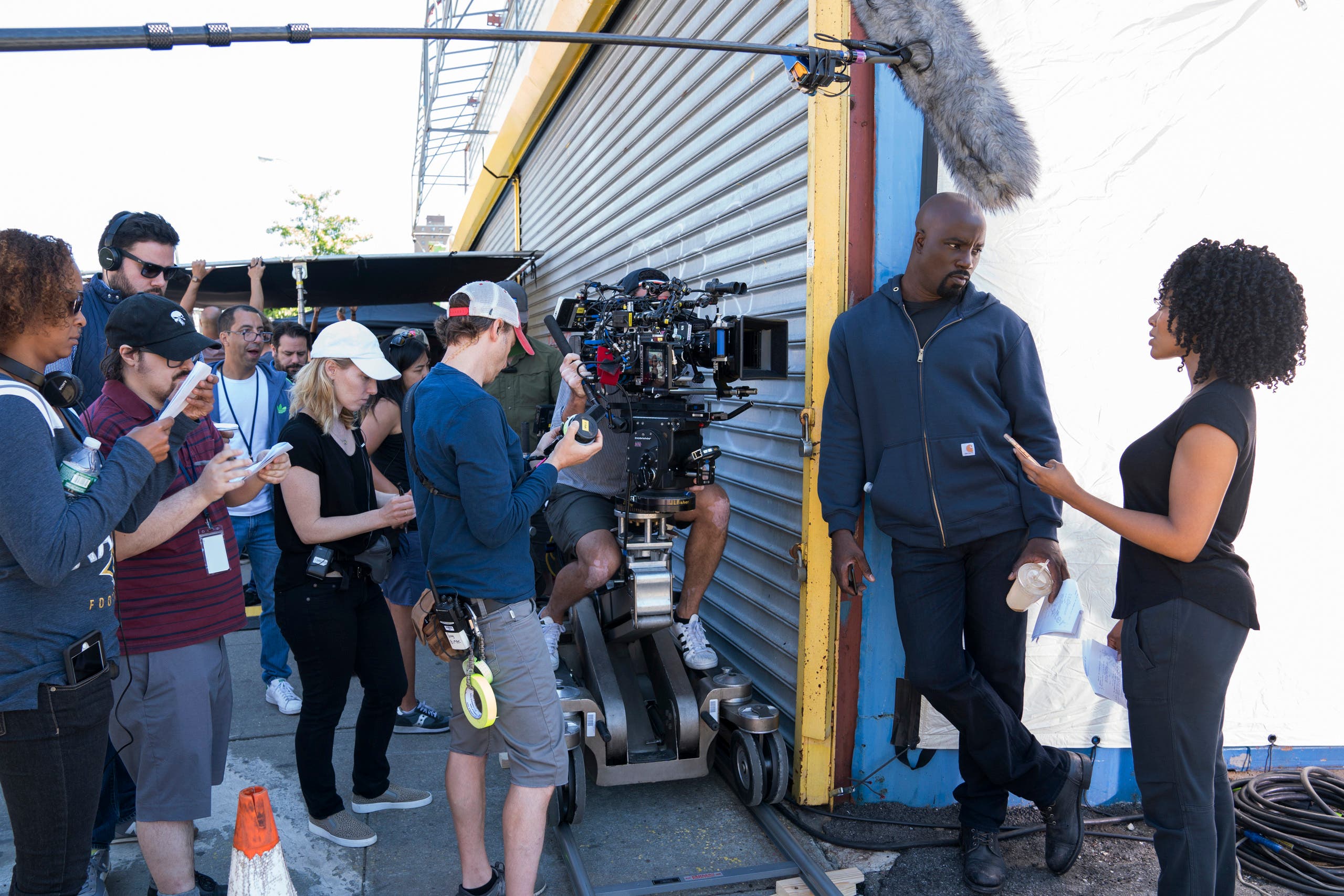 "Part of the fun of creativity is seeing the curtain lifted, the wires backstage. That's what you get to do as a director—you get to see the machinations of what's happening. It doesn't interrupt you as an actor—it actually grows you. I found that I've grown so much from that experience as a person, as a human being. It's only helped me understand life on a bigger scale too. [You're in] the microcosm of being an actor, and you zoom out, you see more, and it's so spectacular," says Liu.
Liu focused on making the first episode of Luke Cage's second season more physical.
"I told them, while they were still working on it, they told me what they were going to do, but I said, can we make it bigger? Can we tighten it up here? Can we do a throw? I want to see more bodies on the camera, I want to see more legs, I want to see more on the camera. I don't want to keep it tight to the body. I want to see more energy for these particular moments."
"Not only is she Lucy Liu, she's also O-ren Ishii," Coker adds, referencing her scene-stealing turn in Quentin Tarantino's Kill Bill. "She's been in some of my favorite action sequences of all time."
Having spent decades in front of the camera, Liu focuses on not her actors' time and energy during long set-ups for action sequences.
"You lose your energy as an actor and once you get in you're already done. You're eyes are dull. Your soul has left the body. For action, it's best to shoot things with the actor when you need them and don't shoot him when you don't need him, because they get worn out."
Does Liu have her eyes on directing a feature film?
"As soon as I get it, you'll be the first to know. I've spoken to Netflix about it too, and they seem to be most open to people coming in, and they have a lot of content, so I would love to pursue that."
Liu, in our conversation, doesn't bring up aspects of her identity, focusing instead on the work itself.
"I want to be hired based on what I see, not because I'm a woman, not because I'm Asian. I don't want to check off all those boxes. I want to be here, I want to be hired, I want to be a part of something, because of my talent."