In taking the role of Lisbeth Salander in Girl in the Spider's Web, based on the fourth book in the hugely popular Millennium series, Claire Foy, most famous for her role as Queen Elizabeth in the Netflix hit series The Crown, was not sure she was making the right decision, but thought it a worthwhile risk.

"I can't predict the future, so I can't know if I made the right choice or wrong choice. All I can do is go on my instinct and go, this feels wrong, this feels right, or this feels scary but also could be interesting as a person for me to do. For Lisbeth, I thought seemingly this could be a disastrous move, but you only live once. I feel so lucky to do this. I may as well just have a go, I don't know," she said.

It was a meeting with Spider's Web director Fede Álvarez that convinced Foy to take the role.

"I met Fede. There was such expectation, this is such a well-loved part, and it's been played so beautifully before, that in a sensible world I would run in the opposite direction. But it provided such a challenge. I loved her already from having read the books, so really I just met Fede and he was like, 'come on, let's be brave'. I was like, 'alright then, fine.'"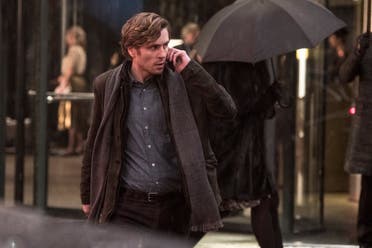 Going from Queen Elizabeth to Lisbeth Salander was not as difficult as it may seem—after all, though it has quickly become her defining role to date, Foy believes that she is not much like the Queen she portrayed.

"I understand that Elizabeth and Lisbeth are very different aesthetically, and also you would think as people, but for me, the queen of England is a huge stretch so I sit somewhere in between," says Foy.

Foy welcomed the discomfort she felt in taking on the risky role.

"Every character that you play, especially if you're being pushed in a direction that's dangerous or slightly uncomfortable, it's because, subconsciously, I wanted to investigate that part of myself and other people. With Lisbeth, there's an element of—she has protected herself. She has grown up in such a volatile environment, and she has been so taken advantage of in so many different ways, and so hurt and so unprotected, and so not taken care of, that she would seem from the outside to be badass and in control, getting vengeance and all of these things, but she's a total mess inside," Foy says.

Lisbeth helped her connect with her own emotions.

"This film shows that, in order for her to move on with her life, there is an element of her character and the decision that she's made that she has to go back into. That, for me—I'm 34, I've had a child, and that can't help but make you sit back and take a cold hard look at yourself. There's definitely a lot of anger and rage that Lisbeth helped me to want to get out," says Lisbeth.

"How did you get those emotions out?"

"Beating general people up," Foy jokes.

"No—it was the feeling of not wanting to be anything for anyone else. Lisbeth doesn't have to be attractive. She doesn't have to be polite. If she was sitting in this room, she'd be sitting in this room, looing you in the eye, like 'what'?" says Foy.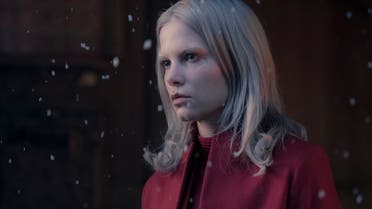 Lisbeth doesn't conform to society's norms—and that's what Foy likes about her.

"We're all so polite, trying to be nice to everyone all the time, and I think as a young woman that's what you grow up feeling like you have to do anyways to be accepted, and Lisbeth doesn't have that. It was really amazing to sit in the shoes of someone who doesn't want to be anything for anyone else apart from themselves, who doesn't want to please, that's amazing."

To find the look of Salander, Foy had to build a style that she could understand, so it became more than just a costume.

"It was a real process—a lot of trying and failing. I came from the point of view that I didn't want to start from the point of view of the full works—the Mohawk, tattoos, and earrings, and work backwards, I had to start from just literally me with nothing on, and then make sense of everything. All that tattoos have to have a meaning, make sense, and design them all. The costume had to feel right, then the make up and the hair had to come afterwards."

"I don't wear any make up. There's time when I have a bit on, but anything that pushes the boundary to feel too stylized, I'm unfortunately one for the truth of things, which can be frustrating when you're making a movie," says Foy.

Girl in the Spider's Web is in Middle East theaters this November.