When Iranian singer Googoosh returned home just after the Iranian revolution in May 1979, she held her breath at passport control not knowing whether the officer in front of her holding her passport would allow her to walk out of Tehran International Airport a free woman.
"One of the guards took a look at my passport and said: 'Oh, she is on death row' and meant that I was sentenced to death. I said to myself that everything was over and recited the shahada (declaration of faith)," she said.
But five minutes later, she was handed back her passport with an entry stamped. She heaved a sigh of relief.
"They put my luggage over the taxi and told me to wear something. They told me that people on the street were still feeling revolutionary and may recognize and hurt me. I was really surprised, I could not believe I was alive. I went to my mother's house, because my house was not registered and it was scheduled to become a student campus.
It was under the possessions of the Revolutionary Guards. Next day they gave me my house back," the Iranian singer and actress who dominated Iranian pop music and film industry during the 1950s and 60s until she was banned from performing after the revolution in 1979.
After a while, Googoosh – real name Faegheh Atashin – and other artists were called on more than once by the Guards and the Committee to Preserve Islamic Affairs, especially since a memo was published in the Iranian newspapers Kayhan and Ettelaat by the legislator and the head of the Revolutionary Court asking that they appear in court.
Among the other names summoned were famous singers like Hayedeh and Fereydoun Farrokhzad, the brother of famed poet Forough Farrokhzad. During her last summoning, Googoosh signed a paper vowing that she would not perform any artistic activities from then on.
In other words, her voice, image and presence were censored. A while after, she was sentenced to one month in prison for her artistic activities before the revolution. After she was released, the war began. She spent her days in silence and isolation in Tehran, unable to travel and leave the country because she did not have a valid Iranian passport yet.
In the late 1990s, after paying her taxes, Googoosh was able to obtain a passport and separated from her second husband in 1989 after 12 years of marriage. In 1991 she married the famous Iranian director Masoud Kimiai and decided to star in one of his films in 2000, which sparked a wave of opposition by the hardliners in Iran, who still considered Googoosh as a person who promoted vulgarity and promiscuity.
For this film, Googoosh and her husband traveled to Cuba, but the producer announced two months after they travelled that the film could not be produced. The project halted and they returned to Iran. Googoosh then migrated to Canada. Within a year and a few months, Googoosh held big concerts in the United States, Canada, Europe and Dubai. As such she could no longer return to Iran.
She is still active in her career and has been singing in many countries, with her concerts populated by fans from Iran and other countries. Many of these concerts, hosted by Googoosh and other Iranian artists living outside Iran, are held in Iran's neighboring countries. The goal of many Iranians is to travel to these countries, such as the UAE and Turkey and attend the concerts of their beloved singers.
Googoosh released a new song with a Siavash Ghomayshi, an artist from her generation, titled "Forty Years," which speaks of the passing of 40 years since the Islamic revolution in Iran and the situation in the country. This song caused media to republish Googoosh statement about her return to Iran and what happened to her, which led to many responses on social media where people shared that interview, dating back to a press conference held in 2000 in Canada on the occasion of her first concert after a twenty-year hiatus.
"I was at some place in the world and my son in another, while my father, mother and brothers were in Tehran," Googoosh justified her return to Iran a few months after the Islamic revolution.
Googoosh was not only a popular singer since the beginning of her career, but by time she became a cultural icon, inside Iran and abroad.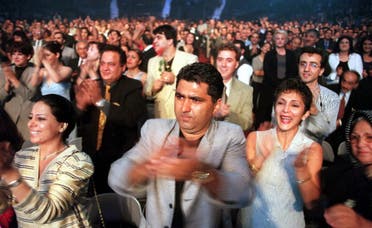 There is also a well-known story, Hashemi Rafsanjani, Iran's president then, being mentioned in his diaries that when he visited Uzbekistan in 1993, the Uzbeks knew and loved her. He said, that his wife attended a women party in her honor and that there were dancing and singing to most of the songs by Googoosh.
When the artistic works were almost suspended just before the Islamic revolution in Iran because of the prevalent conditions and the curfew, Googoosh left Iran to France with her second husband, who was a business man. She then went to Switzerland to visit her son from her first marriage as he was studying there. Later she was invited to Los Angeles for the opening of a music club, where they stayed for two and half months.
In the meantime, the revolution was brewing in Iran, which led to a change from a monarchy to an Islamic republic. Such circumstances confused Googoosh, as her future became unclear; as on one side she did not take enough money with her to be able stay abroad for long period of time.
On the Other side, she would not be able return to Iran and perform and sing as she once did as the new regime in Iran had banned women from singing entirely. The singers of the former regime were not treated well. Moreover, in her interview in 2000, she said that her relatives told her that she would be executed if she returned.
All these reason made Googoosh stay in Los Angeles, then move to New York with her husband. However, during her stay in New York, she suddenly decided to return to Iran. A friend who was influential in Tehran's airport had promised that she should be moved from the airport to her mother's house without being harmed.