Charlie Cox on thrilling season 3 return of Daredevil arch-villain Wilson Fisk
Every superhero has his arch-nemesis. For Daredevil, no one has ever matched Wilson Fisk—The Kingpin. Though he began in the comic books as a Spider-Man character, it is against Daredevil that the two have each shined most brightly, and with whom he became a legend.
In season one of Netflix's Daredevil starring Charlie Cox as Matt Murdock, it was Wilson Fisk that made the series something special. After all, Daredevil has always separated itself from the pack in the comic book world by being much more human, more crime-focused.
Matt Murdock is a blind lawyer by day and a vigilante by night, tortured by his conscience on his tightrope walk between what he views is right and what society does. Fisk, played in the series by Vincent D'Onofrio, provided an ideal foil, a cerebral overlord pulling the strings of his dark city with unmatched ruthlessness, while still caring deeply about the people closest to him.
"When you look at someone like Matt Murdock in relation to someone like Wilson Fisk, it's confusing, because you have two people who are so similar in so many ways. They both claim to love their city; they both claim to do the most they can for Hell's Kitchen. They both love the women in their life and put them first. They love their friends," Charlie Cox tells me.
"So, what is it that makes them different? I think it's a couple subtle elements, but they are profound. Matt believes that everyone is worth saving. Everyone is capable of reforming. Fisk seems to believe that you have to break a few bad eggs in order to make an omelet, which is a very different way of approaching the things that he wants to achieve," Cox says.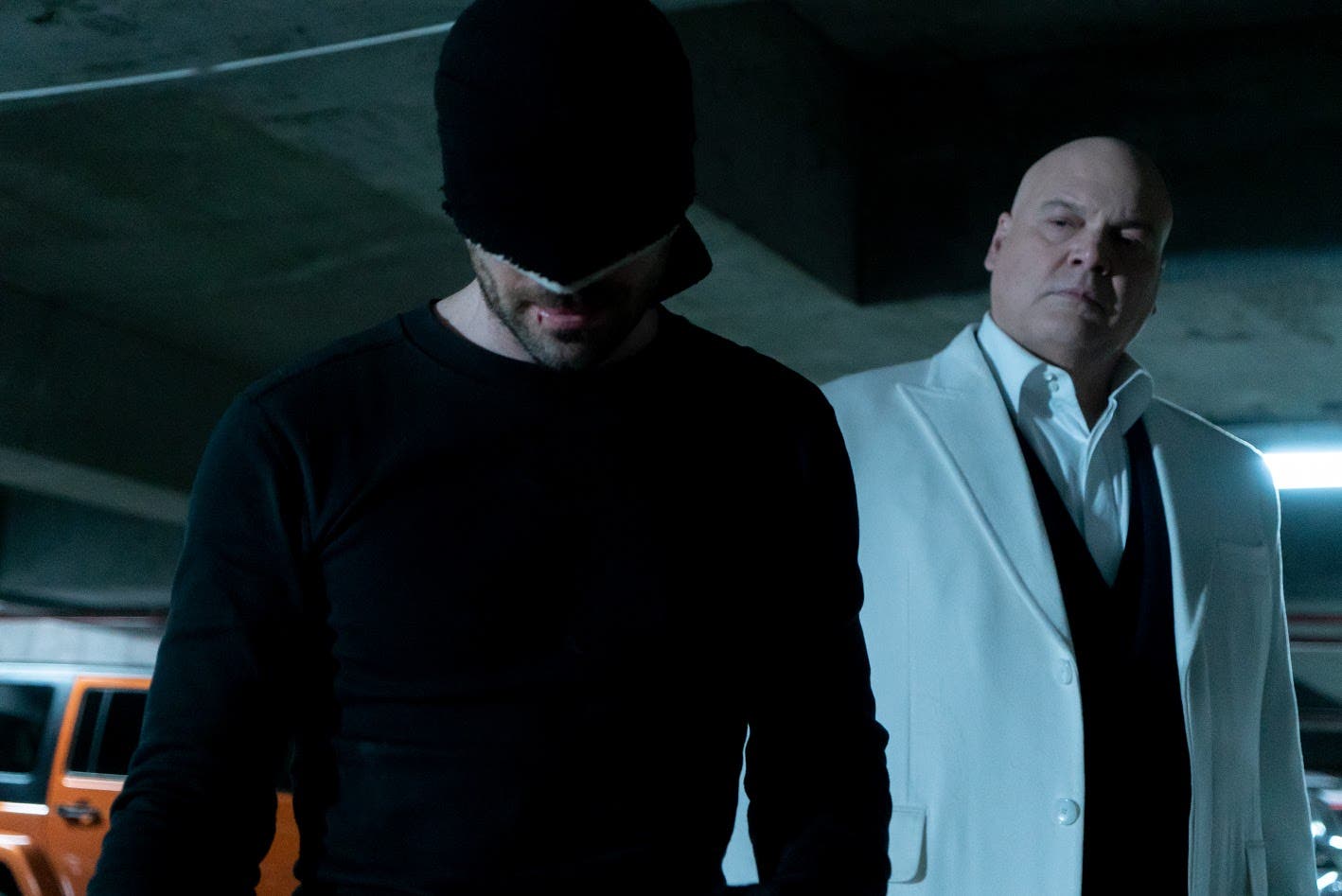 In season two of Daredevil and the Daredevil-Luke Cage-Jessica Jones-Iron Fist team-up series The Defenders, Wilson Fisk was nowhere to be seen, biding his time in a jail cell. The show suffered without him, and lacked the same intrigue that made season one so popular.
For new showrunner Erik Oleson, the most important thing about the season was bringing Fisk back to the fore.
"When Jeph Loeb and Marvel and I sat down before season three and they gave me a whole bunch of options we could do, the return of Wilson Fisk was this amazing opportunity. We wanted to tell a story that brought it back to that core Matt vs. Fisk dynamic," says Oleson.
When last we saw Daredevil, he had been struggling with his powers and supposedly dead, keeping his survival from a massive accident secret so he could rebuild himself both physically and spiritually.
"It's utter hopelessness underpinned with a feeling of betrayal from [the universe]. Why would he be given these gifts, as a religious man, and then have them be taken away without being dead? He's so angry and confused.
Cox had to put himself in a dark place in order to achieve that as an actor.
"You take what the script says, and you try to relate it as possible to something in your life that feels as emotionally similar or circumstantially similar. In terms of getting into that, it was a mixture of whatever I could draw upon to remind myself of that feeling, a combination of hopelessness and betrayal," says Cox.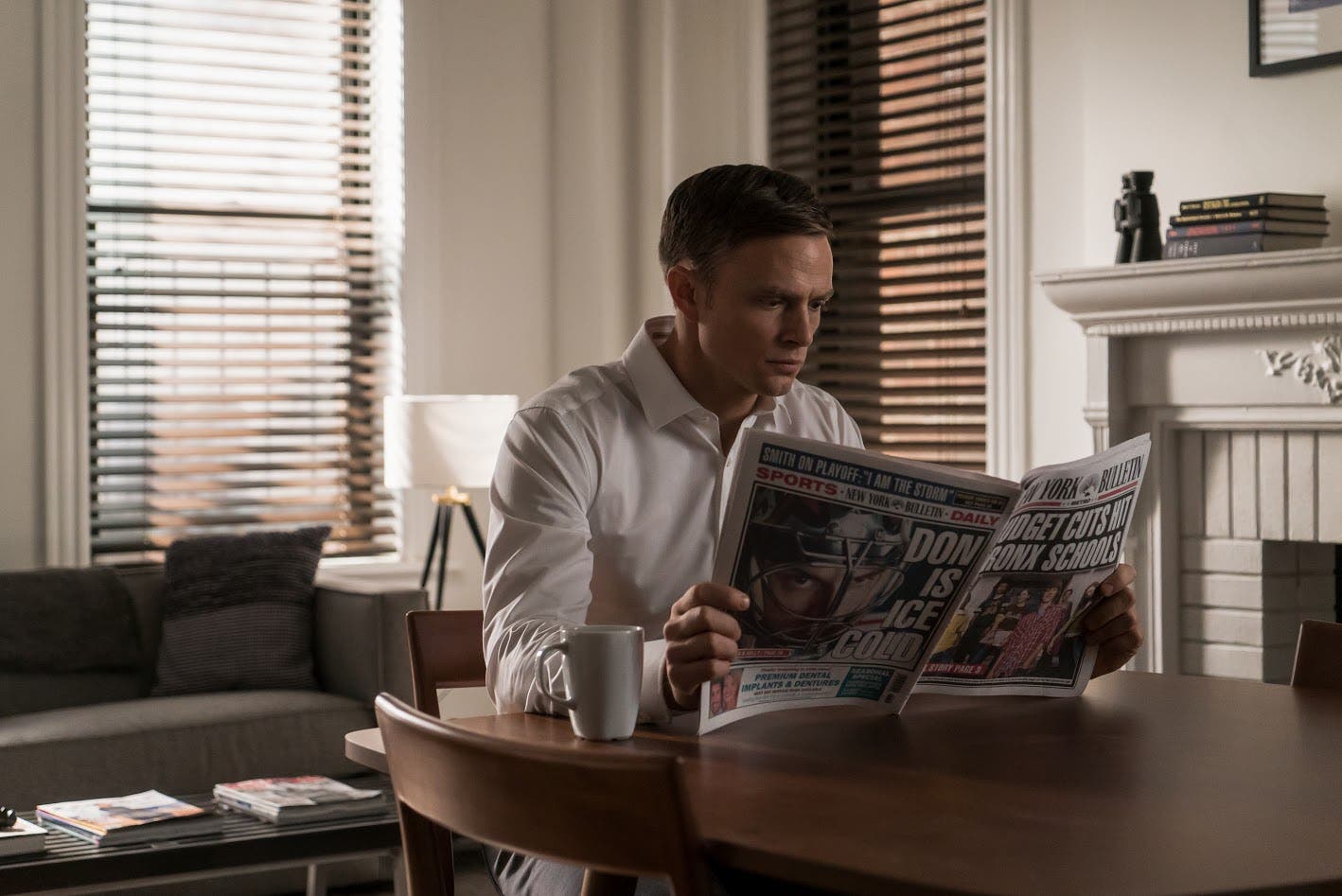 To rebuild, Daredevil must change himself completely from the inside out.
"What Matt has learned from everything that happened in season two and the defenders is that his previous belief system, and his previous way of operating, is not working. He has to completely reevaluate how he approaches life and his role in society, because everything he's done, everything he's been a part of, everything he's touched, has somehow led to complete disaster. It's not been effective. That is very painful to him I think, but also true nonetheless."
This season is not just the return of Fisk—it's also the debut of Bullseye (Wilson Bethel), one of Marvel's most popular villains, an unparalleled sharpshooter without a moral compass.
"Bullseye is a lethal character," says Oleson. "We are telling an origin story in season three where he is a character who starts out a functional member of society. He's troubled, but he's on the right side of the law. He's an FBI sharpshooter—someone who uses his skillset to protect and serve innocent people. He falls under the sway of a narcissistic tyrannical villain who uses people's fear to get into their heads and rise to power. Unfortunately for people who are on the border of good and evil, when you have a villain like that rise, they can be drawn into the darkness. He's going to be lethal."
While this season only tells the beginning of Bullseye's story, Cox teases a confrontation that may happen in the seasons to come between Bulls and Daredevil.
"I can't tell you that, at some point in the future, Matt isn't going to do everything he can to offer someone like Bullseye a chance at redemption," says Cox.