Seth Rollins talks entry into WWE World Cup at Saudi Arabia's Crown Jewel event
Seth Rollins has been the MVP of WWE in 2018, elevating his already considerable skills and star power to another level. Now, returning to Saudi Arabia to enter WWE's first-ever World Cup tournament, he will be able to prove whether he is the best in the world once and for all.
Since entering the WWE in 2010, shedding his old persona of Tyler Black that he had kept on the independent wrestling scene, Rollins has consistently exceeded expectations. After becoming the first NXT champion, he debuted on WWE Raw, its flagship show, as a part of the Shield with Dean Ambrose and Roman Reigns, immediately cementing the group as one of the most dynamic and dominant in WWE's history.
Since then, you could argue that he and his fellow Shield members have been the protagonists of WWE's story ever since. Though Seth has played some of that time as a villain, he is now firmly one of WWE's biggest heroes.
With the shocking and saddening news that former WWE Universal Champion Roman Reigns, one of Rollins' closest friends, has leukemia, the spotlight is now back on Rollins to help carry the company in his friend's absence, and, as the reigning WWE Tag Team and WWE Intercontinental champion, Rollins will have a chance to cement his place as the 'top guy' this Friday in Riyadh's King Saud University Stadium at WWE Crown Jewel.
Read Al Arabiya English's full interview with WWE's Seth Rollins:
What are your thoughts on entering WWE's World Cup tournament here in Riyadh, Saudi Arabia for WWE Crown Jewel?
It's pretty fantastic. It's not often that we determine something like this. We have eight of realistically the best wrestlers not just in the world, but of all time. You've got a pretty stacked deck—Rey Mysterio, Randy Orton, Jeff Hardy, myself, Dolph Ziggler, Bobby Lashley, Kurt Angle and the Miz. It's eight dudes who want to prove how good they are and a one-night tournament is always exciting, so I'm really looking forward to having these guys bring out the best in me and bringing out the best in them. It should be pretty exciting to see who comes out on top in that thing.
Who would you most like to face from these WWE World Cup entrants?
I know it's a long way off, but, man, I'd love a singles match with Rey Mysterio. That's an easy one, but he's the one guy. Rey was always a huge inspiration to me growing up, so it would be fantastic to get in the ring with him. Rey has been on SmackDown so I haven't had a chance to be around him.
What strikes you about the fans here in Saudi Arabia?
The nice thing about the fans in Saudi Arabia is the genuine excitement. Sometimes in the States, and at other venues overseas, we run into a lot of the same fans going to the same places. Coming to this part of the world, and seeing the genuine excitement they have to be a part of this spectacular event that we're putting on, so it's very refreshing. It's cool. You get it with kids and adults alike, so it's really a cool experience to see how much they appreciate what we're doing here.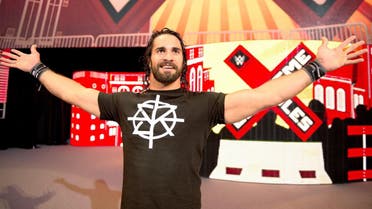 With the horrible news that Roman Reigns leukemia has returned, the past week has surely been incredibly difficult for you as his close friend and everyone else on the roster. How have you managed through this situation?
It threw everything up in the air. It's hard to go a day without thinking about him and how he's doing and hoping he's doing alright. I'm fighting the urge to check in on him like a brother every two hours, but he's a strong dude, and I know that he's in a good place mentally as well as physically. He's in good health for the most part. I think he's going to be able to fight this thing pretty strong. We're just getting through it while we can. Obviously it's going to be easier as time goes on, but certainly the last couple weeks have been, and last week especially, have been a rollercoaster of emotions. Lots of ups and downs.
2018 can be considered, in many ways, your year. You've been turning in some of the best work of your career. As Roman Reigns has had to relinquish the WWE Universal Championship, there is now a hole to fill at the top. How are you approaching that?
With Roman not being on the roster for an indefinite period of time, there's definitely extra pressure that I put on myself to step into that role. Obviously his shoes are his shoes and nobody is going to fill them, but I put pressure on myself, whether he's around or not, to go out there and steal the show and have the best match on the card, and push everybody else to that level.
The thing that sucks about not having Roman, besides not having his camaraderie, is that he is one of the guys that pushes me to be better, because he goes out and gives it his all every single time. Not having him around, I'm feeling that pressure to step it up even more to bring everybody with me so we can try our best to fill the void that the big dog leaves behind.
Do you feel you've found something in yourself that has led to this incredible stretch?
This year has been sort of a revelation in the sense that everything has really slowed down for me. I can't really pinpoint how or why or what, I think it might just be me getting old. I'm coming into almost my 15th year in professional wrestling now. I've had a ton of experience. I've been working at an elite level with top guys for a long time now. That experience I've been fortunate to have. It's put me in a position so now I feel that any match I'm in, I feel like I'm the guy running the show. I don't feel there's anyone out there that I need to compete with when it comes to having the best in-ring performance of the night. That confidence has really slowed things down for me. I feel like I'm working on a higher plane than I have in the past. I can't explain why or how or when, but it's definitely something I feel and that I'm cognizant of.
Have you been able to focus on anything outside your own performance?
Evolution was fantastic. It was cool to focus on the girls for a little while, take some of the pressure off of me. I got to watch the show on the WWE Network as a fan, which I don't get to do very often.
In last week's episode of Monday Night Raw, your tag team partner Dean Ambrose attacked you in the ring. Could you shed more light on that?

I feel like it sucks. I haven't been able to get any answers out of him. I felt like, especially, to a point maybe I've done something similar in the past, so I have to give him the benefit of the doubt until he tells me otherwise and forces my hand in another direction, and I want to know why, I want to know what I'm thinking, and the fact that he chose to do that on that particular night, I don't know man, it says a lot about his character. We'll see where that leads us, but it definitely doesn't feel good.
What goals remain for you in WWE?
I've been very fortunate to live out my dreams here in the WWE, but the one thing I have not been able to do is headline a WrestleMania. Obviously if you look back WrestleMania 31 I was able to leave WrestleMania as the WWE World Heavyweight Champion, but that match wasn't mine. I got in there and snatched it away from Brock and Roman. I'd like to be the guy on the marquee going into the show. I'd like to be the guy that somebody has to come down and snatch my match away. That's the one thing that I really haven't had the opportunity to accomplish just yet. I have a lot of years ahead of me, so we'll see what the future holds when it comes to headlining WrestleManias.
Does wrestling fulfill you the same way that it once did when you were Tyler Black?
That's an interesting question. I think it fulfills me in different ways. One of the things I've done over the past few years is I've had a lot come through my wrestling school, and I think to be able to pass along knowledge that I've gained over the years to a younger generation, that's what gets me where I want to be these days. Obviously the big moments and the accolades and getting to do what I've dreamed of as a child is always going to be there, but after six years of WWE, some things become less important to you over time. For me, what's become more important is helping other people grow. I've been able to do that with my wrestling school and my role as a leader in the locker room helping out some of the other talent and getting them to where they need to be. I think my role has changed but I'm very accepting and appreciative of what I've been able to do so far.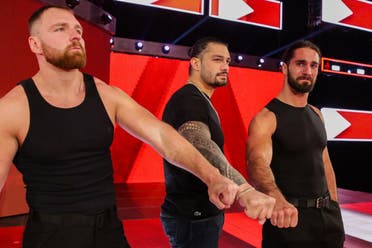 Who on the roster have you been able to help?
I help out my friends a lot. I shouldn't say young—because Finn Balor is not young—but he's a guy I've had a lot of time in the ring with and we've talked a lot about the business and how we see things going. Sami Zayn too. Then guys down in NXT and I'm seeing how I can help them out as well. With the girls, Bayley is one of my best friends, and I try to help her out as much as I can as well. I'm just around and available for whoever needs some advice. Even the Riott Squad—they need all the help they can get. No I'm kidding, they work hard. I ust feel like I'm a guy that people can come to now. I've started to embrace that role, and hopefully will able to do that in the future.
Do you think there's anyone down in NXT who has the chance to become a huge star?
There's a ton of guys down there with absolutely incredible potential. Shayna Baszler is one of those people who I never got a chance to watch that much, but I saw her on the NXT show last Sunday and I was blown away. I think she's fantastic.
I think Velveteen Dream is really good—he's got something wacky about him. I've always been a fan of Ricochet. I've known him since he was a 17-year-old kid from Paducah, Kentucky. I've always thought the world of him and I'm looking forward to seeing what he does in the future. The whole Undisputed Era, I think those guys are fantastic. I think there's a lot of talent down in NXT that has the chance to make waves when they move up to the main roster.