Claire Foy reveals what playing Lisbeth Salander made her realize about herself
It's rare that a character as rich and iconic as Lisbeth Salander comes along. It's no wonder then that, since her debut in Steig Larsson's book The Girl with the Dragon Tattoo in 2005, we have seen her brought to life on screen now five times in two different languages. First, there was Noomi Rapace in 2009's Swedish adaptation. Then came Rooney Mara's turn in David Fincher's English-language remake—for which she was nominated for an Oscar.
Now it is Claire Foy's turn to don the leather boots. Foy, who has rocketed to fame after her turn as Queen Elizabeth II in Netflix's The Crown, takes us out of the original trilogy entirely. In The Girl in the Spider's Web, Salander is older, and things from her past are coming back to find her.
Though Foy has had numerous acclaimed roles in 2018—Damien Chazelle's First Man, Steven Soderbergh's Unsane—it is Salander that is clearly the toughest undertaking, a character with the baggage of a massively successful book series and multiple adaptations attached to her.
"I think the difficult aspect that I found was the aesthetic side of it—how much people expect you to look a certain way because that's what they'd seen in previous films and also from of the book. How much to either include or not include I found quite challenging," Foy tells me, as we sit to discuss the film in Barcelona.
"I'd never played a character really—that's a complete lie, I realized as I say it—where people expected you to look a certain way," Foy says.
"You have to get rid of that expectation, because everything has to be informed by the character you're playing and the choices you're making. There's definitely things we honored and things that I felt was important to include, but there's also elements of it that I thought are things that are not needed or that will be put on—that will wear me, as opposed to me wearing it."
Previous incarnations of Lisbeth Salander
Foy admits she was a big fan of the previous incarnations of the character, and while she didn't consciously separate herself from those adaptations, the only way she could find a way in is by pretending they didn't exist.
"I'd watched Rooney and Noomi's work and thought they were incredible and loved them as actresses—especially in that role, I could watch them forever," Foy says.
"Very early on, I realized it was not helpful for me to think that I was playing the same character as them. I have inherited parts from other actresses many times over in my career. It's sort of what you end up doing. I'm relatively used to living in denial, and pretending that it's just me being me, doing this role."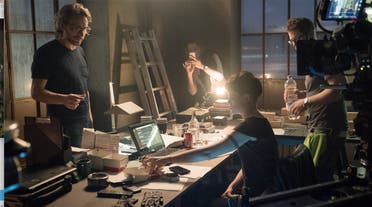 Lisbeth, however, is too strong a character not to shine through—and too strong a character not to affect Foy not just as an actor, but as a person.
"I learned so much. I learned so much in the process of making about what was important and taking care of myself, and things like that. I also learned so much about myself in relation to Lisbeth and how much we psychologically don't want to face up to the reality of who we are, or what we are, what our weaknesses are, what our faults are," says Foy.
"Her not being perfect allowed me to think that I'm not either, which I found kind of liberating and also alarming."
- The Girl in the Spider's Web: A New Dragon Tattoo Story is now in theaters across the Middle East -