Aquaman's Amber Heard opens up about why Mera is a woman superhero done right
I'm speaking to Amber Heard in London, and as I begin my first question, When Heard is finding the right place on her Led Zeppelin t-shirt to put a #HearMeToo pin.
The movement, started by the UN, is a continuation of the #MeToo movement that has changed the world in the last year, specifically targeted to unite the world to end violence against women.
Heard is wearing an orange ribbon below her pin, and another one tied around her right wrist—all to support the movement. Though she never says it, it's clear how much ending the horrible ways that men have treated women in the past weighs on her mind, and fuels her activism.
It seems secondary to talk about a superhero movie—but is it really? After all, superhero movies are the most popular movies in the world, and Aquaman is set to be one of the most popular films of the year worldwide. It is popular culture from which people learn society's values by and large, especially at young ages. What better place to fix the representation of women?
Heard plays Mera, who is much more than a sidekick or a damsel in distress—she's a superhero worthy of her own story, and behaves as if she's already starring in one. Heard herself recognizes the importance of this kind of character.
"I am so excited to be Mera and to be a part of Aquaman because it represents a newer generation, and a response to the demand that we've had for a long time that's been largely ignored to have a fully nuanced, stronger, more complex, more motivated representation of women in not only superhero movies but in the entertainment industry as a whole. I'm really proud to be a part of it," says Heard.
At first, however, Heard didn't know for sure that Mera would be that kind of character—she had seen some of the comic book world's treatment of women, and assumed it was universal.
"I think for me, honestly, most of the battle was in getting familiar enough with the character to justify participating in the comic book world that I, up until that point, was admittedly a little ignorant to and unfamiliar with. It's just not a world I'm familiar with. I had a vague understanding of what I could expect the representation of my character would be based on the vague understanding of the representation I'd seen in women in that particular genre especially," says Heard.
When Heard saw Mera in action, however, the script flipped.
"I was pleasantly surprised when I heard that he was an empowered superhero on her own right—that she was a badass, kickass woman with agency. I was even more pleasantly surprised when I read in the comic book that same sensibility echoed right out of the gate. She's rescuing this town and someone mistakenly asks if that was Aquawoman and she says, no, I have my own name, I'm my own person, my name is Mera. I said to myself, oh yeah. That is representative of the kind of character I want to play. From that point on, it was icing on the cake," says Heard.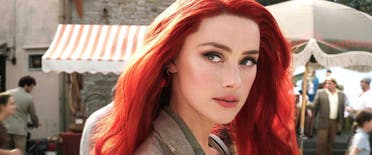 Heard co-stars with Jason Momoa, who plays the titular role. For most of the film, the two are off on adventures together that are downright Indiana Jonesian, and the chemistry between the two is what carries it.
"I was lucky to have had time to get to know him when we did Justice League in London. Even though my part was small in that, it required a lot of training, I was there for a long time. We got to know each other, and we became friends. We hit it off instantly. Jason and I are very similar in some ways. We like similar things, we have similar taste in music and artistic sensibilities. We just get along great. That same relationship is echoed in the playful banter and dynamic that you see them have in the movie. Mera and Aquaman have to earn each other's respect and love, and Jason and I, being as close as we are—friends, buddies—it's a very easy thing. I really lucked out on this co-star," says Heard.
"I look forward to the Mera movie as well," I say.
"Right? Sequel!" Heard says with a smile.