Jennifer Aniston and Dolly Parton star in the new made-for-Netflix movie Dumplin', an adaptation of the 2015 young adult novel.
The story follows a plus-size teen Willowdean (Danielle Macdonald) as she emulates her mother (Aniston) who is a former beauty queen, to enter Miss Teen Bluebonnet.
Set in Texas, the film sees Parton be the spiritual guide to Willowdean, and often shares Dolly-isms throughout the film, and even ends up doing Dolly-drag shows in a local cabaret night.
Dolly not only joins the stellar cast, but she also provides six new works on the soundtrack with Linda Perry, even singing with Aniston in one.
The pair hit-it-off on and off screen, with Aniston sharing with me how much she enjoyed making the movie. "It's been fantastic," she said. "A joy from top to bottom a stunning cast and a great group of producers and crew. And Dolly Parton was loving and supporting and contributed so much."
The film was produced by international businessman and Philanthropist, Mohamed AlRafi. No stranger to Hollywood, AlRafi studied in California in 1991, the same state he now enjoys watching the Hollywood premiere take place in.
AlRafi said he was attracted to the story because of its universal appeal and messaging for women.
"I think this story is not just an American story it is a story related to each house and country I believe that girls in this age should have confidence and inspiration so this is more of a global story," AlRafi told Al Arabiya English.
Having spent so much time in Hollywood in the 1990s, it was always his dream to come back one day, he told Al Arabiya English.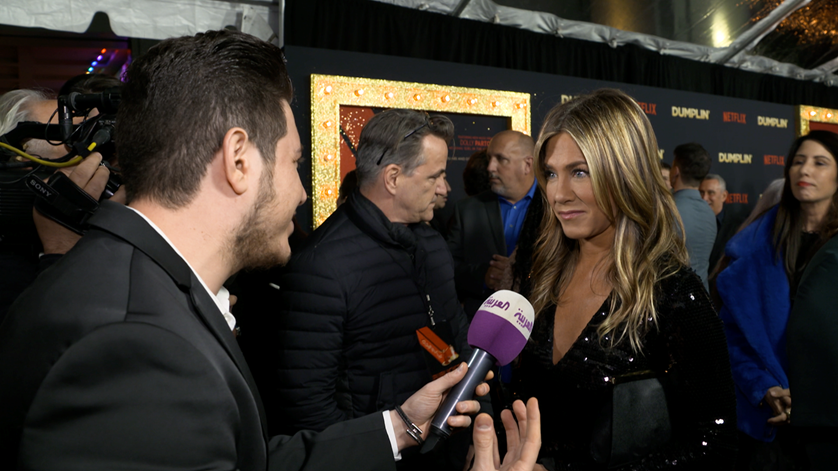 "I always kept the dream of Hollywood within reach and I knew I would come back one day to make movies," he said. "My friends got me the story of dumpling authored by Julie Murphy and I eventually reached out to Jennifer Aniston who approved to start the movie. It was huge for the project because Jennifer Aniston usually doesn't take too many projects on and I am lucky since this is the first movie she has done with my company."
The producer also thanked Netflix for taking movies like Dumplin' to the world.
"Movies nowadays spread faster with channels like Netflix," he said. "We didn't have that years ago. When I was a teenager, it used to take us months to watch just one movie in Dubai, nowadays everything is available online so thank God this makes the story go worldwide."
Staring two of Hollywood's most iconic names, the audience will also enjoy the unique and rare charisma of this film, along with some of Parton's biggest hits, including "Jolene", "Here You Come Again" and "Two Doors Down," as well as new songs like "Push & Pull", with features Aniston and "Girl In The Movies."
Confronting, captivating and curious – Dumplin' is available on Netflix now.