Saudi Ministry of Culture launches its vision at King Abdulaziz Historical Center
Saudi Arabia's Ministry of Culture has released details of its national strategy and vision at the King Abdulaziz Historical Center in Riyadh on Wednesday.
The ministry's announcement includes details of its vision, policies, some initiatives that have already been planned and the cultural sectors it will support.
"Culture is a broad term, and the Ministry has identified 16 priority sub-sectors where it will focus its work. The intention of this is to create a Ministry which can effectively champion causes across the sector. The Ministry will also create 11 new bodies, reporting to the Ministry which will focus on these sectors," the ministry said in its mission statement.
The ministry also launched its official website, social media accounts, and a new logo during a ceremony at the King Abdulaziz Historical Center. Several Arab culture ministers, diplomats, and intellects attended the event.
The ceremony also included an operetta concert with several songs written by Prince Badr bin Abdulmuhsin which were sung by a group of Saudi artists, under the title "The Kingdom of love and peace."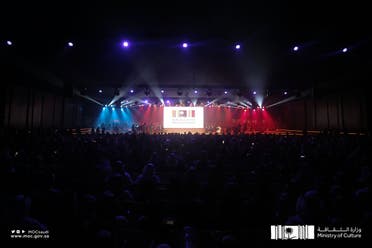 "The Ministry will adopt a collaborative approach with our Saudi creatives, the jewel of our cultural sphere. We will develop an environment which supports and nurtures creativity, in addition to opening doors for new forms of expression. Saudi culture will remain an essential part of our lives," read a message posted on the ministry's website from Saudi Minister of Culture Prince Badr bin Abdullah bin Farhan.
In mid-2018, Saudi Arabia announced an independent Ministry of Culture after it had previously been a part of the Ministry of Information for many years.
"The ministry's vision and policies comprise various initiatives covering all the trends of cultural activity and support for cultural entities and sectors. The objective is to enable all of those belonging to the cultural field to practice their creativity and provide a distinctive cultural product that will help raise the quality of life in all regions of the Kingdom," a statement from the Saudi Press Agency (SPA) read.