Brad Pitt on Sunday won his first-ever acting Oscar for his supporting role as a laid-back stuntman in Quentin Tarantino's ode to 1960s Tinseltown, "Once Upon a Time... in Hollywood."
Pitt bested a field of former Oscar winners: Joe Pesci and Al Pacino for Martin Scorsese's "The Irishman," Anthony Hopkins ("The Two Popes") and Tom Hanks ("A Beautiful Day in the Neighborhood").
"I'm a bit gobsmacked. I'm not one to look back, but this has made me do so," Pitt said to the audience at the Dolby Theatre.
"Once upon a time in Hollywood... ain't that the truth."
It was the first acting Oscar for Pitt, 56, after three decades in the movie industry. He previously won an Academy Award as a producer in 2014 for best picture "12 Years a Slave."
In "Once Upon a Time," Pitt played the laid-back stunt double and fixit man Cliff Booth to Leonardo DiCaprio's fading TV Western star.
His performance, which has won numerous other accolades, was hailed by critics as the best of Pitt's career and included an extended shirtless scene that sent fans and celebrity media buzzing.
Laura Dern wins best supporting actress Oscar for 'Marriage Story'
Laura Dern, whose Hollywood career has spanned more than four decades, won her first Oscar for her portrayal of a ruthless divorce lawyer in domestic drama "Marriage Story."

The daughter of acclaimed actors Bruce Dern and Diane Ladd had widely been considered a frontrunner in the category after winning both a Golden Globe and Screen Actors Guild award last month for her performance.

Raised in Hollywood, Dern's first experiences on screen were in 1970s films starring her famous mother. She later rose to fame for roles in the David Lynch films "Blue Velvet" and "Wild at Heart."

Dern, 52, received her first Oscar nod in 1992 for best actress in "Rambling Rose" and was also nominated in 2015 for best supporting actress in "Wild."

In "Marriage Story," Dern's character, attorney Nora Fanshaw, fights on behalf of co-star Scarlett Johansson for custody of her son in her divorce from her husband, played by Adam Driver.

Dern received particular acclaim for her delivery of a monologue in which she tells Johansson's character that mothers are always held to a higher standard than fathers, in divorce proceedings and society as a whole.

In recent years Dern has been in high demand in both films and on television. She starred as a wealthy, career-minded mother in the HBO hit series "Big Little Lies," for which she won both an Emmy and a Golden Globe, and as a senior military officer in 2017's "Star Wars: The Last Jedi."

This year, she appeared in two best picture-nominated movies: "Marriage Story" and "Little Women," in which she played Marmee March, the mother of the four March sisters.
"Parasite" got off to strong start by winning the original screenplay Oscar, the first of six potential Academy Awards for the film on Sunday. The social satire about the wealth gap in South Korea is also seen as a front-runner for the coveted best picture prize, as well as international feature and best director for Bong Joon Ho. No film in a foreign language has ever won best picture at the Oscars.

Nazi satire "Jojo Rabbit" brought a best adapted screenplay Oscar for director and writer Taika Waititi.
'Toy Story 4' is best animated feature
"Toy Story 4" was named best animated feature and became the first franchise to earn two animated film Oscars.

The Disney and Pixar collaboration won the Academy Award on Sunday for best animated feature. The franchise's third installment "Toy Story 3" took home the trophy in 2011.

"Toy Story 4" continued to the tell the story of Woody, voiced by Tom Hanks, who this time unexpectedly reunites with his longtime friend Bo Peep.

Woody is ultimately faced with the decision of how he wants to live his life as a toy.

Its signature song "I Can't Let You Throw Yourself Away" by Randy Newman is nominated in the best original song category. He also wrote the song "You've Got a Friend in Me" for the first installment and "We Belong Together" for the third.

The series - which started off as the first feature-length film to be fully computer-animated - is credited with changing the ways animated films are made, spawning other creative endeavors at Pixar that would later lead to "Monsters Inc.," "The Incredibles" and "Ratatouille."

"Toy Story 4" beat out "Missing Link," "I Lost My Body," "How to Train Your Dragon: The Hidden World" and "Klaus."
Obamas' studio lands documentary Oscar for 'American Factory'
"American Factory," a Netflix film from Barack and Michelle Obama's nascent production house chronicling what happened to a group of Ohio autoworkers laid off during the 2008 recession, won the Oscar for best documentary feature on Sunday.

The documentary, directed by filmmakers Julia Reichert and Steven Bognar, was the first release from Higher Ground Productions, a company the former US president and first lady formed in 2018 in a multi-year collaboration with the Netflix streaming service.

"American Factory" was acquired by Netflix in association with Higher Ground out of the 2019 Sundance Film Festival, where it was awarded the US. documentary directing prize.
No formal host for second year
The show, held without a formal host for a second year, started with a song and dance medley led by singers Janelle Monae and Billy Porter, and a surprise appearance by former hosts Steve Martin and Chris Rock.

Martin and Rock delivered a string of barbed jokes about the lack of female directors and people of color among this year's nominees.
"I thought there was something missing this year," said Martin.

"Vaginas?" quipped Rock, to loud applause.

Rock pointed out Cynthia Erivo, who played slavery-era freedom fighter Harriet Tubman in "Harriet" and who was the only actor of color nominated this year.

"Cynthia did such a great job hiding black people that the academy got her to hide all the black nominees," said Rock.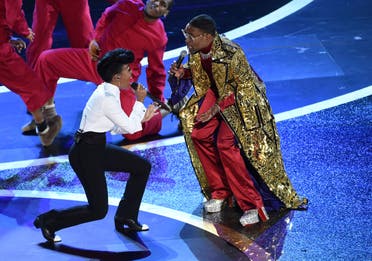 Earlier on Sunday, A-listers hit the red carpet under overcast skies at Los Angeles' Dolby Theatre, where a lavish, spiral stage featuring 40,000 crystals provides the glittering setting where 24 golden statuettes will be handed out.